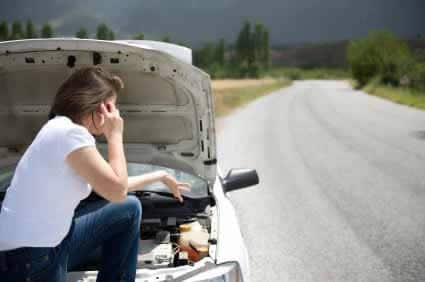 Who will you call the next time your car conks out on the side of the road? The wrong choice might leave you with a huge bill or an increase in insurance rates.
Towing gets expensive quickly.
Even a short tow usually costs $35, according to the Towing & Recovery Association of America, and rises anywhere from $2.50 to $5 a mile after that. But it's a loosely regulated industry in most places; a tow truck randomly sent by a call to an emergency dispatcher could charge you many times that.
That's why some kind of towing plan -- even if your "plan" is simply the name of a reputable company programmed into your cell phone -- makes sense.
Ron Montoya, consumer advice associate at Edmunds.com, says when it comes to roadside assistance, you should ask, "What do you want to get out of it, and then see what places have those benefits."
While one motorist might want no-frills roadside assistance that provides things like towing or help fixing a flat, another driver might relish extra benefits, like hotel and attraction discounts and free maps. A plan that covers only short tows won't do much good if you live in a rural area or travel a lot.
You may be covered already
If you have a relatively new car, the first place you may want to look is your own auto manufacturer.
These days, almost all major manufacturers offer a free roadside assistance program, Montoya says. A standout, he says, is General Motors, which offers a plan that's good for five years or 100,000 miles.
The program includes things like towing to the closest GM division dealer, jump-starting the battery, and delivering an emergency supply of fuel.
But for some people that's not enough. Montoya cites a colleague at Edmunds.com who can receive roadside assistance through her vehicle manufacturer, but also keeps AAA coverage for the extra perks.
Join an auto club
While AAA may be the biggie in the auto club world, it's far from alone.
At AAA and many other clubs, roadside assistance benefits vary based on the membership fee you pay each year and typically include things like towing, vehicle locksmith service and fuel delivery. AAA also announced plans to start providing emergency service to recharge electric cars later this summer.
AAA piles on discounts for things like hotels, retailers and attractions, and provides free maps and travel guide books.
AAA's basic plan covers tows up to five miles for about $55 a year. If your world is a little larger than that, the AAA premium plans cover tows up to 200 miles for about $125 a year.
Better World Club offers a "green" alternative, providing auto roadside assistance, as well as service to bicyclists, and gives membership discounts to hybrid, biodiesel and electric car owners.
Better World also has discounts on hotels and other merchandise and services that are "green and socially responsible," says Mitch Rofsky, Better World president.
Even auto insurer Allstate has gotten into the auto club act, offering Allstate Motor Club, which has prepaid annual plans similar to AAA that are open to any motorist, not just Allstate customers. The company also has the new Good Hands Roadside Assistance, which is open to anyone and has no annual fees – instead, motorists pay for services as they need them.
Tack it onto your auto insurance bill
Many car insurance companies also provide their own plans, often in the form of towing and roadside assistance. Because the service doesn't have the extra perks that a motor club offers, costs may be $15 or $20 a year.
The Hanover Insurance Group, for example, charges its customers $20 per vehicle per year for standard roadside assistance, says Mitch Jawitz, vice president of marketing and distribution. The Hanover also offers a more costly ultimate towing and labor service, which includes service if you lose or break your key.
Having such an endorsement on your policy can provide extra comfort if you have a young driver at home and you're worried about his or car breaking down, Jawitz says.
5 questions to ask about towing plans
What does it cost?
Costs for roadside assistance vary widely, depending on the benefits you choose – from $1 or $2 a month for assistance connected to your auto insurance to more than $100 per year for premium auto club protection.
Who is covered? Some plans only apply if you're in a particular vehicle, like one covered by your manufacturer's assistance program. In other cases, coverage applies to the motorist, so you can receive aid whether you're in your own car or another one that breaks down.
What do you get? Aside from perks like hotel discounts, service can vary greatly. One company may only tow your car a few miles, particularly if you have the basic plan, and then charge extra if you want to go farther. Distance can be a factor now that many new cars no longer have spare tires in an effort to cut down on weight in the vehicle and boost mileage.
At The Hanover, you're towed to the nearest location that provides the type of service you need. So if your transmission dies, you'll be towed to the closest garage that can make the repair, rather than the nearest service station.
Will it affect your insurance rates? With roadside assistance provided by some auto insurance companies, you run the risk that a call for service can boost your insurance rates. It's an auto insurance claim, after all. That's not an issue with a motor club or if your car is under your manufacturer's assistance program.
How is payment handled? At The Hanover, customers simply sign for the service they receive and the costs are covered by the insurer. Jawitz says many auto insurance companies require the customer to pay for the service out of pocket, and then file the receipt to be reimbursed.