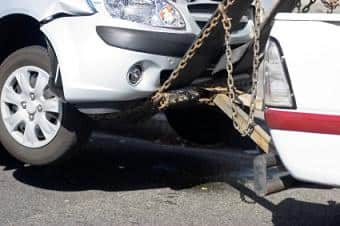 A tow truck shows up at an accident scene before anyone calls for help. A man in a convenience store parking lot offers to inspect and repair your windshield for free. A medical clinic representative tries to talk you into seeking treatment after a car accident.
At first blush, such offers of assistance may appear serendipitous, but they can be warning signs of insurance fraud. In the wake of blizzards that swept across the eastern third of the country, the National Insurance Crime Bureau (NICB) is warning consumers to be wary of unsolicited offers for services that are supposedly covered by auto insurance.
"Whenever you get crazy weather, you get a rash of insurance claims later," says NICB spokesperson Frank Scafidi.
If you didn't request it, reject it
Some scoundrels take advantage of an unfortunate situation to milk money out of people's insurance companies.
Their first step is to solicit unwary customers with an aggressive sales pitch.
"That seems to be a common thread throughout these scams," Scafidi says. "It's why we like to say, 'If you didn't request it, reject it.'"
Insurance companies referred 70,295 questionable claims to NICB for closer review and investigation in the third quarter of 2010, a 12 percent increase over the same period in 2009, according to the most recent figures available. Each questionable claim that is referred includes one or more indicators of insurance fraud.
Among the questionable claims for auto insurance were 1,700 referrals for suspected auto-glass fraud through the third quarter, a 511 percent increase when compared to the same period in 2009.
Insurance fraud drives up car insurance rates for everybody. The bureau estimates property and casualty insurers, including car and home insurance companies, lose $30 billion a year from scams.
Cracks in auto-glass repair offers
Some auto-glass repair technicians are going door-to-door and approaching people in parking lots and gas stations to solicit business. They offer to do free inspections and bill car owners' insurance for repairs. Some may be legitimate, but insurers speculate some are con artists who talk customers into replacing windshields when only simple chip repairs are necessary, or charge inflated rates for slipshod work. Safety is a big concern: Windshields must be installed properly for the airbags to deploy and to protect the car in a crash or rollover.
Referrals for inflated towing and storage bills also rose in the third quarter, to 466 from 236 in the third quarter of 2009, a 103 percent increase, according to NICB.
Renegade tow trucks scout for accidents
Amid the hard-driving competition among tow truck companies, some dishonest operators remove cars from accident scenes without telling the drivers where they're taking them. By the time you track down your vehicle, hefty storage fees have accumulated.
Some tow truck operators also pressure you to have your car taken to particular body shops or sign agreements to prepay exorbitant fees.
Legal and medical scams
The number of suspicious claims referred to NICB after car accidents totaled 1,013 through the third quarter of 2010 -- a 24 percent increase over the same period in 2009.
In these scenarios, representatives of attorneys or medical providers approach innocent people involved in accidents and pressure them into seeking representation or treatment. In some instances, they call the accident victims and pretend to be from their car insurance companies.
Attorneys and medical providers who are running scams work together to pad bills to insurers, using innocent consumers as pawns for insurance claims.
Ignore offers from people you don't know
Not everyone who makes unsolicited contact with people after car accidents is a scam artist, Scafidi says. "But you should put your guard up," he says.
NICB recommends working with your insurance company if you have an injury claim, and to avoid selecting an attorney or medical provider based on advice from people you don't know.
In addition, understand your car insurance coverage before you have to make a claim. Talk to your insurer or agent if you have any questions.