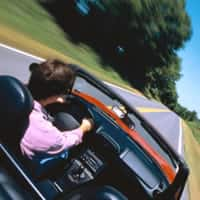 No-Fault insurance is different for each state that has chosen to require no-fault auto insurance. Understanding your state's car insurance laws will allow you know how to place a claim and with whose insurance company. This article will look at the Florida required no-fault auto insurance.
The Florida no-fault system really is in regards to medical payments. This means the insurance company covering your car will make payments for your bodily injury claims regardless of who was at fault in an accident. The property damage done to your vehicle should still be covered by the at-fault party.
Florida Law requires that motorist carry a minimum of $10,000 of personal injury protection (PIP) and $10,000 of property damage liability (PDL) if you own a motor vehicle in Florida. This law applies to self-propelled vehicles, with four or more wheels that are both registered and licensed in the state of Florida. Auto insurance must be carried continuously throughout the registration period of the vehicle.
If you are a seasonal or part-time resident of Florida, meaning living in this sunny state at least 90 days of the year, your vehicle is required to carry both the PIP and PDL Florida insurance on it. The Florida Department of Highway Safety and Motor Vehicles (www.hsmv.state.fl.us) does not need the 90 days to be consecutive to require this insurance on the vehicle.
It is always recommended to carry bodily injury insurance, even if it is not required. In fact if you have been involved in an accident you will likely be required by the state of Florida to carry bodily injury liability coverage of at least $10,000 per person and $20,000 per occurrence to comply with the Financial Responsibility Law.
Florida lawmakers designed the car insurance to be purchased this way to help reduce lawsuits between drivers. With PIP coverage, if you get in an automobile accident it helps pay for reasonable and necessary medical expenses for you and your passengers, up to the limits of your PIP policy. This coverage also extends to your child while riding a school bus.
In Florida, PIP coverage protects you while in your own or someone else's vehicle. For accidents occurring in Florida, PIP covers you and members of your household who do now own their own vehicle, certain passengers who lack PIP, and certain licensed drivers who drive your vehicle with your permission. It will cover only you and members of your household for accidents occurring outside Florida but within the United States or Canada.
Property Damage Liability (PDL) covers for certain damage, up to the limit of the policy, that you or anyone covered under your policy cause to another person's probably through the use of an automobile. The PDL coverage is only for damage which you or those insured under your policy are legally liable for. In Florida the term property is not limited to another vehicle but can also include a fence, building or pole.The terms of your policy will determine whether your PDL coverage will apply to anyone using your vehicle or just those named on your policy.
PIP and PDL are required by the state of Florida but there are other optional insurance coverages that a Florida car owner can add to their policy. These include bodily injury liability, collision, comprehensive and uninsured/underinsured motorist bodily injury. Look for future articles on these Florida policy coverages.
With the required coverage of PIP in Florida you are covered for medical payments whether you are at fault or not in an accident. Thus medical claims would go through your own insurance company; up to the limits of your policy no matter if you were found to be the responsible party for the accident or the innocent victim.
Your PDL coverage covers another person's vehicle or property when you are at fault for damaging it. So if your vehicle is damaged in an accident which the other driver is found to be at fault for, you can place a claim through their PDL insurance. If your vehicle is hurt and you are at fault, you would need to have collision coverage on your vehicle in which to make a claim with your own insurance company.
Knowing what insurance is mandated by your state is important when buying car insurance or moving to a new state. Understanding how the insurance you purchased for your vehicle works is important so that you know who to make a claim to if you are in an accident. If you do not understand the policy you currently have, call your insurance agent and ask them to go over it with you.