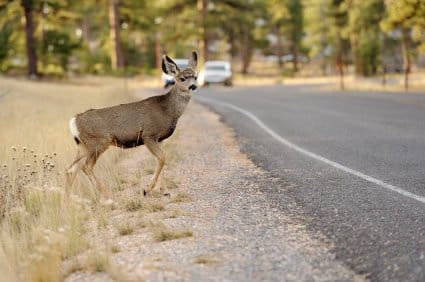 Cars strike more than 1 million deer each year, mostly during the fall mating season. Each of those accidents causes an average of about $3,400 in damage to vehicles, according to insurer State Farm.
A 2010 research report for the Washington State Department of Transportation aimed at finding deer-collision hot spots found that drivers are more likely to hit an animal:
When there are not a lot of big trucks around. Researchers say drivers of passenger cars are more alert when more than 5 percent of the traffic around them is 18-wheelers. The increased noise may help ward off animals as well, researchers say.
When the speed limit is above 50 mph, giving drivers less reaction time.
When there are fewer lanes.
When the median is 6 feet wide or narrower.
These are the most common questions from readers about deer-vehicle collisions and their car insurance policies.
I hit a deer. Am I covered?
To be covered for a run-in with a deer, you need to have comprehensive coverage as part of your car insurance policy. Although the accident with the deer wasn't your fault, you still will have to pay your comprehensive deductible amount. Your mandated state car insurance does not include comprehensive coverage.
You might think a deer strike would be covered by collision, since this coverage normally covers when your car has an impact with another vehicle or object; however, contact with animals (wild or domestic) is specifically listed as a loss covered by "other than collision" or comprehensive coverage on policies normally.
If you have a liability-only policy, then your policy doesn't cover your vehicle for any damages it receives in an accident with a deer or any other object because liability insurance covers the damage you do unto others and not your own vehicle.
I swerved to miss a deer. Am I covered?
When you hit a deer, your claim is filed under comprehensive insurance; however, if you swerve to miss a deer and crash, it is a collision claim.
Although a deer may have started the chain of events that led you to crash the car, if your vehicle didn't actually have contact with the animal, it isn't a comprehensive claim. If you collide with another car or an object (such as a guardrail or tree) or roll your vehicle, the claim for your damages falls under your collision coverage.
Will the state pay for the damage, or for my deductible?
No. No states will pay for repairs to your vehicle, or even your deductible, if you hit a deer. Yes, your state may have an agency to manage the deer population, but it's not as if they can prevent deer from running into the roadway, especially during mating and migration season.
Legislators in a few states have called for governments to pay for damages, or a set amount like $250, to a car owner after his vehicle has been hit a deer. So far, none of these bills has become law.
Do I need to file a police report?
In general, car insurance companies don't require you to fill out a police report to file a comprehensive claim for hitting a deer, but it's advisable to contact authorities anyway.
Having a police report to back up your claim will help you be able file this claim under your comprehensive coverage. If the claims adjuster can't validate your claim that you hit a deer, the claim may end up under your collision coverage instead.
Even if your insurance provider doesn't require a police report, your state may require a police or crash report for accidents where there is any injury, or property damage above a certain amount.
Will my insurance go up?
Comprehensive claims, such as one for hitting a deer, don't typically increase your car insurance rates. However, with many companies, if you file a certain number of claims within a specified period, your rates can go up. So, if you already have had a few auto insurance claims in the past few years with your car insurance company, then this one could push your premiums higher due to the total amount of claims you've made.
What are the odds of hitting a deer?
It depends on where you live. According to a State Farm study on the odds of hitting a deer, by state, your odds are 1 in 169 in the United States. West Virginia led all states in deer collisions per capita; drivers in the Mountain State have 1 in 44 odds of hitting a deer during a year.