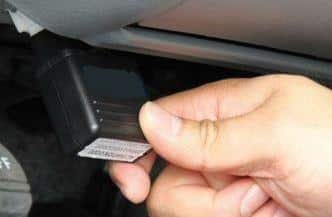 To get the benefits of a pay-as-you-drive (PAYD) discount, your car must be:
A 1996 or later model equipped with an onboard diagnostics (OBDII) port that accepts a telematics device plug-in. You will find the port underneath the dashboard near your steering wheel. Plug-in devices typically gather information such as mileage, speed, time of day and braking events.
Equipped with an onboard telematics systems such as OnStar or Sync, which typically report mileage only.
At this point, the bigger insurers dominate the PAYD landscape, although smaller insurers are expected to make strides in coming years as they try to enter the marketplace. Let's take a brief look at what's currently offered if you're considering the PAYD route, which is still an emerging trend among car insurance discounts.
Progressive's Snapshot: The way Snapshot works is typical -- you plug in the OBDII device, which then tracks time of day and vehicle speed, how many miles you drive and how often you brake hard. Consumers should also be aware that Progressive is considering the controversial move of adding the routes that you drive to the mix of factors that determine discounts. The insurer says savings could reach 30 percent for the most conscientious motorists. Progressive adds that it's best if your car stays parked during peak accident hours (between midnight and 4 a.m.). The device must be installed for at least 30 days to generate a driving profile and can be "test driven" for 30 days without being a Progressive customer. Most states offer Snapshot; those that don't are Alaska, California, Hawaii, Indiana and North Carolina.
Allstate's Drive Wise: After a recent expansion push, the product is now available in 30 states, including Arizona, New York, Oregon, Washington and Pennsylvania. A plug-in device records the usual motoring statistics, which are used to determine if customers qualify for a 10 percent discount for the first policy term. If drivers maintain safe motoring habits and low mileage during subsequent terms, savings can reach 30 percent, according to the company.
State Farm's Drive Safe & Save and In-Drive: You need an OnStar or SYNC subscription for Drive Safe & Save. State Farm receives odometer readings from OnStar every 30 days after you enroll and, after six months, adjusts your premium to reflect the mileage. The company says discounts usually range from 10 to 50 percent depending on mileage. The insurer also offers In-Drive, which uses an OBDII plug-in to track time of day and vehicle speed, how many miles driven and how often you brake hard. State Farm says you immediately receive about a 5 percent discount on premiums through In-Drive. More discounts may be if you stay below 12,000 miles a year, the national average.
The Hartford's TrueLane: A plug-in device records relevant motoring information and transmits it to the insurer by its partner, Octo USA Inc., over that firm's cellular network. You get a 5 percent discount by enrolling. After driving for 75 days, your premium could drop by as much as 25 percent, depending on how safely you drive. TrueLane is now offered in Arizona, Arkansas, Colorado, Connecticut, Idaho, Illinois, Iowa, Maryland, Minnesota, Missouri, Nevada, New Hampshire, New Mexico, New York, Oklahoma, Oregon, South Carolina, Vermont, Virginia, West Virginia and Wisconsin.
Travelers' IntelliDrive: You can receive an immediate discount of up to 5 percent by installing this telematics device. IntelliDrive -- which is so far available in Alabama, Connecticut, Indiana, Illinois, Maine, Ohio, Oregon and Virginia -- can reduce premiums by as much as 20 percent for the best drivers, according to Travelers.
Esurance's DriveSense: DriveSense, a plug-in device, transmits details through Sprint's wireless network to Esurance, which determines if drivers qualify for discounts up to 30 percent. Esurance has expanded the availability of DriveSense the past year; it's now available in Arkansas, Arizona, Idaho, Iowa, Illinois, Massachusetts, Nebraska, Rhode Island, South Dakota and Texas.
Safeco's Rewind: The company, which is owned by Liberty Mutual, offers a PAYD for motorists who are paying higher insurance rates because of traffic tickets or accidents. A device monitors their driving and keeps a record of the usual details. After four months, the record is evaluated by Safeco, which may reduce or eliminate the premium increases that came because of the prior accidents or violations. There isn't a fee to use Rewind, but it's not available in every state. Safeco suggests contacting an agent to see if you qualify.
GMAC Insurance's Low Mileage Discount: GMAC, now known as National General Insurance, offers two paths to a discount. Its plug-in monitors much the same data as others do -- speed, braking, mileage and when a vehicle is driven. The company also offers the option of reporting mileage though OnStar. The rate cuts range from 13 percent for those who drive 15,000 miles a year to 50 percent for those who drive less than 2,500. The Low-Mileage Discount program is offered in 35 states.
American Family Insurance: The insurer recently completed its testing of a PAYD model based on a plug-in device. Spokesman Steve Witmer said the research is being evaluated, with the hope that a product will soon be available to customers.
| | | | |
| --- | --- | --- | --- |
| Car insurance company | Discount | What's measured | Availability |
| Allstate Drivewise | Up to 30% | Speed, braking, mileage and time you drive | AR, AZ, CO, CT, FL, ID, IL, IN, KS, KY, LA, MD, MI, MN, MO, MS, MT, NJ, NM, NV, NY, OH, OK, OR, PA, TN, UT, VA, WA and WI |
| Esurance DriveSense | Up to 30% | Speeding, braking, mileage and time you drive. mileage, speed, acceleration, time/date and location | AK, AZ, ID, IA, IL, MA, NE, RI, SD and TX |
| GMAC/National General Insurance Low-Mileage Discount | Up to 50% | Mileage | AL, AZ, CO, FL, GA, ID, IL, IN, KY,LA, MD, MI, MN, MS, MO, MT, NE, NV, NH, NM, NY, OH, OK, OR, PA, RI, SC, SD, TN, TX, UT, VA, WA, WV, WI |
| MetroMile | Average yearly savings of $500 | Mileage | CA, IL, OR and WA |
| Progressive Snapshot | Up to 30% | Hard braking, mileage and time you drive | Not available in AK, CA, HI, IN and NC |
| Safeco Rewind | Varies | Speed, braking and mileage | Varies |
| State Farm Drive Safe & Save: In-Drive | Up to 50% | Braking, acceleration, turns, speeds over 80 mph and time you drive | All states except MA and RI |
| State Farm Drive Safe & Save: OnStar | Up to 50% | Mileage | All states except MA and RI |
| State Farm Drive Safe & Save: SYNC | Up to 50% | Mileage | All states except MA and RI |
| The Hartford TrueLane | Up to 25% | Trip distance, duration, acceleration and braking | AL, AZ, AR, CO, CT, ID, IL, IA, MD, MN, MO, NV, NN, NM, NY, OK, OR, SC, VT, VA, WV and WI |
| Travelers IntelliDrive | Up to 30% | Speed, braking, mileage and time you drive | AL, CT, IN, IL, ME, OH, OR and VA |