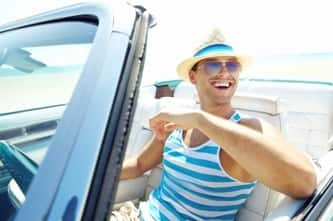 From fumbling fast food to texting, there are many distractions that can lead to car accidents. With summer here, let's add another one -- call it beauty and the beach.
Anyone who's enjoyed the shore during peak months knows the sights that can pull our attention away from the road. The waves ... the sunsets ... the "six-packs"…the bikinis. It's summertime and temptations to gawk are abundant. So are the opportunities for fender-benders.
The San Diego Police Department says that it's typical for minor, non-fatal accidents to rise by about 25 percent when the seaside and nearby roads become crowded during beach season, which starts in May and continues through August at the popular vacation spot. Most are caused by men watching women, say police.
"We get an influx of college kids and tourists to the beach areas during these times and the accidents climb,'' says Mark McCullough, a spokesman for SDPD's busy traffic division."It's often young guys who, after we talk to them and prod a little, will admit they saw an attractive woman in a little bikini" when they lost control of the car.
On the other coast, the Okaloosa County Sheriff's Office patrols busy U.S. 98 along the beach in Destin, Florida, and says the accident calls ramp up once spring break starts and continue through summer. "It is heavier more towards the later afternoon," Lt. Shannon Tait told the Northwest Florida Daily News. "We're thrilled people are here, though. We'll gladly take the slight traffic headaches if we get visitors."
Other perilous distractions
McCullough notes that men watching women isn't the only cause of seaside driving mishaps. Tourists eager for the full San Diego experience are sometimes overwhelmed by all they see at the sea.
"First off, you have to realize that our beach views are spectacular -- some tourists can actually be dumbfounded'' by them while driving, he says. "It especially happens during sunsets. Drivers have become so overwhelmed (that they) run the car right off the road, close to going over a cliff and into the ocean. That doesn't happen but they do crash ... they're pretty embarrassed by it all."
He also points out that women can be as guilty as men when an attractive person ambles into view. They don't have nearly as many accidents, but they do have them. "Sure, women will admit that a good-looking guy was involved," McCullough says. "They, I have to say, are more willing to admit a mistake than the guys, who are often more self-conscious about it."
Beyond the beach: Navel-gazing at the malls
These types of metal-on-metal encounters are not reserved for the seaside. Minor accidents can also increase during the summer in big shopping mall parking lots in warmer areas where people wear less and drivers stare more while maneuvering parking lots.
Joseph Tobar, a long-time security guard at a major mall in Southern California's Orange County, says he's often helped visitors after fender-benders or side crashes. A few times the motorists admitted they were distracted by skin.
"This mall is not far from the beach so a lot of girls show up in shorts or skirts that show off their legs," he explains. "We even have women walking about in bikinis. It's pretty casual around here. Sure, there have been accidents, usually not serious ones, because the guys weren't watching what they should have been watching."
Although men often have wandering eyes, Tobar did recall a crash involving a female driver.
"She was young, about 20 or so, and she side-swiped a car," he says. "When I was assisting her she said she looked away from the road just before it happened. She was really nervous but did mention something about two guys in tank-tops and big muscles."
Ogling can be costly
If your policy doesn't include an optional "accident forgiveness" provision, a crash will typically raise your car insurance premium, says Penny Gusner, consumer analyst for Insure.com.
"Increases can range from zero if you have accident forgiveness all the way up to 25 percent," she says. "A serious accident will usually result in an even bigger increase in your premium. Expect rates to jump from 25 percent up to 40 percent."
With the national average for a policy about $1,231 a year, that could mean paying anywhere from $308 to $492 more.
Bad motoring because of distractions or inattention is responsible for about one out of every four accidents, says the National Highway Traffic Safety Administration (NHTSA). That means almost 1.5 million collisions a year and about 4,300 crashes daily, according to 2012 federal and state statistics.
The most frequent distractions are texting, eating, fiddling with the radio or music player, turning to talk with passengers and, yes, watching someone or something outside the car. Motorists are also distracted by using laptops and navigation devices, according to the NHTSA.
Regardless of the cause, it's wise to know what to do after an accident before it happens. You should always contact the police, as insurers will want a report when you file a claim, and to exchange information – driver name, insurance company contact information and the vehicle make, model and plate number -- with the other driver.
From swivel-head to selfies, distractions abound
Distractions outside the car causing swivel-head have long been a prime reason motorists run into each other, but there are many more as indicated by a recent survey from Erie Insurance. Beyond texting (30 percent of those surveyed admitted doing it, with 75 percent saying they've seen others do it), the insurer listed other questionable activities while driving:
Romantic encounters (kissing and fondling) - 15 percent confessed they've done it
Combing or styling hair - 15 percent
Changing clothes - 9 percent
Applying make-up - 8 percent
Brushing or flossing teeth - 4 percent
Taking a selfie - 4 percent
Changing drivers - 3 percent
Going to the bathroom - 3 percent
The NHTSA reports that 3,154 people were killed and about 424,000 injured in 2013 due to accidents involving distracted driving.