Best cheap car insurance for accidents in Atlanta
---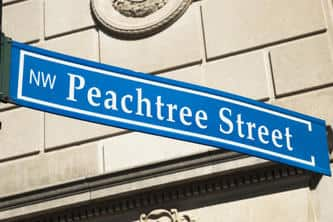 Here we'll explain how to get the best, cheap car insurance after a recent accident on the streets of Atlanta. You'll also learn how liability insurance works, what to do after an accident, how to file a claim and how long an accident stays on your record.
Who has the best cheap car insurance for accidents in Atlanta?
Progressive Premiere has the cheapest car insurance for Atlanta drivers with accident claims, among the carriers surveyed by CarInsurance.com.
An accident increases rates by 33%, or $836, a year, on average for Atlanta drivers. That's a bit more than the national average of 31%, and twice that of the average dollar increase of about $450 a year. But when broken down by company, your rates could go up by as much as 62%, or as little as 7%. That's why it's important to compare auto insurance quotes after a claim.
Though rates typically increase after an accident, you can still save on Atlanta car insurance coverage by doing a car insurance comparison of costs for a policy. No two insurers will have the same price for a policy because each company uses its own unique formula to determine what you pay. You'll see in the table below how car insurance companies compare on price.
| Company | Average rate | Rate after accident | % increase | $ increase |
| --- | --- | --- | --- | --- |
| Progressive Premier | $1,513 | $1,618 | 7% | $105 |
| Geico General | $1,239 | $2,002 | 62% | $763 |
| Progressive Mountain | $1,716 | $2,529 | 47% | $813 |
| Allstate | $2,356 | $3,348 | 42% | $992 |
| Nationwide | $2,986 | $4,492 | 50% | $1,506 |
The rates shown are for a policy of 100/300/50. Gusner explains below why a policy with those coverage amounts, at the lowest price, is likely the best, cheap car insurance you can get in Atlanta after an accident.
Different types of accidents connect to different types of insurance
There are different types of accidents and they will impact different types of car insurance coverages. Basically, liability car insurance handles both bodily injury claims as well as property damage claims for damage you cause to others in an accident. While bodily injury claims tend to be more serious (and more expensive), property damage claims are much more common.
Bodily injury: This portion of the policy covers the following if you are at fault in a car accident that injures another person. It is important to note that this coverage is only for other people, you and your family's own medical bills would fall to your health insurance:
Medical bills: This covers medical bills, emergency services and any hospital bills for the people you injure. It also helps pay for follow up visits as well as associated costs such as wheelchairs or crutches.
Lost income and wages: If the person you hit is seriously injured and cannot work for a while, this portion of your policy will cover their lost wages and income. There may be limits imposed by the policy or state law.
Legal fees: If the injured party decides to sue, your policy will help cover your legal fees as well as any judgments or settlements up to your policy limits.
Bodily injury comes with coverage limits and your policy will detail the maximum amount it will pay out for each claim. Bodily injury coverage has two different coverage limits:
Per person limit: This limit is the maximum amount your policy will pay to each person injured in a car accident. As an example, if your policy has a per person limit of $50,000 the most your policy will pay towards one person's medical bills is $50,000.
Per accident limit: This part of your policy kicks in when multiple people have been injured in the accident. As an example, if your per accident coverage limits are $100,000 and three people were injured in the accident, the total amount your policy would pay out for all of their injuries is $100,000. Each person would also be limited to the per person amount as well.
How much bodily injury coverage you carry is up to you but remember, in a serious accident the medical costs can quickly add up and you will be on the hook for any costs your insurance doesn't cover. "I recommend carrying 100/300/50 ($100,000 per person, $300,000 per accident, $50,000 in property damage) in most situations but you should consider higher limits if you have a lot of assets," recommends Gusner.
The other portion of liability insurance falls under property damage.
Property damage: If you are responsible for an accident, this coverage will pay to repair or replace another person's property. This usually means repairing or replacing their car, but it can apply to other things such as landscaping, mailboxes and even garages. This part of the policy only covers other people's property, not your own.
"When it comes to property damage, I recommend at least $50,000 in coverage and if you have significant assets you should up that amount," says Gusner. "Remember, you will be responsible for any costs that go beyond your policy limits."
How long will an accident stay on my record in Atlanta?
In Georgia, points for moving violations drop off your record after two years, but the actual citation stays on your driver record forever.
Bear in mind that your driving license record is different than your insurance record. Insurance companies keep their own record of your driving infractions and use it to determine premiums as well as rate increases.
When will I see the increase to my car insurance rates for an accident?
Insurance companies typically will raise your rate upon renewal of your policy for recent accident claims. Generally, an increase for an accident will last three years, but it depends on your insurance company and state laws.
How long an accident pushes up your premium will depend on your insurance company and can also be impacted by the state you call home. In most cases, once a ticket, license points or accident drops off of your driving record, your insurance company will no longer consider it when setting your premium. But that is not true of all insurers. Check with your insurance company to see how long they surcharge for an accident. In some states, insurers are legally limited when it comes to how long insurers can consider accidents when calculating premiums.
Even if you were completely innocent in the accident you may see a premium increase, but it really depends on the insurance company and where you live. USAA is one example of an insurer who won't punish you if the accident was not your fault. Its website clearly lays out their position, "If we agree that you had no responsibility for an accident, your premium will not be affected by an accident that is not your fault."
Other insurers may raise your rate regardless of whether or not you are at fault. Still, others may forgive the accident if you meet certain requirements or are carrying an accident forgiveness policy. Liberty Mutual is one insurer that offers this benefit. According to its website, "If you're accident free and violation free for the past five years, your premium will not go up due to your first accident."
However, accident forgiveness may require more than a clean driving record. In some cases, it is an additional coverage that is added to your policy and may increase your premium slightly.
Georgia's modified comparative negligence law
Georgia allows those injured in a car accident to recover damages even if they were partially to blame for the accident. Georgia car insurance laws stipulate what's called a modified comparative negligence mandate when it comes to determining fault in an accident. Georgia lets people recover damages even if they were partially at fault, but drivers who are 50% or more at fault cannot recover any damages.
Here's an example of how it works. Let's say your damages total $10,000. The other driver proves you were 40% at fault. That means you can only recover $6,000 instead of the full $10,000. If you suffered $10,000 in damages and were 50% (or more) at fault for the accident, you could not recover anything under Georgia law.
What happens after an at-fault accident?
Beyond determining who is at fault here's what happens after an accident. If you are at fault in an accident, the person you hit (or their insurance company) will file a claim with your insurance company. Gusner explains what you can expect to happen after an at fault accident:
Let's say you have a minor accident where you rear-end someone. You exchange information at the scene and take plenty of pictures because even if you know you are at-fault you want to only pay for damage that you caused and not previous damage that may be unrelated.
Report the accident to your insurance company, so that when the other person calls in their liability claim they will already have your side of the story and have started a claim. The damaged party should call into your insurance company to make their claims. Their car's damage would be claimed against your property damage liability coverage and any injuries would be against your bodily injury liability coverage.
Your company may call to confirm details of what happened and get any photos you took of the damage to your car and other parties. If the insurance company agrees you are legally liability for the accident, it will then deal with the other party to get their car repaired, medical bills paid and any other expenses related to the accident covered.
Any surcharge (premium increase) will normally show up at your next renewal. If you have had more than one accident in a short period of time, you may not get a surcharge but be non-renewed at the end of your policy period and have to find a new insurer.
What to do and not do after an accident
Here are a few tips on how to handle the immediate aftermath of a car accident:
Move the cars to a safe area if possible: If it is safe to move your cars and nobody has been injured in the accident, move your cars onto the shoulder of the road. If the car cannot be moved, put your hazards on to make sure that other drivers are aware of the accident.
Check on the other people: Check on everyone else involved in the accident. This includes any of your passengers, the other driver and passengers as well as any pedestrians. If anyone is injured, call 911 and wait for the authorities. Even minor injuries can result in a concussion or other serious issue, so it is always best to error on the side of caution.
Call the police: Regardless of whether someone is injured or not you should call the police to the scene, just don't use 911. A police report can be helpful in dealing with your insurance company and they can help determine fault in the accident. Always cooperate with the police but avoid admitting fault, let the police determine who is at fault.
Document the scene: You should always document the accident scene as much as possible and gather information that will be helpful for your claim. Try to gather the following:
Driver and passenger names
License plate numbers of cars involved
Insurance information of everyone involved
Makes and models of all vehicles involved
Contact info for any witnesses to the accident
Location of the accident
Name and badge number of any responding police officers
Photos and video: If you have a smartphone with you make sure you take plenty of photos and video of the scene. Try to document the damage to your car as well as the other person's car. Take photos from a variety of different angles to make sure your insurer has all of the information they need to process your claim.
File your insurance claim: Once you have documented the scene and talked to the police, notify your insurance company as soon as possible so they can get started on your claim.
Actions to avoid after a car accident: Here are just a few actions to avoid after a car accident.
Move any injured people
Apologize for the crash – admitting guilt is never a good idea
Telling anybody involved in the accident how much insurance you carry
Never accept any money or offer any money to anyone involved in the accident. If you do, you will forfeit your right to file a claim
Never agree to forget about the accident, even if it is very minor, the other person may file a lawsuit against you later
Claim filing tips
If you end up filing a claim with your insurance company here are a few tips to help make the process go a bit smoother.
Call your insurer as soon as possible, regardless of who is at fault. Talk to your agent about how to proceed and what documentation they need from you. Your insurer may require a "proof of loss" form, as well as documents (think police report) related to your claim. You may need to also submit medical and auto repair bills.
Don't let your insurer force you to use a specific auto body repair shop. In many states, there are laws in place that prohibit insurance companies from steering clients to specific repair shops.
Supply all of the information your insurer needs and full cooperate with your insurance company in its investigation. Be prepared to help with details and photos you may have taken and work with them in the event it goes to court. If you are served any legal papers make sure your insurer is notified immediately and given a copy.
Keep copies of all paperwork related to your claim and make detailed notes on every interaction you have with both your insurance company, lawyer or other person's insurance company in regard to the claim. Get names, titles, contact info and note what was talked about.
Keep records of all of your expenses related to the accident. Some of them may be reimbursed under your policy.
If you are dissatisfied with the settlement offer let your adjuster know. Insurance settlement offers can be negotiated. If you cannot get a satisfactory answer from your adjuster, the majority of insurers have an appeals process in place so you can elevate your issue.
How to save on car insurance after an accident
If you have been involved in an accident, there is a good chance your rates are headed up but there are things you can do to bring your insurance costs back to affordable. Here are a few tips to lower your premium:
Shop around: This is the best way to lower your premium. Insurers rate risk differently which can result in dramatically different premium quotes. While some insurers will tack a major surcharge on your premium for an accident, others may not hit you as hard. Shop at least 5 insurance companies and make sure you are comparing apples to apples when it comes to coverage levels and deductibles.
Consider an accident forgiveness policy: While this tip is not great after you have had an accident, if you are currently accident free you may want to consider it. Accident forgiveness can be added to most car insurance policies if your insurer offers it. Accident forgiveness is fairly affordable and well worth the cost if you are in an accident.
Ask for discounts: Insurers offer numerous discounts so make sure that you are getting all discounts that you are qualified to receive. Your agent should be able to do a discount review to make sure all appropriate discounts are being applied.
Raise your deductible: This is a great way to lower your premium. If you can afford to double your deductible you should see a substantial drop in your premium. Always choose a deductible that you can easily afford in the event you have to make a claim.
Consider a defensive driving course: Most insurance companies will discount your premium if you take and pass a defensive driving course. Check with your insurer for approved courses.
Cover the cost yourself: This may not be an option for everyone or every situation but if the accident was minor you may want to cover the cost yourself. An accident on your insurance record can dramatically impact your rates which can make covering the cost of the accident financially prudent in some cases.