Romantic encounters, grooming and selfies join texting as top driver distractions, according to a new driver survey.
Erie Insurance asked 1,915 drivers age 18 and older what they do behind the wheel:
Distracted driving behavior and percentage of drivers who engaged in it

Romantic encounter/PDA

15%

Combing/styling hair

15%

Changing clothes

9%

Putting on makeup

8%

Brushing/flossing teeth

4%

Taking selfies

4%

Changing drivers

3%

Going to the bathroom

3%
Other drivers said they have put in contact lenses or eye drops, curled eyelashes, scratched off lottery tickets and even played the guitar while behind the wheel.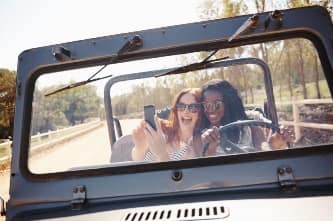 The Erie, Pennsylvania-based insurer commissioned Harris Poll to conduct the online survey in February to help raise awareness about distracted driving as April, dubbed National Distracted Driving Awareness Month, approaches.
"A distraction is anything that causes a driver to take their eyes off the road, their hands off the wheel, or their mind off their primary task of driving safely," Doug Smith, senior vice president of personal lines at Erie Insurance, said in a written statement. "Our survey found drivers unfortunately are engaging in a wide range of distracting and potentially dangerous behaviors."
Who is texting and driving and where
The survey found that texting while driving also remains a serious problem, with about one-third of drivers (30 percent) saying they themselves have done it and three-quarters (75 percent) saying they've seen others do it.
Here are the texting results broken down by region, age and gender:
Texting by region

Drivers in the Northeast text the least.

Northeast

24%

Midwest

28%

West

30%

South

35%

Texting by gender

Men are more likely to text than women.

Men

32%

Women

28%

Texting by age

Younger drivers text more.

18-34

51%

35-44

39%

45-54

33%

55-64

14%

65 and older

7%
In 2012, 421,000 people were injured in car crashes involving distracted driving and 3,328 people were killed, according to the National Highway Transportation Safety Administration.
Texting, driving and license points
While kissing, primping and picture-taking may not be listed as specific driver violations and typically fall under the umbrella of distracted driving, 45 states now ban texting and driving. Even so, less than half consider texting behind the wheel a moving violation. Visit our state car insurance rates page for more information on state laws and average rates by city and town.
You car insurance company may raise your premiums upon review of your driving record if you're ticketed in a state where texting violations add points to your driving record or are considered moving violations. States with texting laws specifying that violations add points or are considered moving violations include:
Alabama: 2 points
Colorado: 1 point
District of Columbia: 1 point and is a moving violation; 3 points if it is judged to have caused an accident.
Florida: 3 points and moving violation for second ticket within five years; 2 points if texting ticket received in school safety zone; 6 points if found that unlawful use of wireless communications device results in a car crash
Georgia: 1 point
Kentucky: 3 points
Maryland: 1 point and a moving violation; 3 points if the texting contributed to an accident
Missouri: 2 points
Nebraska: 3 points
New York: 5 points
New Jersey: 3 points for third offense
North Dakota: moving violation
Nevada: first offense not considered a moving violation; repeat offenses add 4 points
Vermont: 2 points for first offense and 5 points for a subsequent offense
Virginia: 3 points
West Virginia: 3 points for third offense
Wisconsin: 4 points