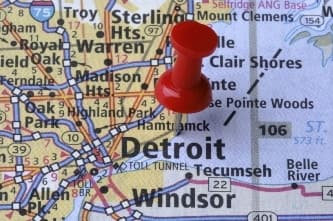 The highest car insurance rates in the nation belongs to Detroit, according to CarInsurance.com's analysis of rates for a 2014 Honda Accord with full coverage for 33,401 ZIP codes.
ZIP codes in Brooklyn and Philadelphia rank second and third, respectively, behind Detroit.
Drivers can enter a ZIP code in CarInsurance.com's average car insurance rates tool to see the average premium for the location, as well as the highest and lowest rates.
The top 10 most expensive locations for car insurance rates are:
1. Detroit, Michigan, in ZIP code 48227: $5,109
2. Brooklyn, New York, in ZIP code 11226: $3,877
3. Philadelphia, Pennsylvania, in ZIP code 19132: $2,760
4. Providence, Rhode Island, in ZIP code 02903: $2,749
5. New Orleans, Louisiana, in ZIP code 70117: $2,542
6. Los Angeles, California, in ZIP code 90029: $2,416
7. Woodbridge, Connecticut, in ZIP code 06525: $2,291
8. Baltimore, Maryland, in ZIP code 21216: $2,256
9. Miami, Florida, in ZIP code 33142: $2,248
10. Royalton, Kentucky, in ZIP: code 41464: $2,104
Car insurance companies assess many factors when setting rates, and your location is chief among them. Based on the number and severity of car insurance claims within the area, insurers assign ZIP codes different risk levels. Insurers take into account the frequency of thefts, collisions and vandalism to gauge the likelihood of such incidents happening to drivers within the ZIP code. This is used as the base rate from which insurers calculate your premium. Other pricing factors, such as your driving record, type of car you drive and your age are then added into the calculation. Every car insurance company uses its own base rate and formula, which is why rates can vary so much, and why it's important to comparison shop.
CarInsurance.com's analysis showed a national average rate of $1,231, and several locations, including Palo Alto, California, and Denver, Colorado, mirror that average.
The top 10 least expensive locations for car insurance rates are:
1. Green Springs, Ohio, in ZIP code 44836: $647
2. Arden, North Carolina, in ZIP code 28704: $671
3. Saco, Maine, in ZIP code 04072: $709
4. Christiansburg, Virginia, in ZIP code 24073: $751
5. Boise, Idaho, in ZIP code 83706: $753
6. Lake Havasu City, Arizona, in ZIP code 86403: $769
7. West Lafayette, Indiana, in ZIP code 47907: $770
8. Allouez, Wisconsin, in ZIP code 54302: $776
9. Concord, New Hampshire, in ZIP code 03303: $785
10. Normal, Illinois, in ZIP code 61761: $827
Methodology
CarInsurance.com commissioned Quadrant Information Services to run auto insurance rates for a 2014 Honda Accord for 33,410 ZIP codes in the United States. We calculated rates using six large carriers (Allstate, Farmers, GEICO, Nationwide, Progressive and State Farm).
Averages are based on insurance for a single 40-year-old male who commutes 12 miles to work each day, with policy limits of 100/300/50 ($100,000 for injury liability for one person, $300,000 for all injuries and $50,000 for property damage in an accident) and a $500 deductible on collision and comprehensive coverage. This hypothetical driver has a clean record and good credit. The rate includes uninsured motorist coverage. Average rates are for comparative purposes. Your own rate will depend on your personal factors and vehicle.