In today's world, many are wondering how to lower car insurance and other expenses. Depending on where you live in the States, auto insurance costs can become very expensive. In a 2020 study of the average cost of car insurance rates by states, we found that the average auto insurance in Michigan costs more than $3,100 for a full coverage policy. That's more than a mortgage payment for many Americans, but with auto insurance legally required for most states, many drivers don't have a choice but to pay up.
What do you do if your car insurance is too high?
We have good news. You don't have to be stuck paying top dollar for your insurance premiums. With our auto insurance tips on how to get lower car insurance quotes, you can lower your auto insurance without sacrificing the coverage or service you need to protect your family.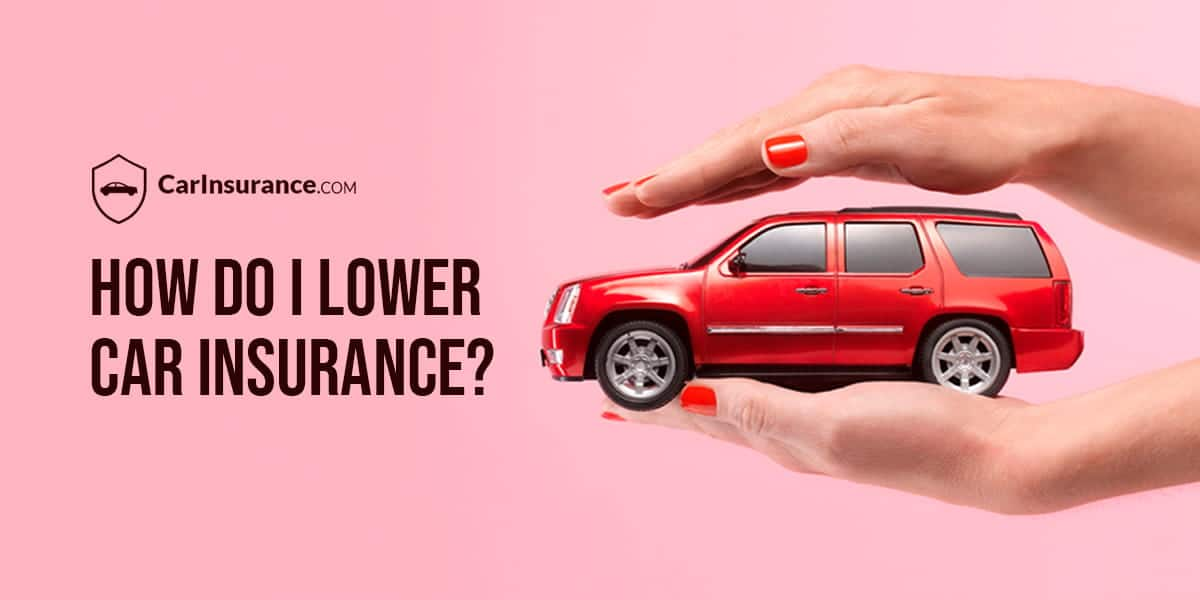 Five ways to lower your auto insurance
The most expensive quotes will make you stop in your tracks and wonder how to lower auto insurance, but there are ways to receive lower car insurance quotes so you can save some money.
Before you purchase a new policy, you should consider other ways to save on your insurance premiums. Knowing how to save on your auto insurance can save you tons of money each year, and these auto insurance expert tips can help.
1. Pay for what you use
Usage-based insurance is one way to lower auto insurance costs with a pay-as-you-drive format. It's a good choice when you anticipate low mileage driving through the year. Usage-based insurance is becoming increasingly popular with insurance providers, like Progressive, with its Snapshot program. Savings could be as simple as downloading an app and could save you as much as $100 each year through safe driving and reducing the number of miles driven.
2. Shop around
Before you renew, take the time to consider how to lower auto insurance pricing and explore your options. Insurance providers can mark up policies, saving their best discounts for new customers. When looking at different insurance companies, consider those on our Cheapest Car Insurance in 2021 list.
"Comparison shopping is one of the easiest ways to save immediately," says Penny Gusner, senior consumer analyst for CarInsurance.com.
"By setting aside time to compare rates from at least three different insurance companies you may find one is a much better value for you specific situation , and this can save you hundreds if not thousands annually."
In addition to price, it is also important to consider things like financial reliability, claims satisfaction, policy options, and availability for your area.
3. Look for discounts
Most insurance companies offer car insurance discounts that you can use for regular savings on your car insurance premiums. Bundle discounts are popular, allowing you to save when you add multiple vehicles from the same household or bundle your auto insurance with your homeowners insurance, renters insurance, or life insurance policy. Here are a few other discounts to check into, multi-policy discount, defensive driving course discount, loyalty discount, good student discount, safety features (like anti-lock brakes) discount and more. Ask your insurance company about discounts you may qualify for.
4. Improve your credit score and driving record
Car insurance companies often use your credit score as one item of consideration when assessing your risk as a policyholder. They also consider your driving record. Suppose you have several accidents or moving violations on your record or many missed payments. In that case, your insurance company may increase the amount you pay for your premium each month to cover this additional risk.
You can't go back in time and change what has been done, but you can take action moving forward to improve your credit and safe driving record. Focus on paying bills on time and following road laws.
5. Raise your deductible
Another way to lower your car insurance is to increase your deductible. The deductible in your policy is the amount of money you will be required to pay out of pocket in the event of a claim. This means that you will have more to pay out of pocket if you experience a loss, but as a result, your monthly payment will be that much lower. Insurance companies believe if your deductible is higher, you will file fewer claims. Deductibles often range anywhere from $250 to $1,000.
So, is it better to have a $500 deductible or $1,000? This depends on your needs and your savings. If you can afford the $1,000 deductible and will be able to pay that amount out-of-pocket in the event of an accident, it will definitely save you money on your insurance premium, somewhere around $201 per year or 10.8% as a national average.
Talk to your insurance company to see what options you have for your collision and comprehensive coverage deductible.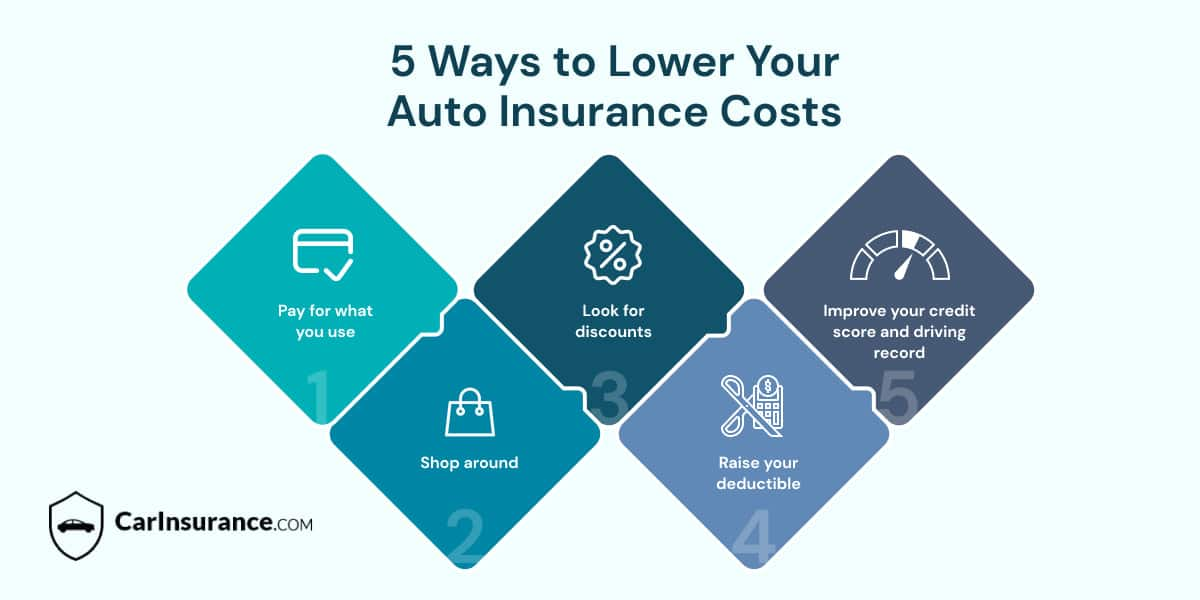 Expert's Recommendation on how you can lower your car insurance, suited for your personal profile
During a pandemic
Money has become especially tight during the coronavirus pandemic, but there are ways to spend less on car insurance even during COVID. Whatever you do, don't jump into canceling your car insurance to save money.
It's possible to save money on your car insurance when you spend less time on the road. With so many Americans working from home these days, commute times are nothing like what they used to be, and many people are driving much less as they shelter at home. Now could be a great time to talk to your insurance agent to see what kind of savings you can receive based on your new limited driving habits.
After an accident
You may find that car insurance rates increase after an accident, rising by several hundred dollars sometimes. This only further highlights the need to comparison shop so you can really explore your options and find the best-priced - and most forgiving - insurance provider for your needs.
For drivers under 25
Car insurance for young drivers can also get pricey when you are more inexperienced behind the wheel. However, there are special savings programs designed specifically to benefit young drivers, and several companies specialize in car insurance for college students, offering exclusive savings like good student discounts and extra savings when you leave your car at home while you're at college.
For teen drivers
Teen drivers are at the highest risk for distracted driving, which is why it can also be very expensive to insure them. That's why many parents are constantly exploring how to save money on car insurance when they have young drivers.
To help, many insurance providers offer good student discounts for teens who show responsibility through their academics. Parents and caregivers should also consider multi-car discounts, which are discounts that insurance companies give when multiple members of the same household insure their cars together with the same provider.
In a Summary:
Times are tough and money is tight right now, thanks to coronavirus, but that doesn't mean that you have to be stuck with overpriced insurance. There may be certain situations where you face higher insurance premiums, such as drivers with bad credit or those with a teen driver to insure, but there are also ways to lower your auto insurance when you leverage special discounts.
Before you purchase or renew your auto insurance policy, be sure to ask your insurance company what kinds of savings programs they can offer you. Either way, it never hurts to shop your options and see what discounts other insurance providers can offer you today based on your household's needs.
Helpful Resources:-