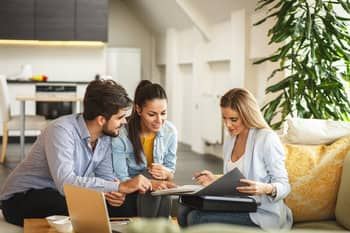 Moving can be a lot of hard work. Before you move, you research the best location and check out the schools and maybe fun items like buzzworthy restaurants near your new home. What you may have forgotten to find out is the car insurance impact. The price can change dramatically for better or worse depending on your new address.
U-Haul, the moving truck rental company, estimates that nearly 45 percent of all moves occur between Memorial Day and Labor Day.
The U.S. Census Bureau estimates that a person in the United States can expect to move 11.7 times in his or her lifetime, and reports that in 2019 14% of people (about 40 million) in the United States moved within the past year. That's based on the latest statistics.
If you're one of these drivers on the move, here you'll find out how much more or less you'll pay for car insurance, on average, after relocating as well as how to prevent a lapse in coverage during your transition.
How Much will my Car Insurance Change if I Move?
Our moving calculator helps you predict your savings – or your budget-busting change, and answers the question of how much your car insurance will change when you move. If you're moving from Fremont, Ohio, to Detroit, Michigan, you better have an extra $6,611 on hand to pay for the hike in your car insurance, according to our analysis of average car insurance rates. It's the most expensive auto insurance move you can make. To use the tool, enter the ZIP code you are moving from and the ZIP code in which you're relocating. If you know the annual amount of your car insurance, you can enter that, too. If you don't know, leave it blank. The change of address car insurance increase or decrease will show after you click the "Find out" button.
Will my insurance go up if I move?
Regardless of where your new home is, the "Will my insurance go up if I move?" calculator can help you prepare for your new car insurance costs.
Here are the 5 most expensive moves for car insurance rates for cities and towns, on average:
1. Freemont, Ohio ($804), to Detroit, Michigan ($7,415) = 822% increase
2. Swannanoa, North Carolina ($813), to Brooklyn, New York ($4,440) = 466%
3. Normal, Illinois ($818), to New Orleans, Louisiana ($3,747) = 358%
4. Blacksburg, Virginia ($819), to Coral Gables, Florida ($3,310) = 304%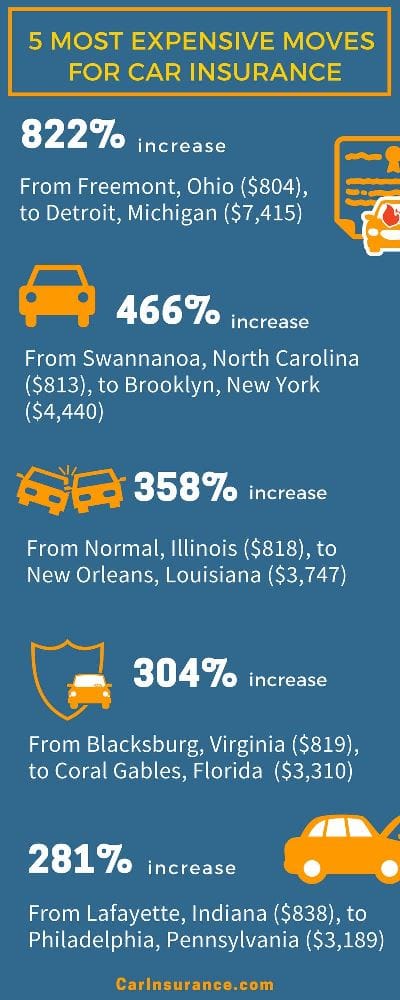 5. Lafayette, Indiana ($838), to Philadelphia, Pennsylvania ($3,189) = 281%
How does your address affect car insurance?
Such fluctuations may seem surprising, but they are the result of a common practice used by insurers when setting rates. Car insurance companies consider a host of factors when calculating your premium, and chief among them is your location. Insurance companies put ZIP codes into different risk categories based on the number and severity of insurance claims. "Territorial rating," as the method is known, is used in most states to calculate a base rate used as the starting point for drivers buying insurance.
Differences in accident and theft claims for different regions within the same city account for dramatic rate changes from ZIP code to ZIP code. Each insurance company calculates its base rate differently, so it's prudent to compare quotes when moving to get the most affordable rates.
Soon after you move you need to notify your car insurance company of your new address. Your current coverage will follow you during your move, but only for a short period of time, generally up to 30 days.
If you move to a new state, you need to change over your registration and tags within a certain period of time, too, anywhere from 10 to 60 days depending upon your new state's laws.
It's imperative that during this time period you shop around for car insurance because in most states you need to show proof of auto insurance to register your car. Your current car insurance company may not operate in your new state, and if it does, you still need a new policy that complies with your new state's laws.
Car insurance checklist when moving:
Inform your auto insurer of your move. Find out how long your current coverage will stay in effect.
Comparison shop with multiple car insurance companies. If in a new state, take this time to find out about the state's car insurance laws and required coverages.
Obtain a new car insurance policy. Once you've found the best rates for your new location, purchase the policy.
Register your car and get new plates. If you changed states, it's now time to take your new insurance policy into the DMV to obtain your registration and plates.
Turn in your old plates. If you changed states, once you've obtained new car insurance coverage and new registration and plates, you can turn in your old tags. Do this at the same time you are canceling your old insurance or your former state may think you're driving uninsured and try to penalize you.
Cancel your old insurance policy. Make certain your new auto insurance coverage is in effect before requesting the cancellation of your old policy. Don't stop paying premiums on the old policy or you'll be canceled for nonpayment, which will create a black mark on your credit report.
Be aware of potential refunds or fees. Drivers who paid in full and cancel before their renewal date should check with their insurer to see if they are eligible for a pro-rated refund. On the other hand, it's possible an insurer will charge a fee for early cancellation.
Other times it's wise to compare car insurance rates
You should compare car insurance rates when you move, but also when your policy is up for renewal. That way you can be sure you are still getting the best price. Here are other times you should compare auto insurance quotes, as your rates are most likely to significantly change during these instances. When your life circumstances change, your existing insurance company may no longer be the one with the lowest price for your new situation:
Purchasing a car
Adding or removing a driver from a policy
Getting married or divorced
Adding a teen driver
Buying a house
After a DUI conviction or major violation
After an accident
After a change in credit score
CarInsurance.com commissioned Quadrant Information Services to provide a report of average auto insurance rates for a 2016 Honda Accord for every ZIP code in the United States. We calculated rates using data for six large carriers (Allstate, Farmers, GEICO, Nationwide, Progressive and State Farm).
Averages are based on insurance for a single 40-year-old male with policy limits of 100/300/100 ($100,000 for injury liability for one person, $300,000 for all injuries and $100,000 for property damage in an accident) and a $500 deductible on collision and comprehensive coverage. This hypothetical driver has a clean record and good credit. The rate includes uninsured motorist coverage. Average rates are for comparative purposes. Your own rate will depend on your personal factors and vehicle.
Move calculations are based on CarInsurance.com's most and least expensive ZIP codes for car insurance comparison.