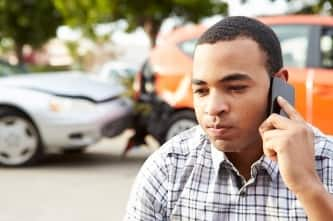 Most states' laws require drivers to buy two types of liability car insurance coverage in order to operate a vehicle on the roadway.
Property damage liability car insurance pays to repair or replace cars or other property that you hit with your vehicle.
What does liability car insurance cover?
Bodily injury liability (BI) pays, up to your policy limits, for injuries or death that you (the policyholder), or other drivers covered by your car insurance policy, are found responsible for after a motor vehicle accident. Policy terms vary but typically bodily injury liability coverage will pay, up to your policy limits, for:
Medical expenses
Funeral expenses
Loss of income
Pain and suffering
Legal defense if a lawsuit results from the auto accident
[Let CarInsurance.com help you find affordable auto insurance now.]
Policy limits for bodily injury liability are per person and per accident and coverage is written as such. For example, $25,000/$50,000 means that the maximum payout per person is $25,000, and the maximum payout for all people injured in one accident is $50,000. This coverage may also be simply written as 25/50. Bodily injury liability does NOT cover your injuries, only the injuries of others that you are liable for. For your personal injuries to be covered, you would need coverages such as personal injury protection (PIP) or medical payments coverage (MedPay).
Property damage liability (PD) pays, up to your policy limits, for damages to someone else's property that you (the policyholder), or other drivers covered by your car insurance policy, are found responsible for after a motor vehicle accident. Property damage typically is damage to another car, but property damage liability also covers damages you may cause to someone's house, tree, fence, guardrail, pole, etc.
Property damage liability provides you with legal defense if another party files a lawsuit against you regarding property damage that resulted from an auto accident. Property damage liability does NOT cover in any way damages to your own vehicle. For such coverage, you need collision coverage and comprehensive coverage.
Is liability car insurance mandatory?
Yes, in most states bodily injury liability and property damage liability are required as part of the minimum auto insurance coverages you must carry as a car owner. Each state has its own state car insurance requirements. You have the option of raising your liability limits, which is strongly encouraged in many cases.
Car insurance companies normally require that you carry the same level of liability coverage on each vehicle listed on your policy. In some states, you must carry the same liability limits on all cars that you own. Even if the state does not require this, some insurance companies will.
A few states do not require bodily injury liability coverage because they have what are known as no-fault laws. Under those rules, drivers must carry what is known as personal injury protection to pay for their own injuries or those of their passengers. Once those limits are exceeded, you are personally liable for the costs of treating the injuries you cause.
Even in states with no-fault laws, most people buy bodily injury liability insurance.
Recommended limits for liability car insurance

In many states the legal minimum is not enough to pay for serious injuries or to replace a late-model car. It is only enough to drive legally. Buy the minimum only if you have no savings or home to shield from lawsuits.
The Insurance Information Institute (III) and other insurance industry experts recommend motorists carry bodily injury liability coverage of $100,000 per person and $300,000 per accident (referred to as 100/300 coverage). For property damage liability coverage, $50,000 or $100,000 is suggested. If you can afford higher limits, that is even better for the protection of your assets. Liability insurance beyond these amounts tends to be very inexpensive.
To see what you can expect to pay, here are average car insurance rates by state for the recommended liability limits of 100/300/100. Optional comprehensive and collision are also included in these rates, which are typically purchased with these liability amounts. Enter your state in the search field to find your rate.
| State | Average annual rate 100/300/100 |
| --- | --- |
| Alaska | $1,114 |
| Alabama | $1,313 |
| Arkansas | $1,383 |
| Arizona | $1,353 |
| California | $1,527 |
| Colorado | $1,435 |
| Connecticut | $1,775 |
| DC | $1,722 |
| Delaware | $1,655 |
| Florida | $1,835 |
| Georgia | $1,348 |
| Hawaii | $1,458 |
| Iowa | $1,024 |
| Idaho | $946 |
| Illinois | $1,009 |
| Indiana | $965 |
| Kansas | $1,245 |
| Kentucky | $1,771 |
| Louisiana | $2,190 |
| Massachusetts | $1,191 |
| Maryland | $1,396 |
| Maine | $920 |
| Michigan | $2,490 |
| Minnesota | $1,200 |
| Missouri | $1,158 |
| Mississippi | $1,330 |
| Montana | $1,224 |
| North Carolina | $963 |
| North Dakota | $1,311 |
| Nebraska | $1,117 |
| New Hampshire | $1,102 |
| New Jersey | $1,353 |
| New Mexico | $1,257 |
| Nevada | $1,750 |
| New York | $1,782 |
| Ohio | $957 |
| Oklahoma | $1,655 |
| Oregon | $1,292 |
| Pennsylvania | $1,532 |
| Rhode Island | $1,693 |
| South Carolina | $1,263 |
| South Dakota | $1,052 |
| Tennessee | $1,223 |
| Texas | $1,308 |
| Utah | $1,212 |
| Virginia | $979 |
| Vermont | $967 |
| Washington | $1,197 |
| Wisconsin | $1,327 |
| West Virginia | $1,387 |
| Wyoming | $1,472 |
* Methodology: CarInsurance.com commissioned Quadrant Information Services to provide a report of average auto insurance rates for a 2016 Honda Accord for nearly every ZIP code in the United States. We calculated rates using data for up to six large carriers (Allstate, Farmers, GEICO, Nationwide, Progressive and State Farm). Averages are based on insurance for single 40-year-old male and female driver who commutes 12 miles to work each day, with policy limits of 100/300/100 ($100,000 for injury liability for one person, $300,000 for all injuries and $100,000 for property damage in an accident) and a $500 deductible on collision and comprehensive coverage. This hypothetical driver has a clean record and good credit. The rate includes uninsured motorist coverage. Average rates are for comparative purposes. Your own rate will depend on your personal factors and vehicle.
What happens if I don't have liability car insurance?
If you don't carry liability and the state requires it, then penalties can be handed out, such as fines and suspension of your license, and/or vehicle registration.
Also, without bodily injury liability and property damage liability coverage on your car insurance policy, you will be held personally responsible for any injuries or damages you cause to others in an auto accident. This could mean you will be forced to liquidate property, savings and other assets in order to pay for a judgment against you.
If you do carry bodily injury liability coverage, but with low limits, you still could be putting yourself at risk financially, since if you cause a serious accident where injury expenses exceed your limits you can be held responsible for the amount above your limits.
The same applies to property damage liability insurance. Every state requires that you take financial responsibility in the event of an accident. If you have very low limits on your property damage liability coverage, you are personally liable for the amount over and above what your insurance pays.
Can you use your liability car insurance on your own car?
Your own liability coverage cannot ever be used to pay for damages to your own vehicle or to recoup its actual cash value (ACV) if your car is totaled in an accident.
You can't make a property damage liability claim against yourself for your own property. For instance, if you backed into your mailbox with your car, you can't make a liability claim with your car insurance company for the damaged mailbox or your car since both are your property.
Or, if your spouse runs into your vehicle with his car, you normally can't make a claim against the liability coverage on his car. Car insurance policies are usually written so that liability coverage protects members of your household against claims brought by people who are not part of your household.
If you have only liability insurance, your vehicle isn't covered in any way. If you're in an accident but not at-fault, then you can use the at-fault party's property damage liability to make a claim for your vehicle's damages, or its ACV, if your car is a total loss.
To have coverage for your vehicle when you're the one at-fault in an auto accident, you must have collision and comprehensive coverage.
For accidents with other vehicles or objects, you'd use collision coverage to pay for your damages or ACV. Comprehensive insurance covers damage to your car from fire, floods, hail, vandalism, animal strikes and also covers theft.
Determining a liability claim from a collision claim
Both property damage liability and collision insurance pay for damages to cars damaged in an auto accident but are claimed differently.
Your liability coverages – property damage and bodily injury – protect you when someone files a claim against you for an accident you caused.
Your collision covers your car for damages it receives when it hits, or is hit by, another vehicle or object, regardless of fault.
So, you can file a claim against your collision coverage for any damages your own car sustains, but the other driver in an accident you caused would file a claim against you that would be covered by your liability insurance.
Collision also differs from property damage coverage because it comes with a deductible. A deductible is the amount you must pay out of pocket before your insurance benefits kick in.
Thus, if your car's damages are $1,000 and your deductible is $500, your collision coverage will only pay $500 toward the cost of repairs – and only after you first pay out your $500.
Your car insurance company will pay for the other party's repairs through your liability coverage without a deductible being due.
Will my full coverage car insurance cover an accident I had while I was driving a car owned by a friend, who only had liability insurance?
Car insurance follows the car, not the driver. Your comprehensive, collision and liability insurance covers only your own car; they don't extend to other vehicles and will not cover your friend's vehicle or become secondary insurance behind another vehicle's primary insurance. Your friend's liability coverage would be "primary," and your liability coverage would be "excess or secondary" to the liability coverages.