OUR PURPOSE
Since 2003, CarInsurance.com has been providing unbiased, expert advice on how to shop for auto insurance and informing consumers on what they should pay for coverage.
Our team of experts
use data-based reporting to assist millions of website users every year by providing detailed guides and more than seven easy-to-use car insurance tools and calculators.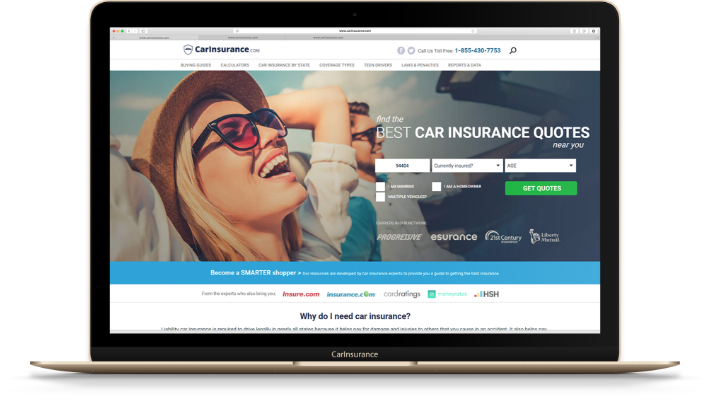 Why you can trust us
Our mission is to help you make educated insurance decisions with confidence. We have an advertising relationship with some of the offers included on our site. However, this doesn't influence our editorial judgment or recommendations. The rankings and listings of our reviews, tools and all other content are based on objective analysis, and we fully own our opinions.
WHAT YOU'LL FIND ON CARINSURANCE.COM
CarInsurance.com's expert team of analysts and editors research rate data from Quadrant Information Services to create reports that compare average rates by age, ZIP code, coverage level, and more.
Cost calculators and personalized quotes
Tell us a little bit about you, the car you drive, and your insurance needs to instantly compare rates and policies from top carriers. You can compare rates on your own, using our online calculators and tools, get car insurance rate estimates recommended by our experts or get free car insurance quotes after being matched instantly with top insurance providers in your area.
Buying guides and reports
Our expert team has also created dozens of helpful guides and reports to help you understand different coverage types, what you should expect from your policy, and how much your policy should cost. Here are a few of our top resources:
OUR PARTNERS AND SPONSORS
Our goal is to provide independent car insurance buying advice readers can trust, and we do that on a daily basis. All rankings, listings, reviews, tools, and other content are based on unbiased benchmarking and objective analysis of data, and we fully own our opinions. We do accept advertising from some of the insurance providers highlighted on this site, and we may earn a commission from our partners if you apply for or buy a policy through those featured links. However, these partnerships do not influence our editorial judgment or recommendations.
OUR TEAM OF EXPERTS
The Carinsurance.com team is made up of regular people with insurance policy needs, just like you. We just happen to know a little more about insurance than the average bear. We understand that insurance decisions can be confusing, and we're here to help you make smart choices. Insurance policies not only impact your wallet, they also can impact your future. We're here to help you make car insurance buying decisions with confidence.
View All
OUR HISTORY
Carinsurance.com was launched more than 15 years ago as a one-stop online destination for car insurance information, with a mission to simplify the auto insurance shopping process.

CarInsurance.com is owned and operated by QuinStreet, Inc. (Nasdaq: QNST), a pioneer in delivering online marketplace solutions to match searchers with brands in digital media. QuinStreet is committed to providing consumers and businesses with the information and tools they need to research, find and select the products and brands that meet their needs. CarInsurance.com is a member of the company's expert research and publishing division.
WHERE TO FIND US