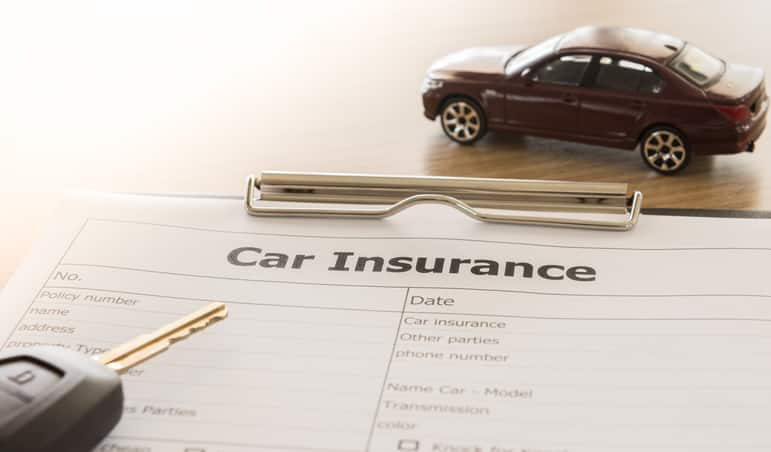 Driving a car is a modern convenience many people don't want to go without. But that convenience comes at a cost. Car ownership isn't cheap -- there are plenty of ongoing costs to consider, including gas, maintenance and car insurance.
The good news is that you don't necessarily have to pay a lot for the insurance part. In fact, it may be possible to secure a policy for less than $100 per month. Here's what you should know.
Key Highlights
Car insurance rates vary based on your personal factors and the individual company, though it's possible to get a policy that costs less than $100 per month.
Liability-only coverage is generally the cheapest option for auto insurance, though it may not provide enough protection in many instances.
Full coverage auto insurance is more expensive, but some top insurers do offer rates below $100 per month.
Factors that affect car insurance rates
There are many factors that auto insurers consider when setting their rates. If you're looking to get cheap auto insurance, particularly for less than $100 per month, keep these in mind:
Driving record: Your history as a driver makes a big difference in your rates. A clean record without tickets or claims will help you secure the lowest premiums possible.
Mileage: The more you drive, the more you are at risk of being involved in an accident. So driving fewer miles per year can help lower your rate.
Where you live: Risk is also based on location, with certain states and zip codes where crime and accidents are more prevelant tend to come with higher insurance rates
Age: Young, inexperienced drivers are much riskier to insure. You'll pay less for auto insurance if you're over the age of 25.
Gender: Women tend to pay less for auto insurance than men since statistically, men are involved in more accidents.
Type of car: The vehicle you drive will also impact your rate. An older less expensive vehicle like a sedan will typically be cheaper to insure than a brand-new car, SUV or luxury vehicle. Sports cars are also more expensive to insure since they tend to be driven at higher speeds and present more risk of being involved in accidents.
Creditworthiness: Car insurance companies will evaluate certain credit factors when determining your rates because data shows that drivers with higher credit scores tend to have better driving records.
Type of policy and coverage level: Finally, the details of your policy and how much coverage you have will impact the price. A minimal liability-only policy will be significantly cheaper than a full coverage policy with additional riders since the insurer will be required to pay out much less if you're in an accident. But that doesn't mean cheaper is always better.
When looking for car insurance savings, it's important to make sure you still get the coverage you need to cover damages in an accident," said Josh Damico, vice president of insurance operations for car insurance marketplace Jerry. If you are trying to cut corners to pay $100 or less per month for car insurance, talk with a licensed insurance broker who will help ensure you have the right coverage so you don't end up paying more in the end, if something does happen.
Best companies for car insurance under $100
Though the insurance rates you're offered will ultimately depend on the personal factors outlined above, some car insurance companies do offer cheaper car insurance rates than others.
According to CarInsurance.com data, companies with full coverage policies of car insurance rates under $100 a month are:
Progressive: $895 per year, $74.58 per month
North Carolina Farm Bureau: $1,141 per year, $95.08 per month
USAA: $1,111 per year, $92.58 per month (keep in mind that USAA is only available to members of the military, veterans and their immediate families)
Geico: $1,200 per year, $100 per month
Full coverage refers to a policy that includes liability insurance (required by state law), as well as comprehensive and collision (optional), which carry a deductible.
Full coverage car insurance offers the most protection and is generally recommended unless your car is not really valuable and you have few assets or savings. The above rates are based on a policy of 100/300/100 coverage with comprehensive and collision, and a $500 deductible.
If you're looking for liability-only coverage, which only pays for damage you cause to other vehicles and property and not your own, you have many options available from national insurers.
Below are the 10 cheapest companies for liability car insurance:
Progressive: $333 per year, $27.75 per month
Geico: $365 per year, $30.42 per month
Farmer: $436 per year, $36.33 per month
Owners Insurance: $457 per year, $38.08 per month
USAA: $473 per year, $39.42 per month
Erie: $490 per year, $40.83 per month
State Farm: $561 per year, $46.75 per month
Nationwide: $598 per year, $49.83 per month
Liberty Mutual: $628 per year, $52.33 per month
Allstate: $648 per year, $54.00 per month
Travelers: $685 per year, $57.08 per month
These rates are based on a 50/100/50 policy, which provides slightly more protection than what is required under state laws.
If you're looking for bare-bones coverage and the cheapest possible car insurance premiums, these major companies offer policies that meet your state's minimum liability limits required to drive legally for under $100 per month:
Progressive: $315 per year, $26.25 per month
Geico: $318 per year, $26.50 per month
USAA: $358 per year, $29.83 per month
Owners Insurance: $404 per year, $33.67 per month
Farmers: $405 per year, $33.75 per month
Erie: $414 per year, $34.50 per month
State Farm: $484 per year, $40.33 per month
Liberty Mutual: $534 per year, $44.50 per month
Allstate: $555 per year, $46.25 per month
Nationwide: $573 per year, $47.75 per month
Travelers: $599 per year, $49.92 per month
Ways to lower car insurance rates to less than $100 per month
If you haven't been able to find auto insurance coverage for under $100 a month, you're not out of luck quite yet. There are a few steps you can take to help lower your rate.
Shop around: Your first step should be to get several quotes and compare different insurance carriers to see what they have to offer. Often, this can easily be done online. Even if you're happy with your current insurer, it doesn't hurt to check out competitors' rates every now and then to see if you could be paying less.
Increase your deductible: That's the amount you pay out-of-pocket before your insurance coverage kicks in when you file a claim. If you can afford it, carrying a higher deductible for comprehensive and collision coverage can reduce your monthly premium, according to Damico.
Update your mileage: Maybe you work from home now and no longer have a long commute. If you're driving less these days, call up your insurer and let them know. Your rate should drop as a result. Other life changes, such as moving in with someone or getting married, could score you a marriage discount and a multi-car discount when you merge insurance policies.
Ask about other discounts: "Even without a major life event, there may be discounts you aren't taking advantage of that can help you save money on car insurance," Damico said. For example, most insurers offer discounts based on good driving behaviors. Also, check the safety features in your car because there may be discounts for having anti-lock brakes or an anti-theft device.
Downgrade your benefits: Though you probably shouldn't skimp on comprehensive coverage just to get cheap insurance, one way to cut down on your monthly premium is is to pay back on extras. "Things like rental reimbursement are nice to have, but if you have more than one car on your policy, you might not need a rental car in the event of an accident," Damico explained. "That could easily save $10 or more of your policy per month."
Frequently asked questions