You've been told that all of your studying and being a good student will pay off. Car insurance providers, however, actually try to prove it. If you're a high school or college student, or the parent of one, you've probably heard of the good student discount on car insurance.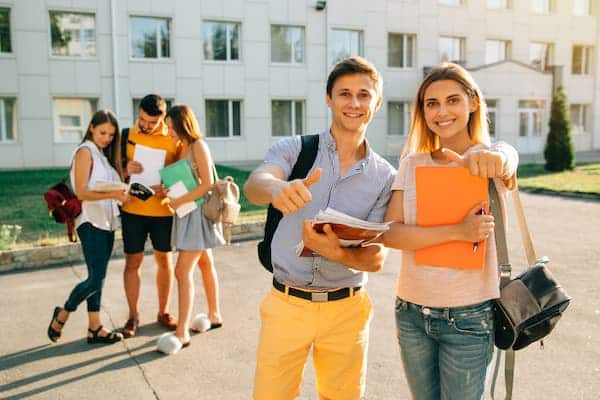 When you add a teenage driver to a parent's car insurance policy, their rates often increase, on average, by 130%. Put another way, if you're a parent, you might see your bill go up $2,000 more than a household without a teenage driver.
Some studies have suggested your rates will double.
Of course, there's a good reason for that. It's more expensive to insure younger drivers because they have less driving experience and tend to be involved in more accidents, especially 16- to 19 year-olds, which makes sense, given that they haven't had a lot of time on the road. As a result, insurance companies see them as high-risk drivers and charge a higher rate to insure them.
Key Highlights
Most insurance companies require a minimum of a B average to qualify for a good student discount.
To apply for the good student discount if your grade average is a B or higher, you'll need to alert your auto insurance company.
The average good student discount is 14%, based on a 2022 CarInsurance.com rate analysis.
What is a good student discount on car insurance?
Good student discounts are offered by insurers to students who can prove that they're earning good grades with proof of eligibility, such as a college transcript or report card.
Insurers tend to reason that if you're getting good grades, you're probably not the sort of youth who watches Fast and the Furious movies and mistakes them as driving training videos. So, if you get good grades and report your success to your insurer, your rates should come down.
What is the average good student discount on car insurance?
The average good student discount for car insurance is 14%, based on a 2022 CarInsurance.com rate analysis.
Understanding the good student discount with an example
The good student discount can help lower those auto insurance premiums, by up to 25% in some cases, and by 14%, on average, based on a 2022 CarInsurance.com rate analysis.

Example
Let's say you spend $2,000 a year on car insurance. Saving 14% would be a yearly savings of $280.
But, if you have a car insurance company that will discount 25% like State Farm, you'll save around $500 per year.
This is important given that adding a teenage driver to an adult's policy will increase your rate by an average of 130% costing an extra $2,000 per year.
How do I get a good student discount?
If you're younger than 18, you'll need to ask a parent's insurer about student discounts. Good student discounts for auto insurance are one of the top discounts for teens.
Learn more about car insurance discounts for students
What GPA do you need for a good student discount on car insurance?
Most insurance companies require a minimum of a B average to qualify for the good student discount. That is, you generally want a 3.0 or higher.
How much will the good student discount lower my rate?
That depends on the insurer and on your driving profile, whether a student drives if they're away at college and whether their vehicle has the latest safety features.
Good student discount by insurance company
The discounts available for teens and young adult drivers vary based upon the company. Here are a few good student discounts from Allstate, Geico, Liberty Mutual, Progressive, State Farm and USAA.
Allstate good student discount
Allstate says you may qualify for their smart student discount if you are younger than the age of 25 and unmarried and qualifies for one of these three requirements: Has a grade average of B- or 2.7 or above, has completed the teenSMART driver education program or attends school at least 100 miles away from where your car is garaged.
Allstate encourages speaking with your agent to determine if you qualify and, if so, how much the discount will be.
Geico good student discount
Geico's good student discount is up to 15% – if you maintain a B average or better. If you're a college student and in a fraternity or sorority, or if you're in the honor society, you might be able to get an additional discount.
They also offer some discounts to alumni associates and if you're a member of some college, university and student organizations.
Progressive good student discount
The same type of language on Progressive's website: "A smart student makes you a smart shopper. Add a full-time student on your policy who maintains a 'B' average or better, and we'll add a car insurance discount."
It also notes that the average student discount varies – discounts vary from teen driver discounts (18 or younger), good student discounts and distant student discounts for students 22 or younger who don't have a vehicle at school.
State Farm good student discount
State Farm is refreshingly open about their good student discount. As it says on its website, "you can save up to 25% just for getting good grades! And the savings last after you graduate from college until you turn 25." You can save up to 25% with State Farm's good student discount.
Liberty Mutual good student discount
Liberty Mutual website states, "Attention class: If you (or your student) have a GPA of B or better, we're happy to reward your hard work with a discount on your policy." Liberty Mutual also offers a student-away discount for college students attending school without a car.
Nationwide good student discount
According to Nationwide's website, they offer a student discount for drivers ages 16 to 24. Drivers must be full-time high school or college students and maintain a minimum B average to qualify for good-students discounts.
USAA good student discount
USAA states that they have a good student discount and that you need to be a student who's younger than 25 and a full-time student maintaining a 3.0 or B average. The discount may not be available in every state.
How do you apply for a good student discount?
If your grade average is a B or higher, you'll need to alert your insurer. They will typically require proof of the grade average. You will need to do this every time your final grades are reported. It is up to you to let your insurance agent know that you qualify for this discount.
See how often an insurer checks your report card
.
Are there other ways to get cheaper car insurance?
Yes, absolutely. A good student discount is one of many ways to reduce your car insurance costs.
A clean driving record and consistent safe driving goes a long way in lowering insurance premiums, and you can get discounts for paying your policy in advance, being a safe driver, driving less and taking a defensive driving course.
If you are a teen driver who has their own separate policy, it will be cheaper to be added to your parent's policy instead. To reduce your car insurance cost, you should try to strike a deal with your parents to add you to their policy, but you pay your part of the insurance each month.
The verdict on the good student discount
Studying and getting good grades can pay off in many ways. In the long run, of course, it'll help you get into a good college or vocational school and keep you on the path for having a fantastic career. But in the short run, one of the more immediate payoffs is a reduction in insurance premiums by qualifying you for a good student discount.
If your teen is maintaining a B average or better in school, do your wallet a favor: Call your insurance company to inquire about applying for the discount. Car insurance for teens is expensive, and life is expensive – every bit of savings helps.
Resources & Methodology
Sources
Methodology
CarInsurance.com commissioned Quadrant Information Services to pull rate data for auto discounts in 2022 across the U.S. for drivers with full-coverage insurance. The good student discount average was calculated using insurance rates for 18-year-old drivers.