It's tough for teenagers to get a break, especially when it comes to car insurance costs. But there are good reasons why young drivers and their families often pay more.
Even though American adolescents drive less than other demographic groups except for older drivers, the number of accidents and crash deaths for teens are disproportionately high. According to the Insurance Institute for Highway Safety, the fatal crash rate per mile driven for those 16 to 19 years old is almost three times the rate for those aged 20 and older.
The good news is that your child – whether he or she is in high school or college – may qualify for student car insurance discounts. Your young driver can help reduce premium costs in several ways, including maintaining good grades and taking safe driver courses. You can also shop around for student discount car insurance if your existing policy does not offer these possible savings opportunities.
Learning more about the car insurance student discount your son or daughter may be eligible for and which carriers provide this incentive might put some money back in your pocket.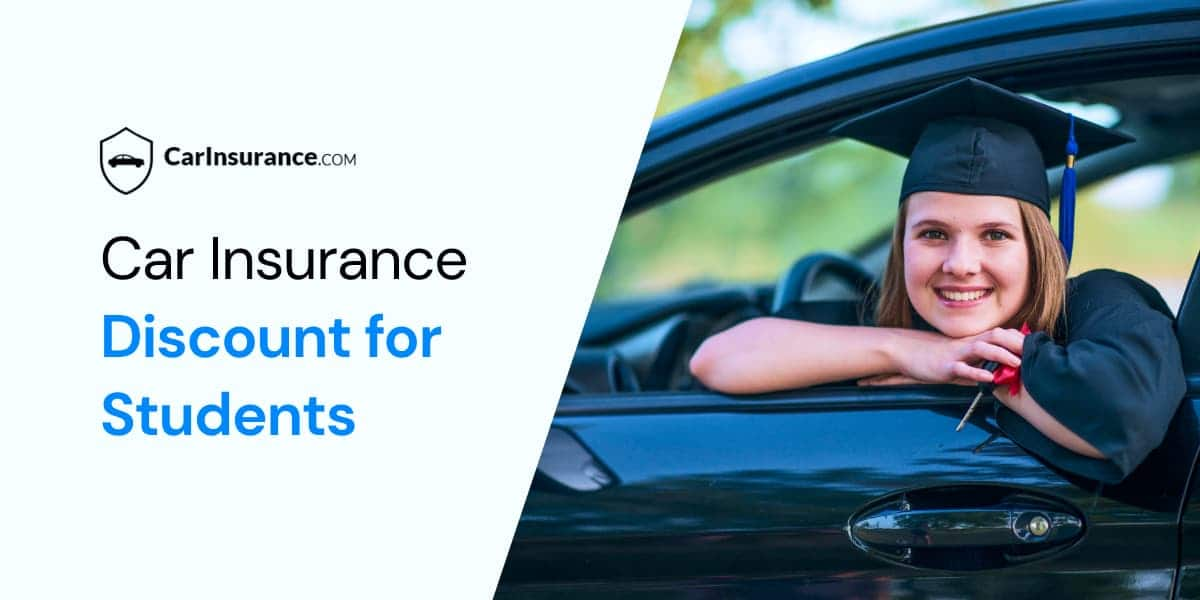 Common student discounts for car insurance
Most automobile insurers provide one or more discounts available to students and young drivers who qualify. The most commonly applied discounts include:
Good student discount
Student away at school discount
Driver training discount
Safe driver discount
"If your high school or college student has at least a B average, he or she may be eligible for this discount," says Rocky Dellamano, a financial representative for COUNTRY Financial in New Lenox, Illinois, who adds that most car insurance carriers provide this discount. 
How much is a good student discount for car insurance worth? The savings can equate to between 5% and 31% or more for eligible students up to 25.
Your student's school address must be 100 miles away from home to qualify for this discount. "However, your child must be attending school away from home without a vehicle for these savings to apply," says Brett Dawson, director, of Underwriting Research at San Antonio-headquartered USAA.
Driver training discount
"Many driving schools and local Departments of Motor Vehicles offer affordable courses your child can take to improve their driving skills and increase awareness," Dawson adds. Ask your insurance agent to recommend an applicable defensive driving or driving education class available online or in person. Completing this course can result in a rate reduction from your carrier if they allow it.
Safe driver discount
"Young drivers may qualify for an accident-free discount if they keep their driving record clean, don't get any tickets, and aren't involved in any car insurance claims over a period of time," says Greg Martin, president of Brandon, based Think Safe Insurance, LLC.
Companies that offer student discounts on car insurance
Note:
Student away at school discount is provided on parents' policy.
Data gathered from Quadrant Information Institute.
Other ways for students to save money on car insurance
Your student driver can work to lower auto insurance premiums and costs in other ways, too.
"He or she can opt to drive an older vehicle that's less expensive to insure," Dellamano says. "You can also talk with your insurance representative about reducing coverage on that vehicle to liability only."
He notes that liability-only coverage usually only pays for costs related to vehicle damage caused to the other party and medical care for the other party involved. Many states require having liability-only coverage in place at a minimum. Still, most states mandate that you also purchase uninsured motorist coverage or coverage for personal injury protection and medical payments for yourself.
Additionally, consider permitting your student driver to be monitored technologically while he or she drives.
"If your insurance company offers it, you can install a removable telematics device in your child's car that will provide feedback about driving behaviors and patterns," Dawson says.
Another way to save money on car insurance is to shop around and get rate quotes from different carriers. A competitor may rate your child as less expensive to insure than your existing insurer.
"Every company is going to rate young drivers differently. Just because your carrier's rates are good for one driver doesn't mean they are competitive for all drivers on your policy. Take some time to compare offers from different companies," Martin says.
Lastly, explore switching to usage-based insurance like pay-per-mile coverage that can provide better control over how much you want to pay for your child's car insurance.
"Most college students drive fewer than the national average of 35 miles a day, which is considered low mileage in the industry," says Rick Chen, spokesperson for Metromile in San Francisco. "With pay-per-mile insurance, rates are based primarily on actual observed usage and rely less on factors like age or credit score, which traditional insurers might use more heavily."
Does Geico offer car insurance discounts for students?
Geico is one of the most popular automobile insurance carriers in the country. And it's no surprise they offer discounts for young and student drivers, as the chart above indicates.
Specifically, Geico policyholders can earn a discount for taking a defensive driving course. If your young driver also completes a driver's education course, you can rack up further discounts (although Geico does not specify the actual savings amounts triggered by these discounts).
What's more, full-time students with good grades and an admirable academic record can also be eligible for a Geico maximum discount of 15%.
However, Geico does not provide a "student away at school" discount.
Final thoughts on car insurance student discounts
Most major insurance companies over a variety of student discounts for car insurance including the good student discount, student away at school discount, driver training and safe driver discount. These discounts range from 5-35% off your annual car insurance cost.