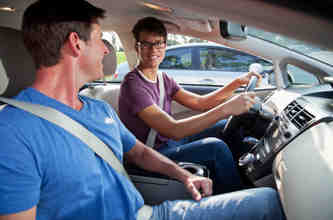 Want a really good discount on your car insurance? Be a safe driver.
Yes, it really can be as simple as that.
Your car insurance company rates you on many personal risk factors -- your age, gender, marital status, ZIP code, years of driving experience – but none is so as important as your driving record.
Statistics tell an insurer if people in your age group or who live in your area are likely to make claims. However, your driving record gives them actual proof of your driving behavior. If your record shows you to pose less of a risk, you should get a lower rate.
In general, most car insurance companies will offer a good driver discount -- sometimes called a safe driver discount -- to drivers who meet certain standards of safe driving. This criteria varies from one insurance company to the next and can even be dictated by the state.
Basics of a good driver discount
What will make you eligible for a good driver discount varies, but typically an insurer will require you have a clean driving record three years (36 months) or five years (60 months). During this "look-back" period your record should show:
No moving violation convictions (some insurers say no violations at all, some insurance companies say no major violations)
No DUI/DWI convictions
No at-fault accidents
Depending upon the insurer, other eligibility rules may apply, such as you having:
A certain number of years of driving experience under your belt. Some car insurance companies may require just one year, others require three to five years to match the look-back period.
Continuous car insurance coverage
Successful completion of a defensive driving course
A record that is not only accident-free but also claims-free for the look-back period
While many insurance companies tout a full good driver discount, some split the discount into two separate discounts:
Accident-free discount: Available to drivers who don't have an at-fault accident for a specified period, usually three to five years, the accident-free discount starts at around 5 percent, but can increase over time if you continue with the same auto insurance provider and are free of accidents. Typically the discount applies to the bodily injury liability, property damage liability, collision and medical payments portions of your policy.
Claims-free discount: Available to drivers who have not filed certain types of claims within a specified period, usually five years, this discount can cut your insurance premium by as much as 20 percent. The availability, qualifications and amount of the claims-free discount varies by insurer and even by state. Discount may apply to liability coverages, collision, comprehensive and medical payments.
There will still be a look-back period of either three or five years (dependent upon the insurer's eligibility rules) and the discount for each can vary. Accident-free discounts tend to range from 5 percent to 25 percent and claims-free from 10 to 20 percent.
How much is the discount?
How much the discount will be varies again by insurance company, unless your state dictates a certain amount. In general, the discount is between 10 to 25 percent, but it can be higher.
Car insurance companies can also differ on what portions of a car insurance policy is discounted by a good driver discount. However, in general, it will apply to the following coverage premiums:
What is nice about a good driver discount is that it's continuous, as long as you meet the qualifications.
How the discount is given can also vary. Common ways of dishing out the discount include:
Flat discount: The set discount reduces your premium on the coverages the discount applies to.
Tiered discount: The longer you are free of violations and accidents, the greater your good driver discounts. With these insurers, a driver with three years of safe driving gets one discount (such as 20 percent), and a driver whose record is clean for five years gets a higher discount (such as 35 percent).
Graduated discount: You get a discount for each year of accident-free driving or safe driving. For instance, the insurer gives a 2 percent discount for two years of safe driving and the discount goes up gradually until after 10 years of keeping a clean record the driver gets 20 percent off.
Your state may require companies to offer a discount
Some states require car insurance companies give a specific discount if a driver meets certain criteria. For example:
California – The state defines a good driver as a person who has been licensed for at least three consecutive years and has no more than one point on his or her driving record. The Golden State's laws require that a good driver's insurance rates must be at least 20 percent lower than what a non-good driver's rates would be at the same insurance company.
Georgia – State laws require a 10 percent discount to drivers age 25 or older who have a clean motor vehicle record for three years prior and no at-fault accidents. The driver must also complete an approved defensive driver course. Drivers under 25 can get 10 percent discount for three years if they complete classroom and practical training.
To see if your state has rules regarding good driver discounts contact your state's insurance regulator.
One accident or ticket may cancel the discount
Being in an accident or receiving a ticket can make your sweet good driver discount disappear at your next renewal. Even if your car insurance company's surcharge schedule ignores a minor ticket, most auto insurers will take away your good driver discount once your record is no longer clean.
That may be a factor in deciding to challenge a ticket in court you might otherwise pay.
But remember that almost all drivers are only a look-back period away from a good driver discount. Time and safe driving over the next few years can allow their violation, or accident, and surcharge to drop off and make them eligible for a good driver discount.