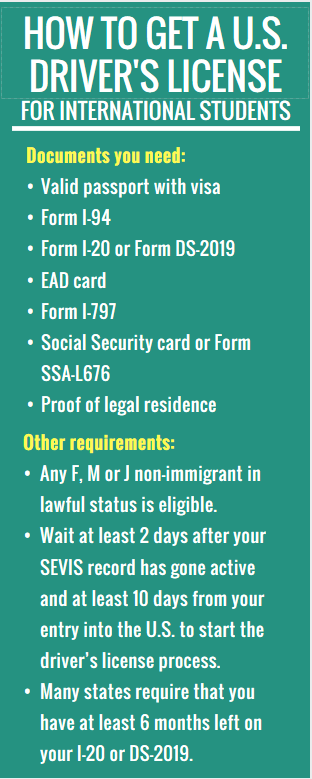 International students who are temporarily in the U.S. on a student visa, such as an F-1, J-1 or M-1, face challenges when driving and getting auto insurance. They need to find car insurance for foreign students or skip driving altogether and find a school near public transportation.
More than 1 million international students go to college in the U.S., with California, New York and Texas leading the way with most foreign students:
California: 14.9% of total international students in the U.S.
New York: 11.8%
Texas: 7.2%
Massachusetts: 6.9%
Illinois: 4.8%
The top colleges with international students are:
New York University — 21,093
Northeastern University — 17,491
University of Southern California — 17,309
Columbia University — 17,145
University of Illinois-Urbana-Champaign — 13,962
Many of the top colleges for international students are in metro areas with public transportation.
However, public transportation isn't always convenient or readily available, so looking into how to drive legally in the U.S. is often vital for foreign students.
On this page, we'll answer some of the most common questions about driver's licenses and insurance for foreign students:
How can an international student obtain a driver's license in the United States?
You can likely drive in the U.S. with a foreign license, but how long depends on the state that you're calling your new home.
In most cases, if you have a valid license from your country and an International Driving Permit (IDP), you should be able to drive legally in the U.S.
An IDP is a booklet that translates your driver's license information into 10 different languages. It's not a replacement for your license. You must carry both to be legal out on the road.
The U.S. doesn't issue IDPs to foreign visitors. So, you must get one in your home country before entering the United States.
AAA is a popular place to obtain an IDP stateside. However, Ellen Edmonds of AAA says an IDP "must be issued in the same country as the traveler's driver's license. AAA is authorized to issue IDPs in the U.S. in conjunction with a valid U.S. driver's license only."
Therefore, keep your foreign IDP safe. If you lose it, you won't be able to replace it at a U.S. location and may need to order one at your country's consulate or by mail.
Azar Taufique of Richardson, Texas, arrived in the United States as a student from Pakistan in 2008. He used the license he was issued in Pakistan until he decided to apply for a U.S. license.
"For one year, I kept driving on my own country's International Driving Permit because it was accepted as a license in the U.S. as a reciprocal agreement between U.S. and Pakistan," he says.
If you decide to move to the U.S. permanently, a local driver's license will become a requirement.
"If you become a California resident, you must get a California driver's license within 10 days," says Telkikar.
Most other states have similar rules, so check with your state's DMV for details.
What are the steps to get a driver's license in the U.S.?
Let's go through the five steps to getting a valid driver's license.
Determine if you're eligible
Any F, M or J nonimmigrant in lawful status may apply for a driver's license or ID card, according to the U.S. Immigration and Customs Enforcement policies.
Contact your designated school official
The driver's licensing process is managed at the state level and your school can help you with your particular state's details.
Your school should have a Designated School Official (DSO) who helps with those matters.
Be aware of timeline factors
"Your Student and Exchange Visitor Information System (SEVIS) record must be active before you can request a driver's license," says Telkikar.
Wait at least two days after your SEVIS record has gone active and at least 10 days from entering the U.S. to start the driver's license process.
Many states will require that you have at least six months left on your I-20 form or form DS-2019 to be eligible for a driver's license. Check with your local Department of Motor Vehicles (DMV) to see if this is a requirement.
Verify your data
The integrity of your paperwork is critical.
Verify that all of the information in your SEVIS record is accurate and matches the data on your supporting documentation that you will take to the DMV. If they don't match, you cannot get a driver's license.
"The small but vital details, such as making sure you are applying at the right time and with the right documents or making sure your name and biographical details are the same on every document, are extremely important when seeking a driver's license," says Telkikar.
Collect the proper paperwork, including your Social Security Number
The required paperwork varies by state. Contact your local DMV or ask the DSO about your state's requirements.
In most states, the following will be required:
Valid passport with visa
Form I-94, which is an arrival/departure record
Form I-20, which is issued to F or M students or Form DS-2019 for a J exchange visitor
EAD card, which is form I-766 employment authorization document
Form I-797 Notice of Action
Social Security card or a Social Security Association (SSA) form SSA-L676, which is a refusal to process an SSN application
Proof of legal residence
"Generally, new international students do not qualify for a Social Security Number, so they have to sign an affidavit stating they are not eligible for the Social Security Number," says Ann Badmus, a partner at Scheef & Stone, L.L.P. in Dallas. Form SSA-L676 fills this gap.
The required paperwork varies, so check with your local DMV before heading to their office. Failure to have all of the correct paperwork will result in a delay in the application process.
What do you have to pass to get a driver's license?
Once you have all of your documents in order, it's time to head to the local Department of Motor Vehicles (DMV).
The driver's license process is controlled at the state level. The exact procedures for getting your license differ, but most states have some elements of the following:
Pass a vision exam
Your vision will be tested. Requirements vary. One example is New York, where you must have visual acuity of at least 20/40 in either or both eyes, with or without corrective lenses.
Pass a written test
You will be required to pass a written test on the rules of the road. The test's length and difficulty vary by state, but generally, expect 20-30 questions and a pass rate of roughly 80%.
Nearly every state allows a translator to assist or provide the written test in Spanish and English. Some states allow applicants to take the test in additional foreign languages:
If you need an F1 visa driver's license in California or plan on taking the written test, California provides translated study guides in 11 languages and the test in 32 languages.
New York has 12 foreign language tests available.
New Jersey and North Carolina provide the written test in 10 foreign languages.
Be sure to study; the tests aren't as easy as you may hope. A CarInsurance.com driver's license test survey found that 50% of drivers who took a sample test failed. Women averaged a score of 78% compared to 71% for men.
Your local DMV should have a study guide.
Driving test
It's time to get behind the wheel and show off your skills. Again, the skills test varies by state, but be prepared to drive in town, on the highway and do some parallel parking.
The driving test conductor will also ask you questions regarding the law while you're driving.
Scheduling your test can take a while and the process can be frustrating.
"The hardest part for me was the number of trips I had to make to the DMV before getting a driver's license," says Taufique.
"As an international student, you don't have a car and you have to take rides and request someone to drive you to the DMV so that you can take the test in their car and if you don't pass the first time (it took me three tries) you have to ask the same person again. This can be a little challenging."
In most states, you need to schedule your test in advance.
The process varies by state, but many states have gone to a graduated license program, which puts restrictions on younger drivers. Depending on your age, you may have to get a learner's permit and log a certain number of hours behind the wheel with a driving instructor.
Check the Governors Highway Association to see the driver's license requirements by state.
How do international students get car insurance?
Auto insurance in the U.S. may work differently than in your home country. Auto insurance follows the car and not the driver.
If a host family or friends let you drive their vehicle, you won't need auto insurance since the car is already insured. You'll be covered using an international driving permit and your foreign driver's license.
If you rent frequently or borrow friends' cars regularly, consider a non-owners insurance policy. The policy is probably cheaper than buying a rental car company's insurance, typically up to $40 per day.
If you plan on owning a car, nearly all states require some form of auto insurance to drive legally. An international driver's permit allows you to drive but does not insure a car.
Read more: International Student Guide to Driver's Licenses and Car Insurance
Janet Ruiz of the Insurance Information Institute says visiting students "cannot purchase car insurance if they do not first have a U.S. driver's license."
There's good news, though. "International students can apply for a state-issued driver's license," according to Ruiz.
Now, the bad news — getting a U.S. driver's license takes some organization and work.
Once you have a U.S. license, you can buy car insurance.
Ruiz of the III explains, "Students can get help finding the best insurance policies at their school's international student affairs office."
However, depending on the company, auto insurance rates can vary by hundreds of dollars for the same coverage. It's best to shop around and compare quotes to find the cheapest car insurance.
You can get an online quote for auto insurance if you have the following information:
Personal details, such as home address
The vehicle's year, make and model
The vehicle identification number (optional)
The amount of coverage you'd like
What are the car insurance basics for international students?
Here are three things you need to know about car insurance in the United States:
1. Car insurance is required
In the U.S., drivers in every state except New Hampshire are required to carry auto insurance. The required coverage levels vary by state. See the required minimum liability coverage levels by state here.
2. You have options
There are many coverages when it comes to vehicle insurance. Some are required, while others are optional. Understanding the various insurance types is key when shopping for coverage.
Liability: Liability insurance covers medical bills and the repair costs that you cause to another person or their property. This coverage also pays for a legal defense if you're sued and pay any judgment or settlements up to policy limits.
Liability insurance protects you if you're driving another person's car with their permission.
Liability insurance breaks down into three components:
Bodily injury (think medical bills) per person is the first number and is the maximum amount the policy will pay for each person's injuries.
The second number is the maximum amount paid out per incident and the third number is the maximum amount for property damage (think the other person's car) per accident.
For example, 100/300/50 breaks down to $100,000 bodily injury per person, $300,000 bodily injury per incident and $50,000 for property damage.
An important thing to remember, liability coverage doesn't cover your medical bills or your vehicle's repair costs.
Collision: Collision is the coverage you need when it comes to repairing your vehicle after an accident. Collision pays to repair your vehicle regardless of who was at fault.
Choose a deductible (the amount you pay for an insurance claim before insurance kicks in). Deductible amounts often range from $100 to $1,000. A higher deductible lowers your premium.
Lenders require collision insurance if you have a loan or lease on a vehicle.
Comprehensive: This insurance pays to repair damage to your vehicle that's not caused by a collision. Comprehensive covers fire, falling objects, explosions, earthquakes, windstorms, hail, flood, vandalism, riot, and animal contact.
It also covers windshield and other glass damage. You must choose a deductible, common amounts range from $100 to $1,000.
Again, your lender requires comprehensive coverage if you have a loan or lease on the vehicle.
Medical Payments or Personal Injury Protection (PIP): This coverage pays your medical bills and for any passengers in your vehicle at the time of the accident regardless of who is at fault.
PIP is a required coverage in some states. This is recommended coverage if you don't have health insurance.
Uninsured and Underinsured Motorist Coverage: Uninsured and underinsured coverage pays for your vehicle damage and medical costs if an uninsured or underinsured driver hits you. Requirements for this coverage vary by state.
Remember, required levels are rarely enough. The state minimum levels are just that, minimums. In most cases (and especially in a severe accident), the required coverage levels aren't enough.
If you can afford it, upping your liability coverage levels is highly recommended. Most industry experts recommend bodily injury limits of 100/300/50.
Hospital bills can add up quickly. The state minimum required coverage levels will be used up faster than you can imagine in even a semi-serious accident.
If you're underinsured and are responsible for the accident, the person you hit can take you to court for damages not covered by your insurance policy.
Lawsuits can be costly to defend and a courtroom loss can leave you on the hook for some major expenses.
3. You can save on your premiums in several ways
Car insurance prices vary by insurer. As a student with a newly minted license, the deck is stacked against you when it comes to low car insurance rates.
Auto insurance costs more for new drivers because those motorists are deemed risky. A AAA Foundation for Traffic Safety study looked at teen crash rates in New Jersey and found that the first months of licensure were by far the most dangerous.
Crash rates for young drivers dropped 26% over the first six months of driving and by the end of the first year of licensure, crash rates were down 45%.
Young, inexperienced drivers are some of the most dangerous drivers and they pay a price for it. In most cases, insurance rates for new, young (under 25) are sky-high due to their inexperience behind the wheel.
Expect your insurance rates to be fairly high for the first year or two and then decline as you close in on the age of 25. Rates for males are almost always higher than for females. Statistics show that males are more likely to get into an accident.
Read more: Parents' guide: The best and cheapest way to insure teenage drivers
While rates vary depending on many factors, this average car insurance rates by age chart will give you an idea of what you might be paying for car insurance.
Each state has at least a dozen car insurance carriers. Shopping around for the best quote ensures you're getting the cheapest coverage. In addition, each car insurance company offers new and existing customers discounts based on different factors.
What car insurance discounts may be available to international students?
The U.S. market for car insurance is competitive. You can save further by taking advantage of the discounts offered to customers. Some of the most common auto insurance discounts you could qualify for are:
Student discount: Most companies offer savings to college students. In most cases, you'll need to have good grades to qualify.
Bundling: If you purchase home or renters insurance with the same company, you could get a discount on all coverages.
Driver safety course: Investing a few hours to take an approved online driving safety course could save you money on your premium over three years.
Telematics: The larger carriers offer an app you can download that tracks your driving. Be safe, don't speed and you'll receive a discount on your premiums based on your driving.
Payment: Setting up autopay or paying your entire annual premium could reduce insurance cost.
Our comprehensive list of car insurance discounts gives you more ideas on how to save money.
How much is car insurance for international students?
The cost of auto insurance for students living temporarily in the U.S. depends on many factors, making it difficult to give a one-size-fits-all amount. Some things that affect your premiums include:
Coverage type and level
Insurance company
Driving history
How long you've been licensed
Location
Vehicle type
Age
Miles driven
To get a general idea of how much auto insurance for foreign students in the U.S. costs, here are the averages by age for drivers between 18 and 25 years old, including minimum insurance coverage and expanded bodily injury per person, bodily injury per incident and property damage coverage:
CarInsurance.com commissioned Quadrant Information Services to run auto insurance rates for a 2019 Honda Accord LX for several coverage levels for nearly all ZIP codes in each state using six large carriers.
As you can see, auto insurance rates generally decrease as drivers get older and gain more experience. However, car accidents can lead to higher rates even as you gain experience.
Ways to get cheap car insurance for international students in the U.S.
Here are a few tips on how to save a bit more money on your auto insurance:
Keep your record clean: This is key for new drivers. A ticket (parking ticket not included) or accident dramatically increases your insurance costs.
Maintain or improve your credit rating: Your credit score is actually a big factor when determining your rate in nearly all states.
Raise your deductible: The deductible is the amount you pay before your insurance company pays the rest up to your limits for a claim. A typical deductible amount is $500. If you can afford it, increase your deductible, which lowers your premium. Make sure you can afford to cover the deductible in the event you're in an accident.
What driving tips should international students know?
We've gone over getting a license and car insurance. Now, let's look at some tips for the road.
What to do if you are pulled over?
If you're pulled over, follow these tips:
If a police officer follows you with their lights or siren on, pull over to the right-hand side of the road and stop as soon as it's safe.
Turn the engine off, roll your window down and leave your hands on the wheel where the officer can see them as they approach your vehicle.
Always be polite and answer any questions and requests respectfully. The officer will most likely ask to see your driver's license, registration and proof of insurance. You should always have these three documents whenever you're driving.
If you have questions about why you were pulled over, the officer should answer them. If you're issued a ticket, make sure you understand why you were ticketed and what are the next steps. You usually can mail in a payment or go to court if you feel the ticket was unjustified.
What to do if you are in an accident?
Accidents happen and knowing how to handle the situation is important. Here are a few tips on what to do if you're in a car accident:
Never admit fault. You may be tempted to apologize or say the accident was your fault, but accidents tend to happen quickly and you should let the insurance companies sort out who was responsible.
Call the police. They may not come out to a minor traffic accident but may issue a case number over the phone.
Take lots of photos and notes. Use your phone to take photos of the accident and notes on exactly what happened. Take photos of the damage to your vehicle and the other person's vehicle. Your insurance adjuster will want to see the photos and your notes.
If the police don't come out to the accident scene, be sure to collect the following information from the other driver as well as contact info for any witnesses:
Driver's license number.
Insurance company name and policy number.
Basic contact info, such as name, address and phone number.
Contact your insurance company as soon as you get home to report the accident.
Other things to know about driving in the United States
Staying safe on the road is everyone's goal and driving in the U.S. may differ from driving in your home country.
Learning the road rules in a new country can be challenging. "For me, the hard thing to learn about American driving was to be extra cautious and careful about stop signs and speed limits," says Taufique.
Here are just a few other tips to help you navigate U.S. roads:
At intersections, American drivers defer to the vehicle that arrived at the intersection first. If two vehicles arrive at roughly the same time, the driver on the right has the right of way, unless they have a red STOP or yellow YIELD sign.
Don't honk your horn unless you need to get another driver's or pedestrian's attention. Honking tends to be less common in the U.S. than other countries.
In almost all states, seatbelts are required, so buckle up or you may be getting a ticket.
Accidents and tickets have a big impact on your insurance rates. Stay accident- and ticket-free if you want to keep your insurance premium affordable.
Speed limits vary by state and the type of road. Speed limits are clearly posted on most roads and can range from 25 M.P.H. in residential areas up to 75 M.P.H. on major interstates.
These are just a few rules of the road, and laws vary by state, so study the road laws in your state.