If you toss and turn in bed during the nights before your driver's test – or if you get the heebie-jeebies on test day – you're probably not ready to get your license. 
Lack of preparation is the No. 1 obstacle to passing your test with flying colors, according to Robert Gillmer, past president of the Driving School Association of America.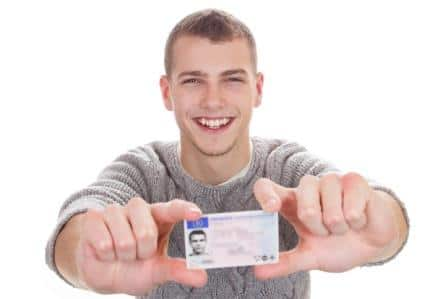 To gain the confidence necessary to successfully pass the driver's test, you must undertake hours of intensive behind-the-wheel lessons and book study – even if such a regimen sounds daunting, Gillmer says.
"The driver's test is a piece of cake compared to that," he says.
The following are eight things you should do to boost your odds of passing the driver's test. 
1. Read your state's driver's manual
Every state has an official driver's manual, Gillmer says. "All of them have pretty good information," he says.
The manual contains your state's key driving rules and regulations, such as:
Basic rules, such as speed limits
Road signs and what they mean
Safety information
Rules regarding driving under the influence of drugs and alcohol
Study the manual carefully. Understanding this information is the key to passing your written test.
Knowing what is in the manual is also crucial to success on the behind-the-wheel portion of the driving test. Drivers who arrive for their test without having studied the driver's manual exhibit poor driving behavior, Gillmer says.
"They don't read road signs or markings," he says. "If they do read it, they don't automatically know what they should be doing."
To obtain a copy of your state's manual, contact your state's department of motor vehicles, or visit the website. Most states have online versions available.
2. Take a practice written driver's test
Take practice driver's tests available online, which comprise common driver test questions from states across the country. That way, you can see how well you do and what you may need to brush up on.
3. Research and then practice potential test driving routes near your DMV 
Driver's test routes, not surprisingly, are typically fairly close to the department of motor vehicles that oversees your area's licensing. Therefore, it's wise to practice driving around the roads within 20 minutes or so of your local DMV.
You can also search for local driver test routes on YouTube. The site has videos of routes drivers uploaded that you can view to see what to expect.
4. Don't skimp on behind-the-wheel practice time
Gillmer says many newbie drivers fail to log enough hours before test day.
In his home state of Pennsylvania, drivers must spend 65 hours of behind-the-wheel learning time before they take the test. Many other states require at least 50 hours.
There are some telltale signs that a driver has not been practicing enough.
"They just don't have very good judgment of space and time," Gillmer says. For example, he says drivers without much practice don't stay in lanes very well.
Endless hours of driving practice might sound tedious, but it's the best way to learn the rules of the road.
"If people did their 65 hours the way they are supposed to and they did it with someone knowledgeable about driving, they would not have a problem at all (on test day)," Gillmer says.
5. Practice avoiding common newbie driver mistakes
Usually, your DMV website will list driving skills that are assessed during your test. For example, the California DMV states that the "test consists of basic actions" such as:
Left and right turns.
Stops at controlled and uncontrolled intersections.
Straight line backing.
Lane changes.
Driving in regular street traffic.
Driving on the freeway (if required).
Needless to say, you should be sure to practice the skills outlined on your state DMV website. But passing or failing may depend on how well you hone in on the little details and avoid common mistakes, according to instructor Eva Flores of DriversEd.com.
She says it is critical to look over your shoulder for turns, including left turns. She instructs student drivers to SMOG:
Signal
Mirror
Over-shoulder
Go
Additionally, she says to focus on the following to increase your chances of passing:
Avoid wide turns: Stay in your lane and follow through on turns. New drivers sometimes make a wide turn, which causes them to be in the wrong lane afterward. For instance, for a right turn at an intersection on a two-lane road, you should wind up in the right lane after turning. If you take it wide and end up in the left lane, then correct yourself by getting in the right lane but fail to signal or look over your shoulder, you may fail.
Stop ahead of limit lines: Be sure you don't cross or get too close to road markings at intersections.
Make complete stops: Don't roll to a slow speed, and keep going. A good rule is to count to three quickly after you stop before continuing.
Check traffic always: Look shoulder to shoulder and check your mirrors.
Go the speed limit: Keep an eye on how fast you are going.
Keep a safe distance: Be sure you have adequate space between you and other vehicles
6. Practice driving in adverse conditions
During his years as an instructor, Gillmer has noticed a counterproductive tendency among new drivers.
"We have people who call to cancel a driver's lesson because it looks like it's going to rain," he says.
However, such excessive caution prevents drivers from developing skills they need in real-life road circumstances.
Gillmer urges you to get plenty of practice driving at night and in adverse weather. Such conditions offer a perfect opportunity to hone your skills and boost your confidence.
7. Listen to driving experts, not your friends
Most new drivers are young, and like the children of the 1960s, they tend to put more stock in their peers' opinions than in the wisdom of anyone over 30.
"They want to listen their friends," Gillmer says. "They don't want professional advice."
Needless to say, this is a recipe for failure. Young drivers must have the maturity to learn from the wisdom of more experienced drivers.
"All new drivers need to understand the responsibility that comes with a driver's license," Gillmer says.
If you are struggling to learn, seek out a driving school, Gillmer says. Nothing beats tapping into the wisdom of an expert.
"Driving is not that much of a rocket science," Gillmer says. "It's pretty fundamental stuff. But there are rules that need to go with it."
8. Calm your anxieties
Many people are a bundle of nerves when they arrive for their driver's test, Gillmer says. Such high levels of anxiety can undermine your performance behind the wheel.
Calming yourself is crucial to test success. However, this is one area where a driving instructor can't help you, Gillmer says.
"We can teach them a lot of different things, but we can't control their anxiety," he says.
Getting a good night's sleep before the test can help calm anxieties, Gillmer says. But he acknowledges this might be easier said than done if you don't feel confident about your driving abilities.
Gillmer says the best way to reduce anxiety is to build up your confidence in the weeks before test day. That means logging many hours of practice behind the wheel, Gillmer says.
"If they didn't do the hours the way they are supposed to, they aren't going to have the confidence," he says.
— Michelle Megna contributed to this story.
Resources & Methodology
Sources
DSAA. "DSAA officers." Accessed January 2023.