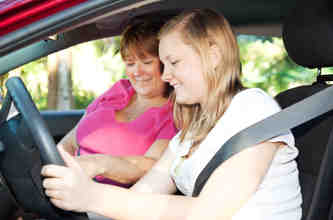 Teen driver deaths have increased dramatically in recent months, a new report finds.
The Governors Highway Safety Association (GHSA) says that the number of U.S. deaths for drivers age 16 and 17 rose 19 percent in the first half of 2012. If the data hold up, it will be the second straight year that fatalities among the youngest drivers have risen, following eight straight years of declines.
While most safety experts expected traffic fatalities to rise as the economy recovers, the increase in teen driver deaths greatly outpaces those for the overall population. According to the National Safety Council, traffic deaths for all ages totaled an estimated 36,200 in 2012, a 5 percent increase from 2011.
The GHSA data from the first half of 2012, based on preliminary numbers supplied by all 50 states and the District of Columbia, showed the number of 16- and 17-year-olds who died behind the wheel was 240 compared with 202 the same period the year before.
Lead author Allan Williams is alarmed by the results.
"We know from research and experience that teen drivers are not only a danger to themselves but also a danger to others on the roadways," he says. "So these numbers are cause for concern."
Williams notes that teen deaths are still at historic lows. "We are still at a much better place than we were 10 or even five years earlier. However, the goal is to strive toward zero deaths, so our aim would be that these deaths should go down every year," says Williams.
Table of Contents
Table of Contents
Driver deaths by age
| Year | Age 16 | Age 17 | Age 18-19 | Age 20 & Older |
| --- | --- | --- | --- | --- |
| 2000 | 435 | 564 | 1,533 | 19,241 |
| 2001 | 434 | 558 | 1,533 | 19,316 |
| 2002 | 488 | 639 | 1,612 | 19,736 |
| 2003 | 413 | 581 | 1,556 | 19,589 |
| 2004 | 400 | 569 | 1,526 | 19,413 |
| 2005 | 356 | 525 | 1,462 | 19,583 |
| 2006 | 326 | 535 | 1,474 | 19,201 |
| 2007 | 296 | 479 | 1,333 | 18,296 |
| 2008 | 231 | 349 | 1,167 | 16,402 |
| 2009 | 195 | 307 | 1,009 | 15,195 |
| 2010 | 157 | 253 | 873 | 14,641 |
| 2011 | 173 | 250 | 845 | 14,147 |
Why more teens are dying
There is no hard data on what is causing the rise in teen deaths, only theories:
Benefits of graduated driver licensing are leveling off: Graduated driver licensing (GDL) requires an extended learner period. Young drivers accumulate more supervised driving experience followed by an intermediate stage that restricts teen passengers in the car as well as late-night driving. A full license is awarded only after completing these stages.
GDL programs vary by state. While many were implemented in the mid-90s, the majority of them were amended and strengthened between 2000 and 2006 and were credited for a big drop in teen death rates. The positive effect of these laws may have reached its peak.
While all states have GDL programs in place, no state has implemented all of the most stringent provisions recommended by the Insurance Institute for Highway Safety (IIHS). The IIHS predicts that if states adopted all of the provisions they could reduce fatal crashes by 17 to 63 percent. So far no state has stepped up to meet the challenge.
The economy is improving. When the economy tanked, teen drivers stayed off the road as gas and insurance costs put cruising the family car out of reach. "Teens tend to drive more when their parents are more financially secure, which leads to more fatal crashes," Says Jonathan Adkins, deputy executive director of GHSA.
Adkins also speculates that teen employment has picked up in the last couple of years. Statistics seem to confirm his hunch. Teen joblessness hit a record during the recession, rising from 15.5 percent in 2006 to well over 20 percent in 2012.
According to Challenger, Gray & Christmas, teen hiring in 2012 was the strongest since 2006. Teens with a job usually need to drive.
Additionally, teens may not be waiting to drive as the economy improves. While there is no hard data on licensure rates, some experts feel the improved economy may put a license in reach of teens that could not afford it during the recession.
Gas prices aren't soaring. From 2008 to 2011, gas prices rose by about 40 percent; deaths of 16- and 17-year old drivers fell dramatically. Since then, gas prices have leveled off and even declined a bit. Researchers have long documented the link between road fatalities and gas prices. The decline in deaths is most pronounced among the youngest drivers, studies find.
Safety first, then savings
Car accidents are the No. 1 killer of teens. Most of the moves you can take to ensure your child's safety also can lower the car insurance rates you pay.
Delay licensure if possible. Even one extra year can make a huge difference in maturity.
Be involved and set an example. Stay off the phone when you drive.
Learn the GDL rules and make sure your teen abides by them. Restrict nighttime driving as well as during inclement weather for the first year.
Think about a parent-teen driving contract as well; some insurers offer a discount.
Use technology to keep tabs on your teen and prevent her or him from calling or texting while driving.