Car theft continues to be a significant problem in the U.S. More than a million vehicles were stolen in 2022, according to the National Insurance Crime Bureau (NICB), a nonprofit dedicated to combating and preventing insurance crime. But car and truck owners can take steps to protect their property.
Installing anti-theft devices on your vehicle can reduce the chances your auto will be stolen and may earn you discounts on your car insurance premiums. These auto-theft deterrents – from steering wheel locks to kill switches and alarms – can foil the most determined thieves.
In addition, new vehicle models may include built-in security technology, such as tracking devices that can help locate your auto if it is stolen.
"See what your options are if you buy a new car," says Paul DelPonte, executive director of the National Crime Prevention Council. "Check with your dealer to see what dealer-installed devices are available."
However, if your car does not have such built-in security, you can often add it by purchasing an add-on device.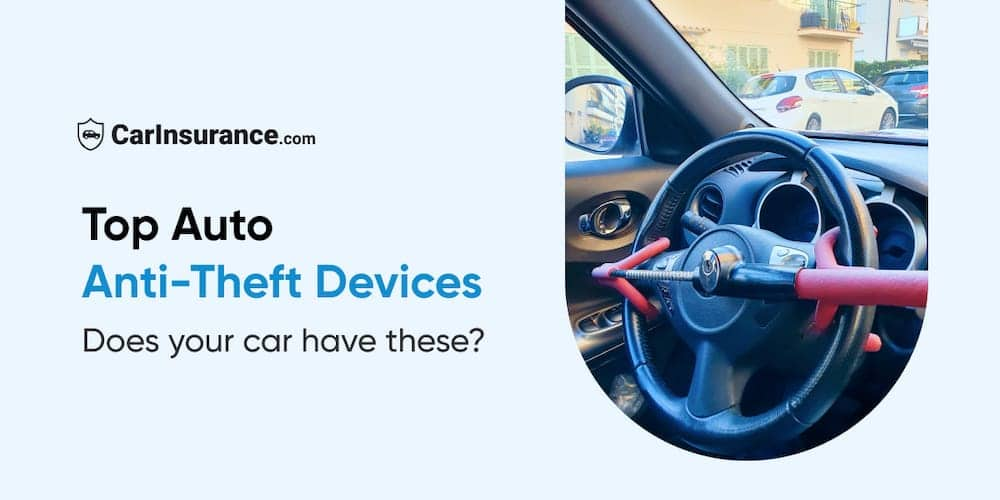 Table of Contents
Table of Contents
11 anti-theft devices for cars
Wondering how to prevent your car from being stolen? Here's a look at what CarInsurance.com's editors believe to be the best 11 auto theft deterrent systems.
1. Steering wheel locks
They've been around for decades, but one of the best car-theft protection devices is this tool that locks your steering wheel into place. Perhaps the most famous such device is The Club. Attaching a lock to your steering wheel means the wheel can't be turned to steer the vehicle.
Cost: $25-$100.
2. Car wheel clamps
Instead of locking the steering wheel, you could lock an exterior vehicle wheel with a tire clamp or boot device. It is another of the best car anti-theft devices. This device can prevent thieves from stealing your wheel but also protects the entire vehicle from theft, as a clamped tire will not rotate or turn.
Cost: $40-$90.
3. Brake locks
Brake locks typically attach to your auto's brake pedal, preventing thieves from using the brake and stealing the vehicle. Some attach to the steering wheel, which prevents the use of the brake pedal.
Cost: $20-45.
4. Audible alarms
The blaring of an alarm can be a great car theft deterrent. An alarm will attract attention to your vehicle. That can be enough for a thief to pick another target.
Cost: $100-$1,000, depending upon system and installation type.
5. Hidden kill switches
Install one or more of these switches inside your vehicle to cut the flow of electricity at the battery or ignition switch or to shut down the fuel pump. If you install several switches, thieves will have their work cut out for them when they try to find them all.
Cost: $10-$50 each.
6. Vehicle-tilt and glass-break sensors
Glass-break and vehicle-tilt sensors issue an alert if your car windows are broken or someone jostles your car and the vehicle's position changes – for example, by trying to load it on a tow truck and haul it away.
The sensors may sound an alarm, shut down the ignition or send you an alert on your smartphone.
Cost: $40-$100 for a tilt sensor; $15-$20 for a glass-break sensor.
7. Battery disconnect switches
This simple device allows you to disconnect your automotive battery's power, so thieves cannot drive away with your vehicle.
Many people use these devices to quickly turn their auto's battery power on and off when working on the vehicle. But some devices allow you to turn off the power and disconnect the knob so thieves can't reconnect the power source.
Cost: $10-$50.
8. GPS trackers
You can use a GPS tracking device to keep track of your car's location. If your vehicle starts moving when it's supposed to be parked outside your office, you'll know you have a problem. Text or email alerts will be sent to your smartphone. You can get detailed reports on where your car has gone and is headed.
Cost: As low as $20 up to several hundred dollars and subscription fees.
9. Remote locks
Remote locks are a great anti-theft device because if you walk away from your car and forget to lock it, a remote lock lets you lock and unlock your vehicle from your smartphone.
Cost: Standard on some vehicles ranging from $100 to $600 for others.
10. Smart keys
Smart keys have a radio pulse generator that communicates with antennae inside the car to lock, unlock or start the vehicle. These devices deter theft because they send different frequency signals that are encrypted every time a door is unlocked or a trunk is opened remotely.
Cost: These often come standard on new cars and can be added to other vehicles with cost depending on whether you self-install or hire a professional.
11. Faraday bags
It is possible for thieves to pick up the radio frequency your key fob emits, allowing them to access the vehicle. Putting your key fob in a faraday bag prevents electromagnetic signals from being susceptible to theft.
Cost: $15.
FAQ: Best anti-theft devices for cars
Which cars are most likely to be stolen?
The most stolen vehicles in 2021 were Chevrolet and Ford full-size pick-ups, the second consecutive year they earned that dubious honor, according to the NICB.
The organization notes that full-size pick-ups and mid-sized sedans are the biggest sellers when it comes to vehicles in the U.S., and a combination of popularity and availability makes them an attractive target for thieves.
The top 10 most-stolen vehicles in the U.S. in 2022 were:
Chevrolet pick-up (full size)
Ford pick-up (full size)
Honda Civic
Honda Accord
Toyota Camry
GMC pick-up (full size)
Nissan Altima
Honda CR-V
Jeep Cherokee/Grand Cherokee
Toyota Corolla
Learn more about car make and model: What they mean and why they matter
Do auto insurance companies offer anti-theft discounts?
Many insurance companies offer anti-theft discounts for drivers who have anti-theft devices in their vehicles. For example, Geico says you can get a discount of up to 23% on your premiums when installing an anti-theft system.
Nationwide also says it offers discounts for factory-installed anti-theft devices and devices installed after you buy your vehicle. However, these price breaks may not be available in all states, and savings vary based on the state and the type of device.
Does car insurance cover theft?
Many drivers assume that car insurance will cover the theft of their vehicle. But this is not necessarily the case. Comprehensive coverage – optional for policyholders unless the vehicle is financed – covers your auto theft. You won't be covered if you choose not to carry this coverage.
Car insurance, even comprehensive coverage, does not cover the theft of personal property inside of a stolen vehicle. If you have personal property stolen inside of a car, check with your renters or homeowners insurance policy to see if you have coverage.
Will an anti-theft device keep my car safe?
The NICB's Stroisch says installing an anti-theft device can make sense for many drivers, but no device is foolproof.
"There's always someone determined to find a way to defeat it," Stroisch says.
What other steps can I take to prevent car theft?
Using some common sense goes a long way toward preventing vehicle theft:
Lock your doors
Don't leave remote keyfobs in your car
Parking in a well-lit area
"If you have a garage at home, use it for your car, not for storage," DelPonte says.
If your car is stolen, the NICB recommends immediately calling law enforcement and your insurer. NICB data shows that reporting a vehicle as soon as possible after it is stolen increases the chance of recovery.
Final thoughts: Anti-theft devices
There is no single anti-theft device that is right for every automobile.
Chris Stroisch, vice president of public affairs and communications for the NICB, says that the type of anti-theft device you choose likely will depend on your level of comfort with both inconvenience and price point.
"It depends on what type of theft you're attempting to prevent, as to which type of device you should purchase," Stroisch says.
Check out our experts' recommendations on the best car insurance discounts.
Resources
Sources:
National Insurance Crime Bureau. "Chevrolet and Ford Full Size Pick-Ups Most Stolen Vehicles For Second Year in a Row." Accessed March 2023.
National Insurance Crime Bureau. "Vehicle Thefts Nationwide Surpass One Million For the First Time Since 2008." Accessed March 2023.
Geico. "Check Out Geico Car Insurance Discounts." Accessed March 2023.
ESTIMATING YOUR CAR INSURANCE
Make smarter investments for you and your car insurance
Get your estimates here