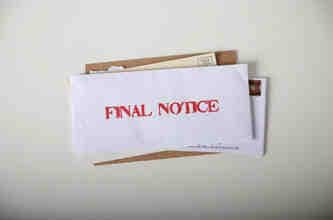 Many of life's due dates are flexible, but the deadline for paying your car insurance premium is not one of them.
There is no legally required car insurance grace period. If the insurer doesn't receive payment by the time and date the premium is due, then it can cut off coverage immediately.
"People tend think of it more like a utility bill. When times are tough and you don't pay your power bill on time the power is not shut off immediately," says Ron Fredrickson, manager of consumer advocacy for the Oregon Insurance Division. "Insurance doesn't work that way."
Frederickson says his team of consumer advocates regularly fields calls from residents who assume state law requires insurance companies to provide a grace period. But Oregon law requires 30 days' notice of cancellation except if it's for nonpayment of premium, which requires just 10 days' cancellation notice. Usually the cancellation notice for nonpayment is printed on the bill and not sent as a separate notice. So by the time the due date arrives, the proper amount of cancellation notice already has been provided.
Like Oregon, most states do require insurers to provide notice of cancellation for nonpayment, but that shouldn't be confused with a grace period.
"No state requires carriers to provide coverage for free, which is what a grace period is essentially," says Alex Hageli, director of personal lines policy for the Property Casualty Insurers Association of America (PCI).
What happens next?
The next step depends on the insurance company.
If you're just a few days late, the insurance company will likely reinstate coverage when it receives payment.
Ryan Hanley, agent and marketing director at The Murray Group Insurance Services in Albany, N.Y., says customers whose coverage is reinstated mistakenly assume the insurance company provided a grace period, but the coverage is usually reinstated from the date payment is received. The customer was technically uninsured between the bill due date and payment.
Hanley says this short period of no coverage doesn't count as a lapse that could raise your rates, at least not in New York. If you let your insurance lapse by more than 30 days in that state, then insurers can charge a higher premium because you failed to maintain continuous coverage.
The big risk you take when paying the bill late is getting into an accident while you're uninsured.
Some insurers will cut you slack and still pay the claim as long as you pay the premium, Hageli says. "They don't advertise the fact, but companies want to keep customers' business and are willing to work with customers."
But there's no guarantee.
"It's nothing I would ever bank on, and it's very much on a case-by-case basis," Hanley says, adding that smaller, regional carriers that have closer ties to customers are more likely to be lenient than big national carriers.
If you're habitually late with payments, the insurer could choose not to renew the policy, or it could make you go through underwriting again and raise the premium, Hanley says. Depending on your state, you could also face fines from the department of motor vehicles for not keeping a registered vehicle insured.
"Not paying your bill on time has a lot of repercussions," Hanley says.
Tips to avoid payment headaches
Don't expect your insurance agent to remind of you when your payment is due.
"We do everything we can to help that customer get coverage reinstated, but we do not seek them out to let them know a bill due date has passed," Hanley says. "If you do it for one person you have to do it for everyone without fail."
If they reminded some customers but not others, agents could be sued if the customers who didn't get reminders skipped paying their premiums and got in serious accidents without any coverage.
Sign up for automatic payment, so the premium is taken automatically from a bank account or charged to a credit card. That way you never risk late payment, although you will need to make sure your account has enough money to cover the bill when it comes due. You also could save money; some insurers offer discounts for enrolling in auto pay. (Read more about car insurance discounts for multiple policies, renewal and online and early payment.)
Shop around or talk to an agent about how to lower your premium if you're having trouble affording coverage.
"I understand money being tight, but there are a lot of companies out there, and you should be able to find a good range and adjust your coverage," Hageli says. "At the end of the day, there's no excuse for not having coverage."