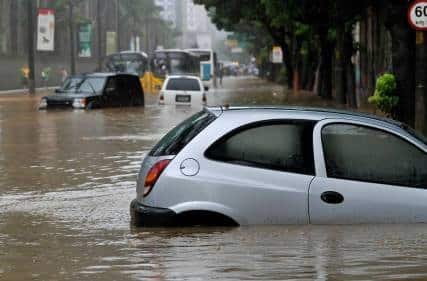 Dropping the comprehensive insurance coverage on your older automobile may sound like a good way to save some bucks. But if you live in a storm-prone region, you might want to wait until hurricane season is over.
If your car is damaged or destroyed in a storm, you'll be footing the bill for its repair or replacement at a time when the cost of a replacement has gone through the roof.
While giving up comprehensive coverage will lower your car insurance rates, you need to ask yourself whether you have the financial ability to buy a replacement car, says Sean Welch, senior assistant vice president in the claims department of Amica, headquartered in Lincoln, R.I.
A $15,000 new car might cost $300 a month, while comprehensive coverage might cost $30 a month. For those in disaster-prone areas, "it might be a smart move" to hang on to your coverage, Welch says.
It's crunch time for car insurers
Comprehensive coverage -- the kind that covers damage from everything except collisions --is especially important during hurricane season. And you don't need to live near the coast to be affected. As anyone who lives in the South or East knows, hurricanes and tropical storms can often take a toll hundreds of miles inland, bringing fierce winds and torrential rains, and spinning off tornadoes.
Hurricane Katrina remains etched in many people's minds. In 2005, it swamped Louisiana, Mississippi and Alabama. In Louisiana alone, 300,000 cars wound up in the scrap heap -- and that sent 300,000 buyers into the car market at the same time, competing for the greatly depleted number of undamaged cars.
In parts of Louisiana walloped by the storm, comprehensive coverage rates jumped about 10 percent to 20 percent, says Ed O'Brien, deputy commissioner of property and casualty in the Louisiana Department of Insurance. Other parts of the state saw little impact on rates.
No auto insurers pulled out of the state as a result of Katrina, O'Brien says. That's a sharp contrast to homeowners insurance companies, which might leave a state or scale back the number of policies they offer after a major storm.
The big difference is that cars might cost $20,000 or $30,000 to replace, while homes might cost 10 times as much. "You're talking about something (worth) many times less," says Lynne McChristian, Florida representative for the Insurance Information Institute.
Can you do without a car?
Yet it's still important to protect the money you have sunk into your vehicle. Comprehensive coverage is a good starting point, but it's not the only insurance you should have if a hurricane strikes.
Comprehensive covers your vehicle if it sustains damage from things like wind, flooding and flying objects, Welch says. But if there are any valuables in your car, you need to have homeowners or renters insurance, or those losses won't be covered.
Another consideration is whether your auto insurance policy provides for a rental car if your vehicle is knocked out of commission. Even with rental reimbursement coverage, there can be limits on the amount you're reimbursed per day, Welch says.
A rental car might be necessary if your vehicle is being repaired after a storm, or while you wait for a check to be cut if your auto is destroyed. Rebecca Hirsch, a USAA spokeswoman who traveled with company officials after the recent spate of tornadoes in Alabama, says in some cases checks were issued immediately, while in other cases they took several days.
Other types of insurance to consider are gap coverage, which pays off your vehicle loan if your car is destroyed and the amount you owe is greater than the value of your car; or new car replacement insurance, which will provide you with a new car if your car is totaled during the first year or two you own it.
The key is to figure out in advance the range of auto insurance options available from your car insurance company that will best meet your needs. Otherwise, there's a good chance your insurer won't allow you to make changes if you "wait till a hurricane is about to make landfall," Welch says.
Depending on your insurance company -- and whether a hurricane has knocked out electricity, landlines or cell phone service -- you'll often have the option of making a claim by phone, online or using mobile apps.
Often after a major disaster, talking to an auto insurance claims representative might be the best bet, Hirsch says, because he or she can walk you through the claims process. "It's really hard to think when you're in that situation. You don't know what to do."