For millions of Americans, pets are part of the family, and we want them to have the very best.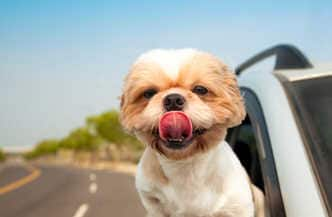 About half of U.S. households own pets, and we spend a lot of money on them – $123.6 billion spent on our pets in the U.S. in 2021, according to the American Pet Products Association, a pet industry trade association.
But if you take your pooch on a road trip, will your car insurance cover any of their injuries in case of an accident?
Some insurers offer this coverage as part of an auto policy, and others allow you to purchase add-on coverage that protects pets. You also can purchase pet insurance to get even more robust coverage.
However, do not automatically assume your pets are covered under your auto policy.
Does car insurance cover pets in an accident?
As a general rule, your car insurance does not cover injuries to pets. The liability portion of your car insurance coverage protects you from damages you cause to other people and their property, but it does not protect your pets.
The coverages in your car insurance policy that protect your vehicle – collision and comprehensive – do not cover your pets. However, there are two other ways you might get coverage for your pet's injuries: If your auto insurance policy includes pet injury protection or by purchasing pet insurance.
What is pet injury coverage?
Some insurance companies offer pet injury coverage as part of their auto policies.
Usually, this amounts to anywhere from a few hundred dollars to $1,000 or more in coverage for injuries or burial costs for pets that are hurt while they are in your car.

For Example
Lemonade offers an endorsement to its car insurance policy that provides up to $1,000 for injuries to your pets that result from them being in your car at the time of an accident, says Yael Cohen, pet company lead at Lemonade Insurance.
This coverage would help pay for your pet's medical care in some – but not all – circumstances.
"You might be denied coverage if you were driving while drunk, high, or committing a crime — that is, intentionally putting your pet in harm's way," she says.
Which car insurance companies offer pet coverage?
Following are some of the companies that offer pet injury protection coverage as part of their auto insurance policies:
How do you know if your policy has pet injury coverage?
Asking your insurance company agent or representative is the best way to determine if this coverage is included in your auto insurance policy.
If it is not and the coverage is essential, you might want to shop around and see if you can find another insurer that offers it. Or, you can purchase a separate pet insurance policy.
How can I buy insurance that includes pet coverage?
While an auto policy won't always cover your pet in an auto crash, you can still protect your animal by purchasing pet insurance. This type of coverage reimburses the cost of medical care for your pet.
"A base pet insurance accident and illness policy is very likely to cover treatments related to your pet being injured in a car accident," Cohen says.
Insurers such as Lemonade also offer add-ons that cover physical therapy, vet visit fees, dental illness and end-of-life costs.
"There are lots of ways to customize your coverages to give your pet truly tailored protection," Cohen says.
The key with pet insurance is to ensure you get your policy early while your pet is young and healthy.
"If you wait until after your pet suffers from an unexpected accident or illness to get them signed up, your coverage will be limited," Cohen says.
What are some tips for driving safely with dogs in the car?
When your pet is in the car, ensure it is safe.
The American Society for the Prevention of Cruelty to Animals (ASPCA) recommends putting the pet in a crate or carrier with plenty of ventilation and enough room for the pet to stand, lie down or turn around.
The crate should be secured so it will not slide around. If you do not use a crate, ensure your pet is secured in a harness attached to a seat buckle.
Other tips for traveling with pets:
Never leave your pet alone in a car. A car that heats in the summer or goes ice cold in the winter is potentially life-threatening for your pet.
Pack enough food, so you don't run out while traveling. Bring a water bowl and fresh water to give your pet regular hydration breaks during trips.
Keep to a routine as much as possible regarding your pet's meal times.
Give them regular bathroom breaks – make sure to travel equipped with plenty of plastic bags or a litter box with cleanup materials.
Check with your insurance company to make sure you're covered in case of an accident with your pet.
Planning ahead and preparing accordingly will make you and your pet more comfortable on your journey.
Sources
ASPCA. "Travel Safety Tips." Accessed July 2022.
Progressive Commercial. "Pet Travel Tips." Accessed July 2022.
American Pet Products Association. "Pet Industry Market Size, Trends & Ownership Statistics." Accessed July 2022.