Get Personalized
Car Insurance Quotes
Belinda Jones and her dog Bodie qualify as road-trip warriors. Together they have crossed the country twice and visited 29 states. Bodie, who was once a gangland stray from the mean streets of South Central before Jones adopted him, has led a charmed life ever since.
"Bodie has had a luxury pet massage in Santa Barbara, went to a drive-in movie in San Luis Obispo, sniffed the salty air as we cruised Big Sur, took a Bay tour in San Francisco, as well as romped through the vineyards in the Napa Valley, and those are just his California adventures," says Jones. (pictured right)
It turns out that Bodie, who Jones says may be a "Shar Pei mix," isn't the only furry – or feathered – friend that enjoys the open road.
We love to cruise with our pets
Drivers love to bring their pets with them when they hit the road, according to a recent CarInsurance.com survey of 1,000 motorists.
Seventy-two percent of those surveyed said they have a pet that rides with them in the car.
Of those who travel by car with their pets, 80 percent cruise with dogs, 6 percent ride with cats and 13 percent do so with both dogs and cats. A few drivers have parrots, parakeets, rabbits, ferrets and fish along for the trip.
Only 33 percent of those who drive with their pets said they "always" restrain their animals. Forty percent admitted to using a restraint "sometimes," leaving 27 percent who "never" restrain their pets.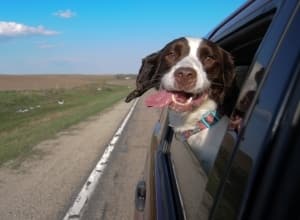 Of pet owners who take their animals in their vehicles with them, 36 percent said they let their pet sit in their lap. More men do so (43 percent) than women (29 percent).
Fourteen percent of drivers who have pets as passengers said they have been in an accident or had a "near miss" due to a distracting pet.
Your car is covered, but Fido may not be
While damage to your car (or someone else's) will be covered by your insurance if you get into an accident while your pet is in the vehicle, your vet bills are most likely your own, especially if you were at fault.
"Your liability car insurance will cover damage to the other driver's car and injuries suffered by other drivers and passengers, up to your policy limits, if you cause a collision because you were distracted by your pet, regardless of whether the pet was restrained or not," says Carole Walker, a spokeswoman for the Rocky Mountain Insurance Information Association.
If you cause an accident because you're distracted by your pet, damage to your car would be covered if you chose to buy optional collision coverage, says Walker.
Your pet, on the other hand, may not be so lucky. "You will be responsible for any vet bills if the accident was your fault. Pets fall under the personal property category and while some collision and comprehensive policies extend to pets, it's the exception. Most only cover damage to your vehicle," says Penny Gusner, consumer analyst for Insure.com.
Some insurers, however, do offer pet coverage under the collision portion of your policy. Coverage levels vary dramatically, but the average is typically between $1,000 and $2,000, which may not be enough to pay for medical bills for a seriously injured pet.
For example, Auto-Owners Insurance collision coverage pays up to $750 per animal or $1,500 per incident, and Erie Insurance covers up to two dogs and/or two cats that are injured in an auto accident and will pay up to $500 for medical treatment for each pet or $1,000 for their death.
"If the other driver is at fault, you should be able to make a claim against his or her property damage liability coverage to cover Fido's bills," says Gusner.
When pet insurance pays
If your pet is injured in an accident, the vet bills can easily run into the thousands of dollars depending on the severity of the injuries. "Car accident injuries range from mild to severe, depending on the speed of the accident," says Dr. Andrea Stickland of the Animal Medical Center of Chandler, Arizona.
"Common low-speed injuries include spinal irritation, which can result in limping. When the speeds increase pets can be thrown out windows, suffer collapsed lungs, and severe de-gloving injuries from being thrown from the car," warns Strickland.
It's also possible your pet may decide to make a hasty exit from the vehicle. "We receive claims for pets that jumped from a moving car. In these cases, it's common for pets to suffer fractures and abrasions due to the impact of hitting the pavement," says Dr. Jules Benson, Chief Veterinary Officer at Petplan.
Pet insurance will cover treatment for all accidental injuries, even those sustained in car accidents. Costs vary depending on the type, size and age of your pet. For example, $10,000 worth of annual coverage from PetPlan, with a $200 deductible, costs about $47 a month for a five-year-old Labrador.
Laws for pets in cars
Studies have shown that an unrestrained 60-pound dog turns into a 2,700-pound projectile in a sudden stop at 35 miles per hour, which means a dog could easily injure or even kill you or a family member.
Letting your pet roam around the car is not only a bad idea, it may be illegal depending on which state you call home. Only a few states currently have laws on the books specifically outlawing unrestrained pets:
New Jersey - Allows NJSPCA officers to stop a driver they feel is improperly transporting an animal. Tickets can range from $250 to $1,000 per offense.
Hawaii - Holding a pet on a lap is explicitly forbidden.
Arizona, Connecticut and Maine - Drivers can be charged under existing distracted-driving laws for driving with pets on their laps.

There are also 17 states (AZ, CA, IL, ME, MD, MN, NC, NV, NH, NJ, NY, ND, RI, SD, VT, TN and WV) that have laws that specifically prohibit leaving an animal confined in a vehicle. Typically, the conditions have to endanger the animal's life for the law to be violated. Penalties vary by state. Under some state laws, police or other individuals are allowed to rescue animals left under extreme conditions, which means they won't be liable for damage to the car if they have to break into the vehicle to save the animal.
Car-safety devices for your pet
Aside from the legal ramifications, animal advocates and vets strongly recommend restraining your dog with a harness or putting it in a crate while traveling to keep it safe.
"I can't stress enough that it is essential to keep your pet in a crate or harnessed with a seat belt. They should not be roaming around in the vehicle and certainly not free standing in the back of a truck," says Dr. Juli Goldstein, with Vet24seven.
Subaru of America discovered two-thirds of the people who buy their cars are dog owners, and, seeing a need to test the effectiveness of animal restraints so consumers could make informed choices, decided to partner up with the non-profit consumer advocacy group Center for Pet Safety (CPS). The two first teamed up in 2013 to test pet-safety harnesses and just released test results for crates, carriers and the connectors they use.
"We advise pet owners to secure their dog using any brand that is Center for Pet Safety Certified," says Lindsey Wolko, CPS founder. "We independently test harness and crate products and if they meet our published standard, they are awarded a badge to use on their packaging to help pet owners identify the best brands on the market."
According to Wolko, the Sleepypod Clickit Sport harness is currently the only CPS Certified harness on the market. "We know of several brands that are working toward certification, but it simply takes time," she says.
When it comes to crates, you have a few more options. The recently released results of CPS testing, conducted in partnership with Subaru, found the Gunner Kennels G1 Intermediate with 8' Tie Down Straps as the top performing crate for 2015.
Pet travel safety tips
While strapping your pet in is safety rule No. 1, it's not the only one. Here are a number of tips for keeping your pet safe during road trips:
Before your trip, take your pet on a short ride to the park to make the car a place where fun things happen, not just trips to the vet, says Jesse Vasquez with Big Heart Pet Brands.
If you're going to be in your car for longer than a few hours, plot out pet-friendly spots along the way for bathroom breaks and mealtimes. Even on a cool, 70-degree day, a car's temperature rises to 89 in just 10 minutes and 104 in 30 minutes, says Benson.
Take some of your pet's regular food with you. Feeding different brands of food combined with the stress of travel is an easy way for your pet to develop gastrointestinal problems.
Take a copy of your pet's medical history. If your pet needs medical treatment or pharmaceutical refills, you can ensure that another veterinarian has all the pertinent information.
Run your dog ragged prior to hitting the road so they welcome the opportunity to relax and snooze, says Jones.
Dogs like familiarity. Vasquez suggests bringing along their snuggly blankets and favorite toys. On arrival at your destination, set up your dog's crate and food bowls, and stick to a normal feeding schedule.
CPS recommends stopping every two to three hours and leashing your pet before removing it from the vehicle.