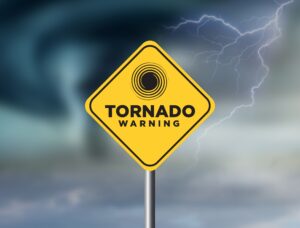 Tornadoes are unpredictable weather events that typically increase during the months of April, May and June across the U.S. May is the most dangerous month for tornadoes, averaging 281 tornadoes per year, according to the Weather Channel.
So, what do you do if a tornado whips through your town and damages your car? The last thing you might be thinking about is auto insurance, but the level of coverage your auto insurance policy provides will play a key role in getting you back on your feet. But don't fret. We have a handy guide to help you navigate some of the thorniest issues regarding your car, tornadoes and auto insurance.
Here are the five most common questions regarding car insurance and tornadoes.
Read our guide: How much does car insurance cost in Texas?
Key Highlights
If you have comprehensive insurance on your vehicle and your car gets damaged by a weather event like a tornado, you can make a claim.
In addition to weather events, comprehensive covers your vehicle for theft, vandalism and animal strikes.
If your car gets damaged by a weather event like a tornado and you don't have comprehensive coverage, you'll have to pay out-of-pocket to repair or replace your vehicle.
1. What type of auto insurance do I need for tornado coverage?
If you're a resident of the Midwestern U.S. (or Florida), you live in one of the states with the highest average number of tornadoes yearly. Topping the list is Texas with 155 tornadoes per year, Kansas with 96 tornadoes, Florida with 66, Oklahoma with 62 and Nebraska with 57 (from 1991 to 2010).
Most states require drivers to have liability coverage, at a minimum. However, if you live in Tornado Alley — comprising Texas, Louisiana, Arkansas, Oklahoma, Kansas, South Dakota, Iowa and Nebraska — comprehensive insurance is an excellent investment to protect yourself in case of a tornado.
Why? Typical auto insurance policies don't cover damage due to natural disasters, theft/vandalism and vehicle-animal collisions.
If your vehicle sustains damage because of a tornado, high winds, falling branches, etc., you can file a claim under your comprehensive insurance coverage, which covers any damage to your car up to its actual cash value.
If you have comprehensive insurance on your vehicle and your car gets damaged by a weather event like a tornado, make a claim immediately. You want to be at the front of the line for an insurance adjuster to start processing your claim if there was a lot of destruction in your area. Your deductible will be due even though you were not at fault.
If your car is severely damaged, it probably will be declared a total loss. This means your car insurance company will not repair your vehicle but pay you its actual cash value (ACV) — its worth before the claim. In this case, calculate the value of your car so that you can negotiate with the insurance company.
Collision insurance is protective when it comes to collisions with other vehicles, but it won't protect your car in severe weather like a tornado.
This type of insurance comes into play if your car is totaled and you owe more money on your car than it's worth — gap insurance will pay the difference.
You can get gap insurance from your insurance or lender, but it's usually more expensive from your lender. Gap insurance is an excellent option if you don't have much savings and wouldn't be able to cover a $2K-$3K difference between what your car is worth and what the insurer would pay if your car gets totaled.
Depending on your situation, rental car reimbursement coverage could be a good buy. You don't need rental coverage if you have a second car or a way to get around without your vehicle. But if you'd be stranded for weeks while your car is being repaired, it may pay to have it.
Live in Kansas? Find out how much you'll pay for auto insurance
2. What if I don't have comprehensive coverage?
Comprehensive insurance covers your vehicle for damages resulting from severe weather and acts of nature, including damage done by wind, hail, hurricanes, and a tornado. If you don't have comprehensive coverage, you'll have to pay out-of-pocket to repair — or replace — your vehicle.
3. Will my insurance company declare my car a total loss?
This determination varies according to state law and your car insurance company's guidelines. And remember, you'll be responsible for your comprehensive deductible. Liability and collision coverage do not provide coverage for damage by weather events.
Yu must have comprehensive insurance coverage for your car to be repaired or replaced after a tornado.
In general, a car is determined to be a total loss when:
It's so severely damaged it cannot be safely repaired.
Repairs cost more than the vehicle's worth, or
The damage or cost of repairing the car is too extensive, according to your state's total loss threshold.
If you made a comprehensive auto insurance claim for a car in a tornado, your car insurance company could total the car if mechanics say it's not repairable or if the cost of repairing it is the same or more than the actual cash value (ACV).
4. What if the insurer says that my car is salvageable?
If a mechanic says the car is repairable and the costs are under 50% of the vehicle's ACV, it will likely not be totaled out. Instead, you can get the car repaired to maximize the benefits of your auto insurance policy. 
However, once the damage to the vehicle reaches the 50% threshold, your auto insurer will determine if the car will be totaled or not based on an insurance adjuster's assessment.
5. Am I covered if a tornado flipped my car or another car landed on mine?
Comprehensive insurance will cover your car if it's damaged by another vehicle being blown onto your car. In this scenario, it would be comprehensive since tornado winds are picking up a car and flipping it. The vehicle that flipped became a flying missile, and it was due to an "act of nature" that the accident occurred.
Detailed guide: How much does car insurance cost in Florida?
— Michelle Megna contributed to this article.
Sources
The Weather Channel. "Here's How Many Tornadoes Your State Sees In A Typical Year." Accessed May 2023.