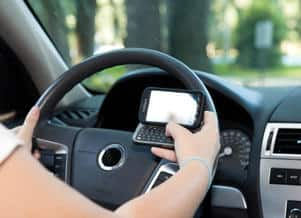 Text messaging from behind the wheel is illegal in 39 states.
Yet on Thursday -- the day after a Massachusetts teen was sentenced to a year in jail for a deadly crash prosecutors blamed on texting -- the Centers for Disease Control and Prevention released a new survey that found more than half of high school seniors had texted while driving in the past month.
The National Safety Council estimated in 2011 that 23 percent of all traffic crashes involved cellphone use, including 100,000 from texting. An AAA survey found 95 percent of drivers view texting or email on a par with intoxicated driving.
Drivers whose noses are buried in their smartphones clearly have missed the message.
Or have they?
Thirty-nine states outlaw driver texting, but only 10 states and the District of Columbia ban handheld cellphones, according to the Insurance Institute for Highway Safety.
Massachusetts provides a criminal penalty for the harm a texting driver inflicts on others through negligence. But six states don't address texting at all: Arizona, Florida, Hawaii, Montana, South Carolina and South Dakota.
Five more states -- Mississippi, Missouri, New Mexico, Oklahoma and Texas -- prohibit texting only for novice drivers, as if it were a skill to be acquired with time and maturity.
Iowa, Nebraska, Ohio and Virginia ban texting for all drivers but don't allow police to make a stop unless the driver has committed another infraction, such as speeding.
West Virginia assesses three points against a driver's motor vehicle record after a third offense. Most other states simply let the matter drop with a fine.
A small fine -- or a ruined life
Massachusetts law enforcement has issued more than 1,700 tickets since texting was outlawed in 2010.
The teen driver, Aaron Deveau of Haverhill, will spend a year in jail and lose his driver's license for 15 years. He was the second driver sentenced under the negligence provision.
But there is a chasm between the penalties faced by drivers who text and hurt someone and drivers who text and are merely ticketed. Drivers who don't injure anyone face a $100 fine, and the offense isn't a moving violation; thus, the driver's insurance rates are unaffected.
State legislatures use driver's licenses as a club to enforce societal norms. You can lose your driving privileges for violating curfew, public intoxication, driving off without paying for gas, graffiti, prostitution or vandalism. In Massachusetts, you can lose your driver's license for failing to pay child support or your state taxes.
But you can't lose it for texting unless you kill someone. Surely there is a middle ground.
Texting as a moving violation would put points on driver's licenses and contribute toward license suspensions, two sins painfully reflected in car insurance rates -- but far less painful than a year in jail and a lifetime of regret.
A federal carrot-and-stick approach
When Google runs the world, we'll be able to text and drive all we want. (See "Will driverless cars cut your rates 80 percent?")
Until then, mere disapproval of the practice clearly isn't working. The CDC found not only that one-third of the teenagers it surveyed had texted while driving in the last 30 days, but that seniors were more likely to text than juniors -- 58 percent versus 43 percent.
That trend could undo the tremendous strides the CDC reported in improved seat belt use and decreased drunken driving. Just 8 percent of high schoolers reported they never or rarely wore a seat belt, down from 26 percent in 1997. The percentage who said they had driven after consuming alcohol fell to 8 percent, down from 17 percent in 1997.
The federal government doesn't have the power to ban texting, but it does have the power to withhold highway funds to compel states to pass laws -- a strategy that worked to lower thresholds for intoxicated driving to 0.08 percent in every state. (See "Harsher laws for DUI first-timers.")
Transportation Secretary Ray LaHood said Thursday the Obama administration would provide $2.4 million to fund texting and cellphone crackdown projects in California and Delaware. The National Transportation Safety Board has already called for a complete ban on use of all mobile devices. (See "Cellphone tickets and your car insurance.")
"If we could get all 50 states to pass a law, that would send a message," LaHood says. "Me, personally, I'd be for a national ban. I'm going to leave it up to Congress to decide what they want to do."