State car insurance rates
---
Every state has its own car insurance laws, and that means car insurance rates change dramatically across the country. But car insurance rates also can soar just between ZIP codes. We have comparable car insurance rates by ZIP code for every city in the U.S.
If you're looking for details on your state car insurance laws, or are curious about how car insurance rates in your city or ZIP code compare, click on your state below.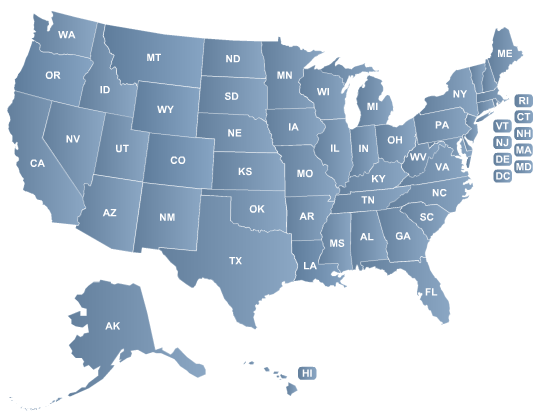 Nearly everything having to do with car insurance depends heavily on your state. The resources linked below will help you understand specific laws that may or may not affect you.
No pay, no play states: In states with "no pay, no play" laws, driving without insurance is even more risky than in other states. Uninsured drivers in these states are not compensated for any damage, even in accidents that are not their fault.
Which states share speeding ticket information?: Many states have formal agreements with each other, such as the Drivers License Compact and the Non-Resident Violator Compact, to share information regarding traffic tickets when drivers are ticketed out of state.
What is a tort state?: Thirty-eight states use the tort system, which means that someone is found at fault for every accident that involves car insurance, even if the fault is determined to be 50/50 between two drivers.
What is a no-fault state?: Under the no-fault system, car insurance companies pay for certain damages regardless of who was at fault. Laws vary among the 12 states that have no-fault insurance.