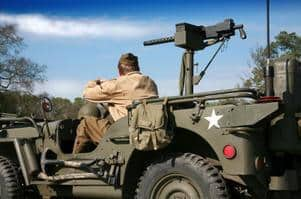 If you're in the military and preparing to ship out overseas or even across the country, one of your missions should be learning about your auto insurance options.
No matter where you're headed, the best thing you can do is "converse with your insurance company, maintain your coverages and pay your premium," says Mike Baker, director of Geico's Military Department, which specializes in auto insurance issues for military members.
The wrong choices could mean your rates rise dramatically. You may try to save money by dropping coverage entirely if you deploy overseas — and wind up paying much, much more when you return home.
Here's what you need to know.
Your car is in the U.S., and you're not
While war zones receive most media coverage, the largest U.S. troops overseas are based in Germany and Japan. Depending on where you're heading abroad, you might be able to bring your vehicle with you. That's not an option for service personnel heading to hot spots like Afghanistan.
Angela Preciado, director of the auto product management team at USAA, which caters to military members, says it's more common for military personnel to store a vehicle while deployed, rather than let someone else drive it. (See "Who can drive your car?")
One option is to store your vehicle and drop all coverage but comprehensive — which would cover you if the garage where your car is stored caught on fire, or a tornado swept your car away. But without state-required liability coverage you'd have to turn in your license plates and registration, then re-register your car when you return stateside.
You cannot drop comprehensive and collision coverage if your car is financed or leased, even if you won't be driving it for an extended period of time.
Baker's preference is to store your vehicle in a secured location, such as on base or in a garage while you're deployed, and keep your coverage in effect. That way you don't need to turn in your tags and re-register your vehicle after deployment. During your next policy period with Geico, you'll receive a 70% discount on all coverage.
USAA offers a storage discount, so if the car is stored and you maintain your usual auto insurance coverage, you can get a break on rates of up to 90%. The discount varies from state to state.
While drivers with older, paid-off vehicles might want to drop comprehensive coverage, Preciado recommends keeping it in case something happens to your car while you're away. She also suggests giving power of attorney to someone you trust, such as your spouse or parent, to handle issues that might crop up.
You're taking your car overseas
For those heading to less turbulent locations, you may be able to bring your car with you and take your U.S. auto insurance along.
Geico, for example, works with its affiliate Geico Financial Services, so your car is covered on its trip across the pond, Baker says.
Then, you just have to bring proof of insurance when you pick up your vehicle at the port of entry. Insurance runs for 12 months and can be extended as needed. Spouses can receive the same coverage.
When you head back home, Geico provides coverage on the voyage overseas and when you're stateside.
"We try to make it as seamless as possible," Baker says.
When you sell your car before deployment
While it may be tempting to drop all coverage when you're deployed abroad, Baker doesn't recommend it.
He cites his own experience returning from Navy deployment to Japan. When he went to buy a car, he found premiums were astronomical or insurers wouldn't cover him because he hadn't maintained coverage in the United States while he was gone. He ended up getting insurance through Geico.
Suppose you're heading abroad and don't keep your vehicle. In that case, he suggests getting a statement from your base provost marshal before you return, confirming you've had no accidents or other traffic incidents on base. That document, combined with your previous auto insurance policy, should allow you to obtain coverage at a reasonable rate.
Another option, Preciado says, is to get a non-owner liability policy, which provides coverage if you borrow someone's vehicle. And having that coverage "impacts your premiums in a positive way" when you return home.
"If you let your coverage lapse, that's tantamount to having a huge accident" when it comes to the amount you'll pay in premiums, Baker says.
You're taking your car to another state
Even if you're just moving 500 miles rather than 5,000, you'll need to understand the auto insurance requirements in your new home state.
A permanent move to a new base means you need to register your auto and change your insurance to your new state of residence, Preciado says. That might mean you'll pay higher rates even if you stay with your current auto insurer because average car insurance rates vary from place to place.
Baker says Geico's discounts are determined by location. Some states don't allow military discounts or limit the discount amount.
If you move to your new base only temporarily — meaning you intend to return to your state of legal residence — most states allow you to keep your home state registration, license and insurance.
USAA offers a discount on comprehensive coverage if you live on base, which is considered a more secure environment, Preciado says.
And if you're ticketed on base, it's not reported to that state's department of motor vehicles. Instead, the base tracks tickets and has its own point system for infractions, she says. If you get too many tickets, you could lose your base driving privileges.
— Susan Ladika contributed to this story.