Las Vegas car insurance rates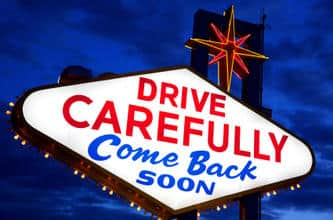 Las Vegas drivers are probably luckier than many of the gamblers in the city's casinos, but they battle the odds to find cheap car insurance. Rates are the highest in all of Nevada.
There are good reasons for it. Of course there is always traffic on the Strip, even at 3 a.m. Pedestrians gawk and wander, with deadly consequences. Tourists watch the pedestrians and the flashing lights and the dancing fountains … but not the cars in front of them.
Even those who avoid that snarl will confront jammed highways and ongoing, annoying road construction. It brings detours and temporary ramp and road closures. The Nevada Department of Transportation reports no less than 19 major construction projects underway in the greater Las Vegas area.
Downtown Las Vegas ZIP codes pay the most, with rates falling a bit in the suburban areas. (You'll find a map comparing sample rates in all neighborhoods below.) But your address is only one component of your insurance premium, and all companies calculate your rates differently -- even if you live in the priciest ZIP in town.
You'll find the details on Nevada state profile page.
---
One more reason Las Vegas pays high car insurance rates
Despite its reputation, Las Vegas did not make the No. 1 spot on the March 2010 list of drunkest cities in the U.S. It did, however, come in 11th, according to Las Vegas Weekly, just falling short of the top 10 for deaths, arrests and binges related to alcohol and alcoholism. Why wouldn't there be a city-wide problem with drinking when many bars and clubs never close and "last call!" is never heard?