Get Personalized
Car Insurance Quotes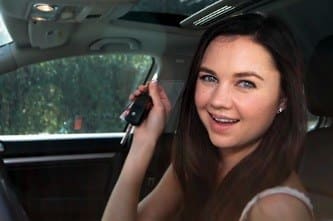 Many people don't realize that when they are car shopping, they might need to be in the market for gap insurance, too. New car purchases and gap insurance go hand-in-hand, yet many drivers don't know what it is or misunderstand its reach. So if you're buying a new car soon, it's best to know about gap insurance before you head to the dealership.
"Many car owners believe gap insurance is a catch-all policy that makes their car payments anytime they're unable to," says Penny Gusner, the consumer analyst for CarInsurance.com. "That is not the case."
Gap insurance protects you if your vehicle is totaled or stolen and you owe more than it's worth to your lien-holder.
Specifically, it pays the difference between the actual cash value of your car at the time of the loss, less the deductible (and the vehicle's salvage value if retained by the owner or insured) and any greater amount owed on the vehicle to a lender at the time of loss.
Lynne McChristian, a spokeswoman for the Florida wing of the Insurance Information Institute (III), says gap insurance (which is an industry acronym for "guaranteed auto protection" or "guaranteed asset protection") can be a worthwhile add-on to an existing policy.
"As soon as you drive your brand new car off the lot, it loses value," she points out. "If you didn't put much money down on it, then there is a gap between what it's worth and what you still owe. Simply, the smaller your down payment, the more you need gap insurance."
Edmunds.com says the average new car depreciates 11 percent as soon as you steer it off the lot. And during the first five years, the car depreciates from 15 to 25 percent each year. Edmund's "True Cost to Own" tool lets consumers determine general depreciation numbers for their vehicles.
But there are limitations with gap insurance. For one, it doesn't cover negative equity. For instance, if you roll the outstanding balance of your prior car loan into your new car loan, gap insurance will cover just the new car loan.
Here are other things gap does not cover, according to Gusner:
Vehicle payments due to financial hardship, job loss, disability or death
Car repairs
The value of your car or balance of a loan if your car is repossessed
A rental car while your car is in the shop
A new vehicle's down payment
Extended warranties you add to your car loan
Buying gap insurance is prudent if you don't have a lot of cash on hand to pay off the balance of your loand above your car's worth, says Gusner.
Who needs the protection the most? Car owners who don't put 20 percent down on a car or who have a loan longer than four years are probably good candidates.
Here are five things to keep in mind when buying gap car insurance:
1. Know how much gap insurance costs: Buying gap insurance at the dealership is a bad idea.
Most industry experts say the cost for coverage can be twice as high, or even higher, if you purchase from the guys that sell you the car.
"You can save a bunch when you buy gap from your own insurer, rather than from the auto dealer or leasing company," says McChristian. "Their coverage may be three to four times more costly."
Part of the reason the coverage is more expensive at a dealership is because it is folded into the loan, and then also is billed plus interest.
Gusner says costs vary due to insurance companies' different rating systems, but typically gap insurance is calculated as being 5 percent to 6 percent of your physical damage coverage costs. "If your collision and comprehensive costs are $500, gap insurance coverage will add around $25 to your overall premium," she says.
Another benefit to purchasing gap insurance from your car insurance company is that you'll only need to file one claim if your car is a total loss.
2. The car must already have collision and comprehensive insurance coverage.
This is simply because the actual cash value of your vehicle needs to be paid out by an insurer in order for your lien-holder to be paid the remaining amount through the gap coverage.
3. Only keep coverage as long as needed.
Keep in mind that the coverage is usually only necessary for about three years on a new car with a small down payment. At the most, gap insurance is reasonable for five, maybe six years, according to experts. Make sure you drop the coverage when you can.
4. Know what's covered -- and what's not.
Details can vary from insurer to insurer. Some provide coverage that goes past the cost gap, such as making overdue lease or loan payments. They may also pay for the cost of an extended warranty that you bought at the same time you purchased the vehicle. It all depends on the individual company, so ask questions and study your policy.
Once you've decided on an insurer and the policy terms, Weston recommends doing a final check with rating services like A.M. Best and Standard & Poor's to determine the financial stability of the company. This is clearly important if you have to make a claim.
5. Gap insurance doesn't transfer from one car to another.
If you want to trade in your old car for a new one, you'll have to buy a fresh gap insurance policy for the new car. But keep in mind that if you paid for your current gap policy in-full, you should receive a refund for the unused portion of that policy.