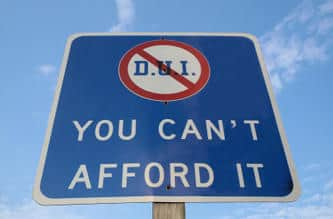 Here's one campaign slogan that nails it: "DUI: You can't afford it."
It's just one of many in the 30-year crusade that's more than halved drunken driving deaths in this country, from 26,000 a year to just under 10,000 today.
But it's the one offenders recall as bills mount.
If states lower the blood-alcohol limit to .05 percent, as recently recommended by federal safety regulators, many more drivers could become familiar with the high price of that next drink.
Penalties and fines vary by state, but nowhere is it cheap to drive under the influence. And a mere arrest -- without conviction -- starts the counter. See who gets your money.
If you've had a DUI, read our DUI insurance guide to find out how to cut costs and get back to preferred insurance rates as soon as possible.
1. The bail bondsman
"As soon as you get asked to get out of the car, you're going to get arrested," says David Hunter, a criminal defense lawyer outside Houston.
The cop already suspects you're impaired and, to be safe, wants you off the road -- which puts you in jail if you can't cough up bail. Some states don't require bail money for first-time offenders with a low blood-alcohol level. Others might ask $500 to $1,000 regardless, or $100,000 or more for a repeat offense or accident.
A bail bondsman will ask you to pony up just 10 percent. The downside: It won't be refunded. The upside: You have more cash to spring your car from the impound lot.
Cost: $0 - $100,000.
2. The tow-truck driver and impound lot owner
There's a reason lawyers ask: "Do you have a DUI budget?"
While you're being handcuffed, humiliated and horrified, your car will get a cushy tow and safe storage. Convicted or not, that bill's on you.
In Utah, this might mean a $330 impound fee, plus towing and storage fees. In Chicago, try a $2,000 impound fee plus $40 a day.
And some jurisdictions impose a mandatory 30-day impound. In others, you might have to forfeit your vehicle upon a second DUI conviction.
Cost: $150 - $3,000
3. The courts
Fines have many aliases -- criminal penalty assessment, court administrative fee, jail costs, state restitution fund, jail cite-and-release fee, court costs, driver surcharge. And they never travel alone.
All told, you'll shell out at least $1,000 in fines and fees, likely more, up to $5,000. And, yes, that's for a non-accident first offense. And, yes, that's in addition to the costs of the classes and equipment you'll be assigned (keep reading).
The good news: Some of these won't be assessed if you're cleared. The bad news: Some of them will.
Cost: $1,000 - $5,000
4. The home monitoring company
Electronic monitors, like ankle bracelets, can replace jail time. But in problematic DUI cases, additional home monitors may also be used to make sure suspects aren't drinking. These may be assigned even before a court has determined guilt.
A SCRAM (Secure Continuous Remote Alcohol Monitor), worn on the ankle or wrist, detects the presence of alcohol in sweat. It's what some trouble-prone Hollywood starlets are required to wear. Some programs require defendants take random, remote alcohol-detection tests.
"There are fees associated with all that, and you're the one that has to pay," says lawyer David Hunter.
Cost: $350-$750 a month.
5. Public transit
Most states will take away driving privileges for anywhere from 90 days to six months for a first offense. You can get a hardship license, but typically not immediately and not without added costs.
In the meantime, public transportation costs money and time. Even in metropolitan areas, only a quarter of Americans can reach work in less than 90 minutes via public transit, according to a 2012 study.
The commuter rail into Boston, for example, costs $70-$345 a month.
Cost: $0 - $500 per month.
6. Alcohol counselors
Alcohol counseling has been required fare for DUI offenders for decades in many places, for obvious reason. An evaluation ($100) is now also typically required to get a hardship license pending trial.
Treatment can range from $125 to $5,000. Some health insurance companies cover substance-abuse treatment.
In addition, victim-impact panels ($20-$65) for convicted offenders have become standard. Launched by Mothers Against Drunk Driving (MADD), speakers relay firsthand accounts of the repercussions of impaired driving, both to victims and offenders.
You'll be hard-pressed to find anyone who objects to these programs, meaning it's a bill that's here to stay.
Cost: $250 - $5,000
7. Lawyers
John Wilka, a criminal defense lawyer in Sioux Falls, Idaho, starts the clock at $1,500 (plus sales tax) to defend a DUI case. That's without going to trial, which will add at least another $1,500. Add several hundred more if he has to order independent lab analysis.
"You're looking at $3,000 to $4,000 even if you're not guilty," he says, citing at least four court appearances before trial. "In some of the bigger states it's probably much more."
In an affluent suburb of Houston, Hunter starts at $5,000 and adds from there for a trial, which takes at least three days.
"And we don't give the money back," he says.
Of course, if that seems high, consider the potential alternative coming next: a loss of income.
Cost: $1,500 - $10,000
8. Replacing your paycheck
It's not just professional drivers at risk of losing work following a DUI conviction.
Consider the coach who must occasionally drive his team, or the mechanic whose employer's insurance won't let him move cars. Add any and every worker whose opportunities can be cut short with a misdemeanor criminal record.
"I've had a substantial number of people lose their job from the beginning because of a DUI," says lawyer Hunter.
Healthcare professionals, who have access to drugs, face licensure reviews by state boards. Elected officials face pressure to resign.
Costs: potentially in the hundreds of thousands.
9. The DMV
In 42 states, officials can suspend a driver's license upon arrest. Called an "administrative license suspension," because it can occur before trial or case dissolution, it varies in length but most often lasts 90 days.
Whatever the duration, you'll have to pay a license reissue fee to get it back. And that's after covering an alcohol evaluation and jail, bond and legal fees. The amount varies considerably by jurisdiction.
Cost: $25 - $500
10. The ignition interlock company
One of the best ways to prevent a repeat offense is to lock up the car. Since vehicle forfeiture hurts other family members, interlock ignition devices are gaining favor. Once installed, the key won't turn unless the driver passes an alcohol breath test.
Thirty-two states and four California counties now require first-time offenders to install an interlock ignition device (in 12, only if your BAC is .15 or higher).
Evolving technology helps combat cheating -- random rolling tests, dashboard cameras -- although not always compliance.
In case you hadn't already guessed, the offender pays installation and rental costs.
Cost: $100 - $350 per month.
11. The DMV, again
Authorities want extra assurance that DUI offenders carry proper auto insurance. So, in addition to the standard reporting requirements, 42 states ask insurance companies to submit an SR-22 form, which essentially guarantees that the convicted driver is carrying legally mandated insurance.
If you no longer own a car but want to buy auto insurance so you can drive again, your non-owners policy will also require an SR-22 filing.
Two states require an FR-44, which is proof of additional coverage limits.
In all cases, the insurance company is going to ask you to pay for the form. But that's nothing compared to what you'll pay in added insurance costs.
Cost: $15 - $50.
12. The insurance company
If convicted of a DUI, expect your insurance rates to as much as double for the next three to six years. It can take another five years of spotless driving before good-driver rates resume.
Some insurers may drop you altogether, forcing you into an even-more expensive, high-risk pool.
CarInsurance.com consumer analyst Penny Gusner says rates can increase anywhere from 30 to 200 percent, and even exceed 340 percent in North Carolina.
Cost: $3,000 - $10,000.
The total
Several states have calculated what a first-time, non-accident DUI will cost most people in their state. Their totals range from $9,000 to $12,000, not including lost time from work.
Don't expect those costs to drop. With some 1.4 million DUI arrests per year, even $10,000 per arrestee puts a mere $14 billion dent in the estimated $132 billion annual cost of drunken driving to this country.
If heading out, consider calling for a taxi or rideshare service (around $50 to $100 there and back), or buying dinner for a designated driver ($30 or $50) -- quite the bargain compared to the cost of a DUI.