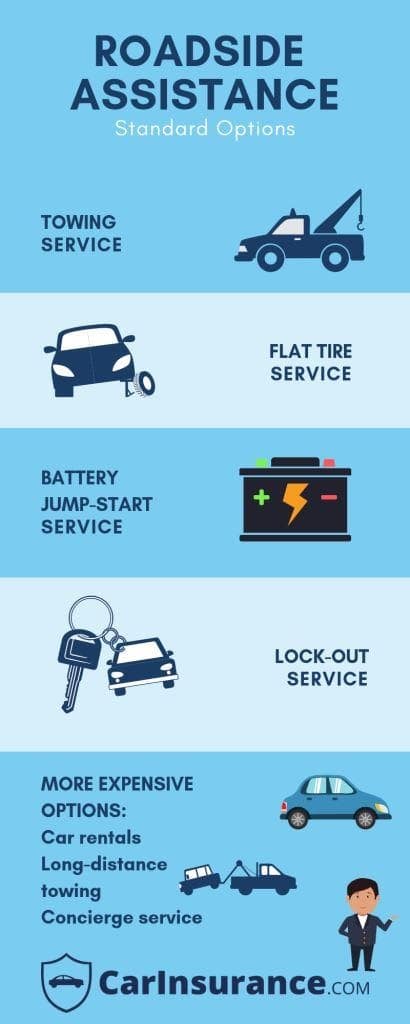 A minor roadside breakdown, flat tire, dead battery or an empty gas tank can quickly ruin your day. These kinds of incidents are the bread and butter of roadside assistance plans and they will step in to save the day.
There are many roadside assistance plan options. You can choose everything from motor clubs, such as AAA, to plans offered by insurance companies, automakers, credit card companies and even standalone apps.
"According to our data, direct-to-consumer motor clubs (think AAA) and direct-to-tower (the towing company) calls are the most frequently used services for roadside assistance, followed by insurers, extended warranty and new vehicle warranty services," says Jeff Blecher, chief strategy officer of Agero, which provides and manages roadside assistance for insurers, automakers and other companies.
During an emergency, you might even forget that you have roadside assistance and end up calling a towing company directly. This can be an expensive mistake.
Most plans don't allow reimbursement if you call a towing service directly. According to Agero, per-event costs when requesting a service provider directly can range between $50 to $200 per event, depending on the needed service.
Many drivers have more than one roadside assistance option available to us. Depending on how you drive, how far you commute and what you expect from roadside assistance can help determine which one is the best roadside assistance plan for you.
What is roadside assistance?
Roadside assistance is designed for specific situations. A roadside service professional tries to get your car running and back on the road. If that's impossible, the person transports the vehicle safely off the road. However, the help is limited to minor mechanical repairs. If the service pro can't run it, one of the other services included in a roadside assistance program may be called into play.
The majority of roadside assistance programs include some form of the following in addition to minor mechanical work:
Towing: If your vehicle won't start or is deemed unsafe to drive, a tow truck will be called to get you safely to a mechanic. All roadside assistance plans come with a towing limit that can vary from as little as two miles up to 250 miles or more. The more expensive the plan, the longer the tow in most cases. If your car breaks down in the middle of nowhere and the nearest repair facility is beyond your tow limit, you will be on the hook for additional towing charges. Prices vary, but $2 a mile is a fairly standard number.
Flat tires: If you blow out your tire, your roadside assistance plan will send a professional to change your tire with the spare. It should be noted that most roadside assistance plans exclude this service on motorcycles and ATVs.
Battery jump-starts: If your battery is dead, roadside assistance will jump-start your ride. Most roadside assistance plans will bring you a new battery if necessary, but you will be responsible for the new battery's cost.
Lockout service: This service comes in a couple of different flavors. Depending on what you need, it may or may not be covered. For instance, the plan should cover a roadside professional getting your car open using a wedge or other tool. If the roadside assistance pro cannot jimmy the door open and an actual locksmith, the cost may or may not be covered depending on your plan. It may also be partially covered, leaving you to fork up some cash.
Fuel delivery: Roadside assistance programs will bring enough gas to get you to the nearest gas station. Depending on your plan, you may have to pay for the gas (area prices apply) or it may be free.
Winching or extrication: If you end up in a ditch, your roadside assistance should pull you out. There can be restrictions on how far off the road the car can be and if more than one truck is required to set you free, there may be additional costs.
It should be noted that these services are only for roadside issues. If your car is sunk in three feet of water or is un-drivable due to an accident, flooding, fire or another disaster, this doesn't fall under the umbrella of roadside assistance.
AAA and other motor clubs
AAA is the granddaddy of roadside assistance and is probably the first name that springs to mind when you hear the words roadside assistance. AAA has been around since 1902 and has 58 million members across the U.S. and Canada.
On this page, we're only looking at AAA roadside assistance programs, but they offer a wide variety of other benefits including credit cards, insurance, travel agencies, and travel planning services.
While AAA is one of the oldest providers of roadside assistance, it also offers one of the most robust programs out there. All of that comes at a price. AAA is one of the more expensive programs, especially when you get into their premium plans.
Here is the breakdown of the various plans offered by AAA Colorado. These plans all come with four service calls per year. Plans (and prices) can vary depending on what state you live in:
Basic: $79 a year – This level gets you seven miles of towing and all the other basics, including flat tire changes, battery jumpstarts, lockout service and up to $50 of a locksmith's time. Extricating and winching are limited to one truck. Fuel delivery is included, but you have to cover the cost of the gas. If you're driving an electric vehicle, the program provides a 15-minute quick charge. The charge should get you at least 10 miles down the road.
AAA Plus: $129 a year – This gets you everything in basic while also upping your towing limits to 100 miles and covering the fuel's cost. You now have $100 for a locksmith and a second truck (for an hour) if you need to be winched out. This is their best-selling plan.
AAA Premium: $169 a year – Everything in Plus with a few added benefits. While towing is limited to 100 miles, you get one 200-mile tow per year. The second winching truck can now stay for two hours and you have $100 in locksmith services for your home if you lock yourself out of your house. This plan also provides one free day of car rental from Hertz.
According to its website, all AAA plans come with other benefits. That includes discounts at more than 100,000 locations, including hotels, restaurants, and car repair shops as well as full-service vacation planning.
AAA is still one of the best options for roadside assistance, but it's no longer the only game in town. The National General Motor Club is also worth checking out.
National General offers three different plans with their basic starting at $59, the standard plan bumping up to $79 and the top of the line Elite is $89 for a single person and $119 for a family. Towing is limited to five miles with basic, 20 miles with standard and 100 miles for Elite. All plans provide jump-starts, flat tire service, fuel delivery, winching and lockout service.
Other roadside assistance options
These days many new cars come with some form of roadside assistance. You can also purchase a plan from your insurance company, credit card issuer or use an app.
Here is a quick overview of the various options available:
Insurance companies
The majority of insurance companies offer roadside assistance programs. The benefits and price can vary dramatically. Pricing can run as low as $5 or more than $100 on the high end. Benefits can be extremely limited or as robust as an AAA plan.
One thing that should be considered with an insurers roadside assistance plan is whether or not they classify a callout a claim. If it's regarded as a claim, you are better off going with a standalone product (such as AAA) because these service calls (if considered a claim) can impact your rates and insurance record.
Using your roadside assistance should not be considered a claim. It should not impact your rates. Typically, roadside assistance bought through your insurer is serviced by a third party, so when you use it, your insurer should have no knowledge of it — but even if they did, it shouldn't affect your rates.
Most insurers don't report roadside calls as a claim, but it's wise to check.
"It's always a good idea for the consumer to call and confirm with their provider broker or agent. Insurance companies change their rules all the time, so it would be wise to confirm with them directly," advises Marci Lall with the FSB Group.
Here are some highlights of insurers that offer roadside protection:
Allstate: Allstate is one of the best and provides a few different options. The good news is that you don't have to be an Allstate customer to join.
Platinum Elite – This $ 99-a-year plan provides towing, tire changes, fuel delivery (with two free gallons of gas), lockout, and road service. The plan reimburses up to $250 per incident making this one of the more robust plans available. It covers motorcycles and RVs, which is rare and comes with $1,500 in trip interruption insurance. CarFax reports personal concierge services and $2,000 in arrest bond fees are also included.
Roadside Advantage – This one comes at $52 a year and drops the reimbursements down to $100 per incident and $750 in trip interruption benefits. You get 25 percent off instead of free CarFax reports.
Good Hands Rescue – This mobile app is bare bones and free. It connects you to Allstate's network of roadside assistance providers. Using this app is pay-per-use, but the minimum tow fee is $99 making it a bit expensive unless you only use it very rarely.
Travelers: Their roadside assistance plans are limited to customers that have a car insurance policy with them. They offer two plans. The pricing can vary depending on your policy and where you live.
Basic: This plan can cost as little as $12 a year. It provides 15 miles of towing along with standard roadside services, such as jump-starts, fuel delivery, flat tire change and lockout assistance.
Premier: This affordable service starts around $23 a year and bumps up the towing to 100 miles, along with the other services included in the basic package. Besides, it offers trip interruption coverage up to a $600 limit and $500 of personal property coverage related to a breakdown.
Progressive: This plan is reasonably robust but does come with some restrictions. Pricing varies depending on your car and where you live but expect to start around $35 a year.
Towing coverage is limited to 15 miles or the nearest repair facility if you break down in the middle of nowhere. Roadside assistance is covered for an hour of a professional's time.
The plan covers the other basics as well as battery jump-start, fuel delivery (you pay for the gas), locksmith service and tire changing service. If your car is located within 100 feet of the road, they'll winch you out for free, beyond that you will incur some costs.
You may need to carry comprehensive, collision, rental reimbursement, or medical payments to be eligible for roadside coverage.
State Farm: This is one of the cheapest roadside assistance plan options out there, starting at $5 a year for State Farm customers. It includes one hour of mechanical labor, towing to the nearest repair location and delivery of fuel, batteries, oil or tires but you have to pay for the product. One hour of a locksmith is also included.
Vehicle manufacturers
Many automakers offer roadside assistance for their new vehicles and connected services, such as OnStar. While OnStar and other connected services provide many of the benefits of a roadside assistance plan, the pricing is well above the average cost of a roadside assistance plan, so we have excluded them.
Program details can vary dramatically between manufacturers, but most of them include the basics. That includes towing (to the nearest dealership), lockout service, fuel delivery, flat tire change and battery jump-starts.
This service usually comes free with a new vehicle and lasts between two and five years. For example, Ford's program for 2007 and newer cars covers the first five years or 60,000 miles, whichever comes first.
There are a few restrictions that apply to these types of plans. The biggest one is that you're towed to the closest dealership. So, you will be out of luck if you have a favorite mechanic farther away. The other major restriction is that the plan only applies to the new vehicle, compared to a motor club like AAA, which covers the driver, not the car, so any vehicle you are in is protected.
There are too many manufacturers to look at in detail. Here are three examples:
Ford: Their service lasts for five years or 60,000 miles for new cars. It includes towing to the nearest Ford dealership within 35 miles, battery jumpstart, flat tire change, fuel delivery up to two gallons, and opening your locked car.
Audi: Just because you spend more on the car doesn't mean you get more service. Audi's new car roadside assistance program lasts four years from the date of purchase. It includes towing to the nearest Audi dealer, jumpstarts, flat tire changes, fuel delivery (the fuel cost is covered), lockout service and even winching as long as the car is located next to the road.
Honda: Honda is on the low end of coverage with protection only lasting three years from the date of purchase. It includes all of the standard items, towing to the nearest dealership, winching, flat tire changes, jump-starts, two gallons of fuel free of charge and lockout service.
Credit cards
Numerous credit cards offer some roadside assistance. You often have to pay for it on a per-incident basis. The roadside program may be free for more upscale cards, such as ones with an annual fee.
The roadside assistance program offered by a credit card company can be convenient. However, if you are in an older car and need roadside assistance more than once a year, it may not make financial sense.
Here are a couple of examples:
Visa: Most of their standard cards offer roadside assistance for a flat fee of $69.95 per incident. The coverage gets you towing up to five miles, tire changing, jump-start, lockout service and winching if your car is within 100 feet of the road. You also get fuel delivery, but you pay for the cost of the fuel.
AMEX: American Express offers a variety of cards and the roadside benefits vary from barely there to somewhat impressive. The basic green AMEX gives all of the typical services, but you will be billed for everything, nothing is included.
Upgrading to the Corporate Platinum card increases the towing limit to 10 miles. It also includes winching, jump-starts, flat tire changes, lockout service when the key is in the vehicle and delivery of up to two gallons of fuel for free.
A few other roadside assistance options
There are a couple of additional options if you don't drive a lot, have a new car or don't like the idea of joining an auto club:
Urgently: This is a free app and you pay nothing until services are needed. When you run into trouble, open the app and provide a few details of the necessary service (flat tire, towing, etc.) and their 55,000 service providers will hit you up with a time frame and details about cost. You can then choose the provider that fits your timeline and budget.
Blink Roadside: This app has no membership fees. They charge a flat fee for specific services. Roadside services, such as a jump-start, lockout, fuel delivery or flat tire change, are billed at $49 and towing runs $79 for five miles and $5 for each additional mile.
Which is the best roadside assistance plan for you?
There is no definitive answer to this question, it all depends on your needs and budget. Here are a few things to consider:
Be strategic: When shopping for a roadside assistance plan, consider your needs before signing on the dotted line. It is easy to overpay for something you won't need or use.
Auto clubs, such as AAA, offer various other services. That includes trip planning, hotel discounts, motels and other attractions, maps and even identity theft monitoring. If these services are something you need or would use, an auto club probably makes the most sense.
Even in the auto club sphere, you have choices and switching plans over time may make sense.
"Be strategic when choosing a plan, AAA Basic will probably work fine for a new car owner but consider upgrading to plus or premium as the car gets older," suggests Skyler McKinley, director of public relations & government affairs with AAA Colorado.
However, if you are only interested in roadside assistance when you need it without the bells and whistles, there may be cheaper options out there. Consider your budget and needs. Then, decide which plan is correct for you.
Age of your vehicle: If you are driving a brand new car or one only a few years old, you probably won't use a roadside assistance plan often. "The incident rate (how often you use it) for roadside assistance averages 35 percent," says Blecher. This means that most drivers use their roadside assistance roughly once every three years.
"That number drops down to 10 percent for drivers in new cars or vehicles that are only a few years old," continues Blecher.
All of this means that if the car is brand new, you can probably get by with the plan offered by your vehicle manufacturer or even one of the free apps that let you pay only for services you need.
Once the vehicle ages out of the manufacturer's roadside assistance program, you may want to switch to an auto club or a program offered by your insurance company.
How far you drive: If you don't drive that far and mainly stick around familiar areas, you may not need the full support of an auto club. Using an app, an insurance company plan or the one from your vehicle manufacturer may be the best option.
"Ninety-five percent of the time these plans will meet your needs," advises Blecher.
On the other hand, if you spend hours behind the wheel and often end up in the middle of nowhere, the more generous benefits of an auto club are probably your best bet.
The good news is that there are many options, including cheap roadside assistance plans. However, what's the best roadside assistance plan depends on multiple factors.