Hartford car insurance rates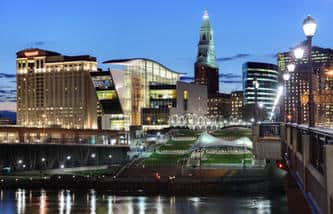 Hartford, home to many major insurance companies, doesn't get much of a break on car insurance. This capital city has the most expensive car insurance rates in Connecticut. Six Hartford areas top the list as the priciest for car insurance in the state, all sharing an average rate of $2,361.
Whether you live in Hartford proper or commute from a distant suburb, you should comparison shop for insurance. No two insurers will offer you the same rate, and the difference between them can be measured in hundreds of dollars a year. For example, in Hartford ZIP code 06103, the highest rate among rates fielded from major insurers was $3,534, for a year of full coverage. The lowest rate ($1,249) is $2, 285 less.
Our Connecticut car insurance profile page lays out the rules for Connecticut drivers.
---
Average car insurance rates in Hartford by ZIP code

By entering your ZIP code and choosing from among six age groups and three coverage levels, you will see the average cost of Hartford car insurance in the tool below. You'll also see the highest and lowest rate fielded from major insurers, which shows how much you can save by comparing Hartford car insurance quotes.
Here's how Hartford's highest average rate ($2,361) compares to others for full coverage:
$820 more than the state's least expensive average rate of $1,541 for ZIP code 06475, Fenwick
$590 more than the state average of $1,771
$1,006 more thant the national average of $1,355
Hartford car insurance requirements

Connecticut state law requires the following minimum car insurance coverage:
Minimum bodily injury liability
$25,000/$50,000
Minimum property damage liability
$25,000
Uninsured/underinsured motorist bodily injury
$20,000/$40,000
Cheap Hartford car insurance
Typically, the cheapest car insurance you can get is a policy that only meets the state required minimum level of coverage to drive legally.
Connecticut requires car owners to buy liability insurance of $25,000 per person and $50,000 per accident for bodily injury liability and $25,000 for property damage liability. These new limits just went into effect Jan. 1, 2018, so if you carried the prior minimum required, you'll want to see how your rates are affected when state laws hike liability limits.
Best car insurance: Hartford
Penny Gusner, CarInsurance.com consumer analyst, recommends that drivers, regardless where they live, buy more insurance than is required to drive. Even a minor accident can cost much more in repair and medical bills than what a bare-bones policy will pay out. You will pay more for more protection, but as you'll see below, additional liability coverage is typically affordable. To increase your limits to 50/100/50, you'll pay an average of $107 more yearly, or just $9 a month. Increasing your insurance from the state minimum to full coverage with a $500 deductible costs, on average, $1,010 more, or $505 a month.
State minimum average annual cost: $761
50/100/50 liability only: $868
100/300/100, with comprehensive and collision and $500 deductible: $1,771
Who has the cheapest car insurance in Hartford?
Geico has the cheapest auto insurance rates, on average, for Hartford, based on a CarInsurance.com analysis of ZIP codes in the city for three coverage levels, assuming a driver profile of male, age 40, with good credit driving 2016 Honda Accord. Rates below are for a year of coverage.
| Company | State minimum |
| --- | --- |
| Geico | $610 |
| State Farm | $839 |
| Allstate | $1,045 |
| Nationwide | $1,046 |
| Progressive | $1,170 |
| Farmers | $1,293 |
| | |
| Company | 50/100/50 |
| Geico | $693 |
| State Farm | $1,033 |
| Nationwide | $1,176 |
| Allstate | $1,228 |
| Progressive | $1,359 |
| Farmers | $1,502 |
| | |
| Company | 100/300/100 |
| Geico | $1,249 |
| Nationwide | $1,844 |
| State Farm | $1,973 |
| Progressive | $2,485 |
| Allstate | $2,762 |
| Farmers | $3,076 |