With many of the nation's restaurants now restricted to takeout and delivery services, it's no surprise eateries are hiring delivery drivers to meet demand.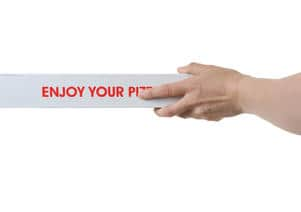 For example, Domino's franchise owners in the Los Angeles area were expected to hire an additional 2,500 drivers over the past few months to deliver food during the COVID-19 pandemic, according to the Los Angeles Times.
If you're using your own car to deliver food, you're probably not covered under your personal auto insurance policy. In some cases, you need to have a special business use endorsement on your car insurance policy. That's because using your car to make deliveries is considered a business use, not personal use.
Business-use coverage also protects drivers who use their car to deliver packages or other items aside from food.
Car insurance companies charge higher rates for business use because they deem it to be more high-risk than personal use, because delivery drivers are more likely to get into accidents and file claims. But without it, you could be responsible for paying for repairs and medical bills if you have an accident.
You would likely have your accident claim denied if you are using your car to make deliveries and getting paid for it unless you notify your insurance company, and get the proper coverage in place.
Under ordinary circumstances this would mean contacting your insurer to get business-use coverage. In some cases, the business you work for may offer car insurance for when you're making deliveries, which you can get into addition to your own coverage.
However, amid the social-distancing due COVID-19, some insurance companies and states are stepping in with relief measures for delivery drivers. For example, Wisconsin Gov. Tony Evers and the state insurance commissioner issued an order requiring insurance companies to cover delivery services on drivers' personal car insurance policies and restaurants' liability policies at no extra cost to the policyholder. The mandate is retroactive to March 17, when the state ordered restaurants to close their dining areas.
Several other states have encouraged insurance companies to ease restrictions on coverage for food delivery, below are links to details:
To see if your state insurance commission or legislators have outlined guidelines for delivery driver coverage during COVID-19, check the National Association of Insurance Commissioners website for announcements.
Here is how major insurance companies are responding to delivery driver coverage amid COVID-19:
AAA: Auto insurance coverage will be extended up through May 4, for any driver who winds up using their personal vehicle to deliver food or medicine. Check to see if they extend this, as their last statement said, "This change is currently scheduled to be in effect through May 4, and we'll continue to evaluate as the situation progresses."
Allstate: Allstate will automatically cover customers who are using their personal vehicles to deliver food (also medicine and other goods) for a business during the Covid-19 emergency period. As long as a Covid-19 emergency order is in place in your state, you're automatically covered.
Farmers Insurance: Farmers Insurance put out a notice stating: "We're automatically extending coverage, for no additional charge, to customers with Farmers Auto and Motorcycle policies who have started making food, grocery, pharmacy and medical supply deliveries using their personal vehicles through May 31, 2020."
Liberty Mutual: The insurer has expanded coverage for customers who use their personal vehicles to deliver food and medicine. The coverage also applies to Safeco customers, which is part of Liberty Mutual Group. The coverage is effective from March 16 to May 22, 2020, and claims must be reported by July 1, 2020.
MetLife: Many of MetLife Auto & Home auto insurance policies already provide coverage for people using their personal vehicles for delivering medicine or food. But if yours doesn't? MetLife, in its newsroom, mentioned that it will extend coverage from March 20 through May 1, 2020.
Nationwide: The insurer spells out the situation on its blog in this way: "Nationwide will provide coverage for most existing restaurant and retailer exposures who now engage in delivery service due to COVID-19 restrictions. And, given the challenges created by COVID-19, you may request mid-term adjustments related to reducing exposures for your customers."
Progressive: Its website doesn't offer many details, but it does say that they are "expanding coverage for personal auto customers who are temporarily delivering food or medicine."
Safeco: Safeco is part of Liberty Mutual. Its website details how Safeco is managing things: "We have proactively expanded all our personal auto policies to cover customers who use their personal vehicles to deliver food, medicine, medical supplies, or medical equipment for a commercial purpose. This accommodation does not apply to drivers completing deliveries for a transportation network company or online only delivery platform. This additional protection is already in effect for all personal auto policies in all states for losses occurring from March 16 to May 22, 2020, and reported by July 1, 2020. Additional limitations apply, please contact us for more details."
Travelers: The website doesn't mention it, but Travelers has put out a press release stating that is offering coverage to customers who use their personal auto to make food, grocery, pharmacy and medical supply deliveries.
USAA: At the time of this writing, there was nothing on USAA's website, but through a press release, the insurer has assured its members that they have "Expanded auto insurance coverage for members who use their personal vehicles to deliver food, medicine and other goods for commercial purposes." There is an exception, USAA says - the coverage "does not apply to delivery through a Transportation Network Company app-based delivery service."
Westfield: Westfield is extending coverage to personal auto customers who are engaged in delivering essential goods, such as food delivery.
But if you're on your own, here's how to make sure you are properly insured if you're a food delivery driver.
What you need to know about food delivery and car insurance: you need special coverage
If you're considering taking a job as a food delivery person, there are a few things you should know before accepting the position.
Driving a company vehicle
If you're driving a company-owned vehicle, liability for an accident falls to the restaurant. But all the violations still accrue to your own driver's license. So jump in and start driving … carefully.
Driving your vehicle
Driving your own vehicle requires some questions of both your insurance company and prospective employers. The majority of insurance companies won't cover delivery drivers under a personal insurance policy because of the dramatically increased risks.
"Many personal auto policies will not cover losses that occur while using your vehicle to deliver for a fee. That means that without this insurance, you could be held personally responsible for an auto accident that occurs while working," according to Progressive's website.
However, some policies will cover delivery travel if the job is part time and the policy is coded to include business use.
For instance, Progressive offers "pizza delivery insurance," which its website says is commercial vehicle insurance designed to protect you and your vehicle while working as a pizza or food delivery driver. Having food delivery insurance may be required by your employer.
Restaurant policies still don't cover your car's damage
Restaurants can purchase auto insurance to protect the business from liability if its delivery driver is involved in an accident while driving a personal vehicle. While covering the business from liability, this type of insurance doesn't cover the cost of damages to your vehicle or your medical bills.
Who pays? Whoever has the money
Attorneys prefer to sue the employer, of course, rather than the paid-by-the-hour employees.
But some are completely uninsured, or drastically underinsured. Some don't know they need a policy, and others are trying to avoid the cost.
Whatever the reason, an uninsured or underinsured employer can spell real trouble for a delivery driver.
In one suit from several years ago, attorney Thomas Ryan of Cleveland represented a 43-year-old woman who was rear-ended by a delivery driver reaching for his dropped phone. Her injuries were substantial, and the pizzeria had coverage limits of only $25,000. This amount didn't cover the cost of her injuries. She eventually settled with the pizzeria.
A settlement with the business doesn't necessarily leave the driver in the clear.
"Victims are entitled to recovery from anyone who is negligent," says attorney Bradford H. Bernstein of New York. "In most instances, it is preferable to put the claim in through the employer, but if they are not insured a claim would be put in against the driver."
The driver's policy is then put to the test, which it may fail if the driver has gone for the cheapest state-minimum liability policy. Even a modest fender-bender can result in insurance claims that easily exceed limits as low as $15,000 per injured person and $5,000 in property damage.
Once those limits are hit, the driver's personal assets--or perhaps those of his parents if the driver is a teenager--are vulnerable.
Insurance with all the toppings: car insurance for food delivery
How can you protect yourself?
"If you plan on using a personal or family vehicle to deliver pizza," Ryan advises, "then make sure to check your insurance policy for exclusions, I would also check the employment agreement with the pizza company. There should be a specific provision in the employment agreement regarding whose vehicle will be used and/or who will be liable in the event of an accident."
The only sure way to be covered for both damages to your car and liability insurance is to purchase a commercial driver policy. These policies are more expensive than a personal policy, but they will provide the protection you need.
In reality, you need more liability insurance protection than the state-minimum requirements provide. CarInsurance.com Senior Consumer Analyst Penny Gusner recommends levels of 100/300/100--that's $100,000 for bodily injuries per person, up to $300,000 per accident, and property damage coverage of $100,000.
Expert tips for teen delivery driver car insurance
"Parents will want to be cautious about allowing a child to use a family vehicle for pizza delivery," Gusner says. Even with a commercial policy in place, the car owner can be looked to for compensation once damages exceed the policy limits.
Gusner says a parent may want to place the car in the child's name on a separate policy.
However, parents should check state liability laws to see if they could still be held responsible for the actions of a child. If the child is living at home and is listed on the parents' tax returns as a dependent, it's possible the parents could be held liable even if the car is in the child's name.
Related Articles & Guides