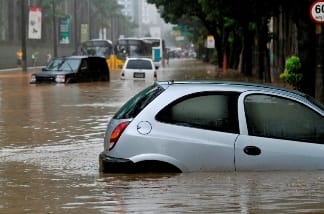 State laws and your insurance company's guidelines dictate how a vehicle is determined to be a total loss. You must have comprehensive insurance coverage for your car to be repaired or replaced after flood damage. You will owe your chosen deductible.
A car is determined to be a total loss when:
It's so severely damaged it cannot be safely repaired.
It costs more than the worth of the vehicle to repair it.
Or, if the amount of damage or cost of repairing the vehicle is too much, according to state regulations or the insurer's guidelines for total loss.
Typically, cars are "totaled" when the cost of repairs to fix the vehicle is higher than the vehicle's actual cash value (ACV). However, in some cases, it's not practical to fix a car, even if the cost to do so is less than the ACV. In that case, insurance company guidelines and state laws come into play when determining whether the car is totaled.
Insurance companies calculate the "total loss ratio" or "damage ratio" (cost of repairs divided by the actual cash value) when determining whether a car is totaled. This ratio is then compared to limits set by the company itself or by state law.
Some states dictate how high this damage ratio needs to be to declare a car totaled. This is referred to as the Total Loss Threshold (TLT). To total a car, the total loss ratio must exceed the established TLT percentage. For example, a car with damage totaling 75% of its value is totaled in New York state but considered repairable in Texas, which has a threshold of 100%
If the TLT is not dictated by the state, your insurance company will generally use another formula, known as the Total Loss Formula (TLF) which is: Cost of Repair + Salvage Value > Actual Cash Value. If the sum of the repair cost and the salvage value is greater than the ACV, the car can be declared a total loss.
These states use the TFL formula and rely on licensed appraisers during the process: California, Connecticut, Delaware, Georgia, Hawaii, Idaho, Illinois, Maine, Massachusetts, Mississippi, Montana, New Jersey, New Mexico, Ohio, Pennsylvania, Rhode Island, South Dakota, Utah, Vermont, and Washington.
These states have the following TLT threshold mandated by law:
Alabama: 75%
Arkansas: 70%
Colorado: 100%
Florida: 80%
Indiana: 70%
Iowa: 50%
Kansas: 75%
Kentucky: 75%
Louisiana: 75%
Maryland: 75%
Michigan: 75%
Minnesota: 70%
Missouri: 80%
Nebraska: 75%
Nevada: 65%
New Hampshire: 75%
New York: 75%
North Carolina: 75%
North Dakota: 75%
Oklahoma: 60%
Oregon: 80%
South Carolina: 75%
Tennessee: 75%
Texas: 100%
Virginia: 75%
West Virginia: 75%
Wisconsin: 70%
Wyoming: 75%
Does car insurance cover flood damage?
In some cases, your car insurance may pay for damages when your car sustains water damage and isn't totaled. Here's how different types of car insurance coverage come into play if you're caught in a flood:
Comprehensive insurance: If your vehicle sustains water or flood damage, you can file a claim under your comprehensive insurance coverage. That covers any type of damage to your car up to its actual cash value, which is caused by natural disasters instead of accidents.
Collision coverage: Collision comes into play if you hydroplane and flip your car or hit another car or a tree. Your claim will pay to repair your car or will pay the actual cash value of the car. You still have to pay the deductible, whether the accident was your fault, someone else's or caused by the storm.
Gap insurance: Gap insurance comes into play if your car is totaled and you owe more money on your car than it's worth — gap insurance will pay the difference. You can get gap insurance from your car insurance company or your car financing company, but it's usually more expensive from your lender.
California

Car Insurance Rates by ZIP Code

Enter ZIP for average rate. Then enter Age, Gender and Coverage Level for customized rate.
State Minimum:
Required liability coverage to drive legally in your state; some states mandate additional coverage, such as personal injury protection, uninsured motorist, underinsured motorist.
Liability Only 50/100/50:
$50,000 per person/$100,000 maximum per accident for bodily injury; $50,000 for property damage. Liability pays for injuries/damage you cause others.
Full Coverage 100/300/100:
$100,000 per person/$300,000 maximum per accident for bodily injury; $100,000 for property damage; comprehensive and collision coverage with $500 deductible. Liability pays for injuries/damage you cause others. Comprehensive and collision pay for damage to your car.
For
30
Year Old
Male
(Type:
Liability - Minimum
)
Highest Rate
$68

/mo.
Lowest Rate
$27

/mo.
Compare personalized quotes from up to 20 companies in

California

now
MOST & LEAST EXPENSIVE ZIP CODES in

California
MOST EXPENSIVE PER MONTH
90212 -

Beverly Hills:

$87
90210 -

Beverly Hills:

$87
91356 -

Tarzana:

$85
91203 -

Glendale:

$85
LEAST EXPENSIVE PER MONTH
96094 -

Weed:

$35
95528 -

Carlotta:

$36
96027 -

Etna:

$36
96107 -

Coleville:

$36
How we researched it?
CarInsurance.com commissioned Quadrant Information Services to provide a report of average auto insurance rates for a 2017 Honda Accord for nearly every ZIP code in the United States. We calculated rates using data for up to six large carriers. Averages for the default result are based monthly insurance for a male driver, age 30, for state minimum required liability coverage. Averages for customized rates are based on drivers' ages and gender for the following coverage levels: state minimum liability, liability of 50/100/50 and 100/300/100 with $500 deductible on comprehensive and collision. These hypothetical drivers have clean records and good credit. Average rates are for comparative purposes. Your own rate will depend on your personal factors and vehicle.
— Michelle Megna contributed to this story.