Car insurance is an expense no one likes to pay. Fortunately, there are many ways to cut car insurance rates. Comparison shopping, bundling your coverages and driving more cautiously all can net you car insurance discounts and so can paying your premium all at once, rather than paying in installments or locking in rates for 12 months instead of six.
Not every insurer offers 12-month auto insurance policies, though. Car insurance policies traditionally run on a six-month cycle. After those six months, the policy renews.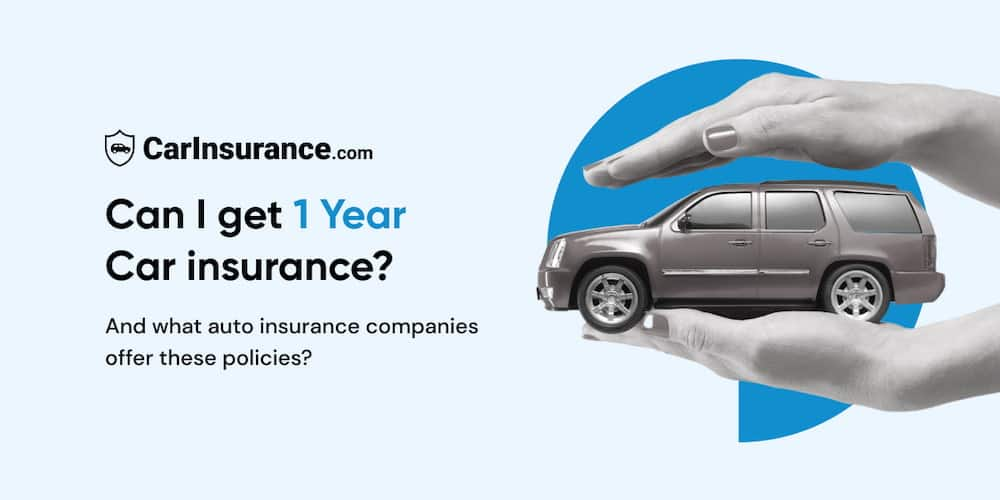 "Many insurers offer discounts for paying a full year's worth of premiums all at once," says Loretta Worters, vice president of media relations for the Insurance Information Institute.
So, if you want a 12-month car insurance policy, you may need to shop around. Here, we've covered everything you need to know about 12-month car insurance, including where to get it.
What is 12-month car insurance?
A 12-month auto insurance policy is one where you get a full year of coverage, rather than having to renew your policy every six months. Some drivers like the idea of securing a policy upfront for 12 months – it gives them one less thing to worry about. They simply renew their policy once a year and don't worry about it again until the following year.
Others like one-year car insurance because it allows them to pay for a full year of coverage upfront. Paying for a full year of car insurance in advance offers some advantages to policyholders. For example, getting car insurance for 12 months locks in your rate for an entire year. It also may be more convenient for some drivers. If you pay in advance, you only have to remember to pay your premium one time each year, which reduces the odds that you will accidentally forget to make a payment, leading to a gap in your coverage until you remember to pay the bill.
Some people also may find that an auto insurance one-year policy is easier on their budgeting process. They may prefer to save a little money each month for the following year's policy and then just make a single payment the next year. For example, they would save a little extra cash each month during 2020, so they would be ready to make one large premium payment at the beginning of 2022.
Perhaps most importantly, agreeing to a 12-month auto insurance term may net you a discount on your premiums.
"The amount of the discount varies by insurer, but usually it's around 15% to 20%," Worters says.
In some cases, the price break may be lower, however.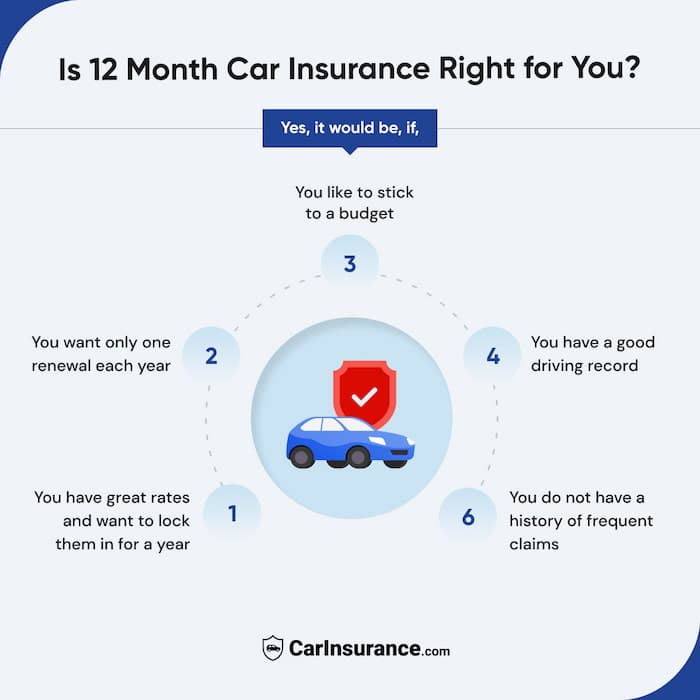 How does 12-month car insurance work?
If you are interested in a one-year car insurance policy, call your insurer and ask if it offers the option. If not, don't be afraid to shop around – as Worters says, many insurance companies offer this type of policy.
The underwriting rules and guidelines of car insurance companies vary and will determine if you're eligible for a 12-month policy. Just because a car insurance company says it offers a 12-month policy doesn't mean you'll automatically be found suitable according to a company's underwriting criteria.
Compare car insurance rate quotes and find out what policy terms you're eligible for.
Once you find an insurer willing to sell you a 12-month car insurance policy, the process should unfold much as it would with any type of policy. You will either pay in installments or will pay upfront for one year of coverage.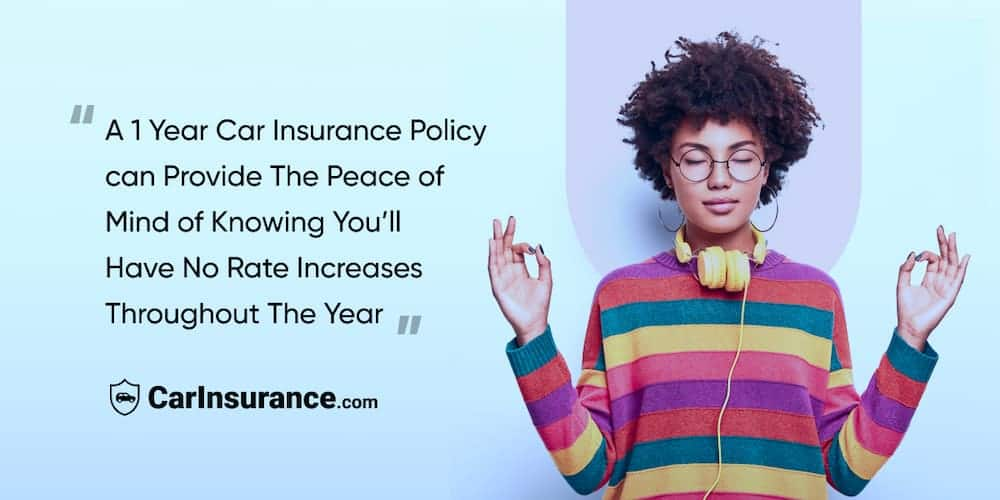 What auto insurance companies offer 12-month policies?
Several auto insurance companies offer 12-month policies. Typically, you also can earn a discount on your car insurance costs if you opt for a 12-month auto insurance policy and agree to pay the full year of premium costs upfront. Start by contacting these insurance companies to ask if you're eligible to receive 12-month auto insurance quotes.
Auto-Owners
Auto Club of Southern California
CSAA Insurance Group
Elephant
Erie Insurance
Infinity
Kemper Direct
Liberty Mutual
Metlife
Safeco
The General
The Hartford
USAA
Frequently asked questions about one-year insurance policies
Final thoughts on one-year car insurance
Purchasing a 12-month car insurance policy can give you the peace of mind of knowing that you will have coverage for a full year and that your premium costs will remain fixed during that time.
In addition, if you are willing to pay for a full year's worth of premiums upfront, you might save a lot of cash – potentially as much as 20%.
If a 12-month car insurance policy sounds right for you, compare car insurance rate quotes and discover which insurance company can offer you the best 12-month car insurance.