If you want to avoid renewing your insurance policy every six months, a 12-month policy might be a good option. One benefit? You can lock in your rate for a year.
However, not every insurer offers this option, and you might prefer a traditional six-month policy period instead of a 12-month one. Read on to discover whether this type of policy is right for you.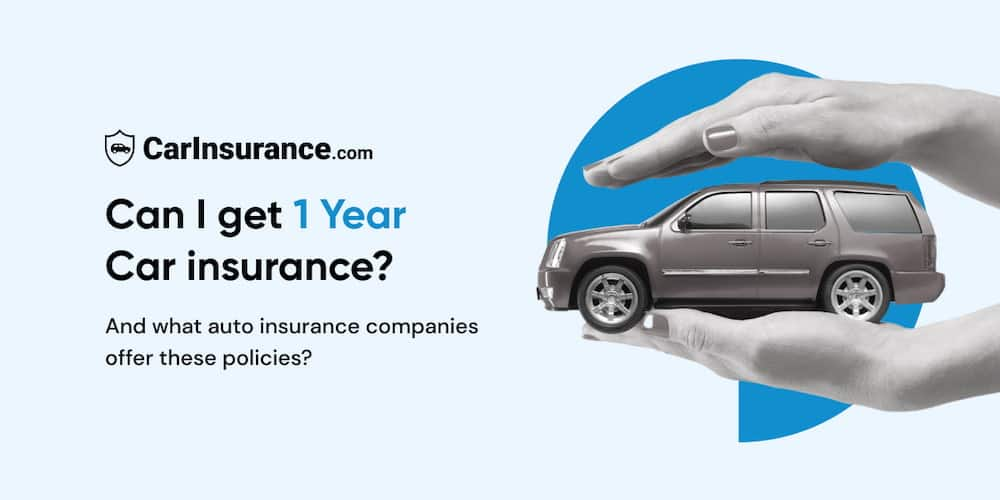 Can I get 12-month car insurance?
Not every insurer offers 12-month auto insurance policies. Car insurance policies traditionally run on a six-month renewal cycle. However, some insurers offer policy terms for a year before expiring. You may need to shop around for a 12-month car insurance policy, but you have options.
What is 12-month car insurance?
A 12-month auto insurance policy offers a year of coverage at a time rather than the industry standard of six months. One-year car insurance also allows you to avoid billing surprises because a yearlong policy locks in your rate.
The cons? If you have a speeding ticket or accident on your record, you could be paying an elevated rate for longer because the violations will stay on your record until the term is over.
Another possible benefit: If you pay for a one-year auto insurance policy upfront, you could get a discount of almost 9%, according to 2022 CarInsurance.com data.
"If you can afford to pay out of pocket a year in advance, it may save you money," says Carole Walker, executive director of the Rocky Mountain Insurance Association.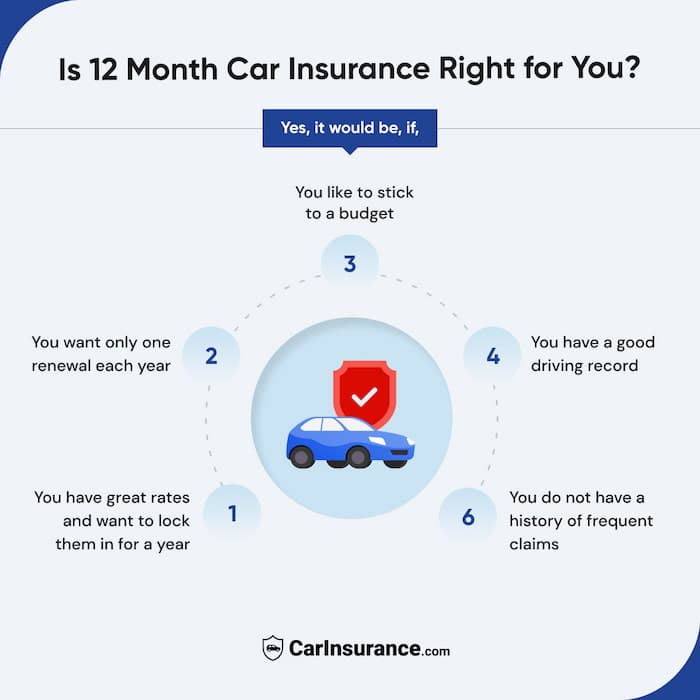 How does 12-month car insurance work?
If you are interested in a one-year insurance policy, call your insurer and ask if it offers the option. If not, don't be afraid to shop around.
The underwriting rules and guidelines of car insurance companies vary and will determine if you're eligible for a 12-month policy. Just because a car insurance company says it offers a 12-month term doesn't mean you'll automatically meet the company's underwriting criteria.
So, compare car insurance rate quotes and find out what policy terms you're eligible for.
Once you find an insurer willing to sell you a 12-month car insurance policy, the process should unfold much as it would with any type of policy. You will either pay in installments or will pay upfront for one year of coverage.
Detailed guide: What is car insurance and how does it work?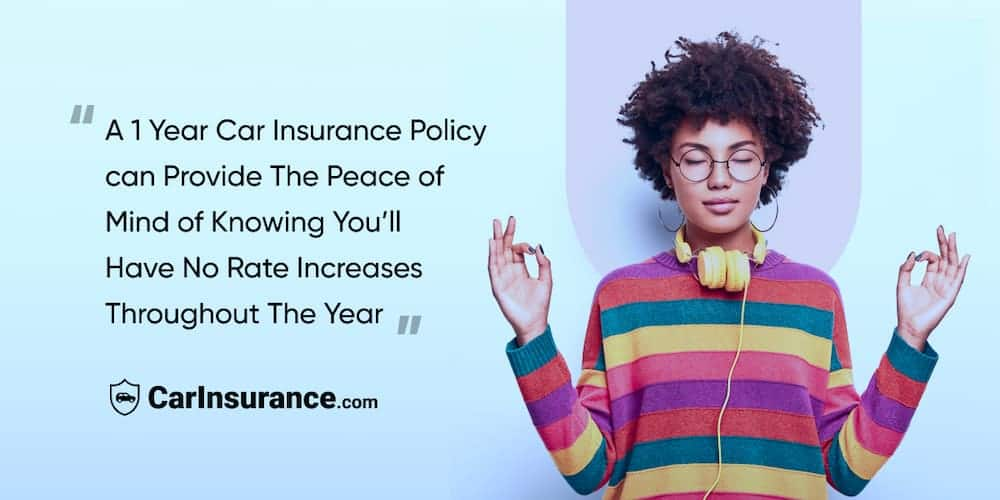 Which auto insurance companies offer 12-month policies?
Several auto insurance companies offer one-year car insurance policies. Typically, you can earn a discount on your car insurance costs if you opt for a 12-month auto insurance policy and agree to pay the entire year of premium costs upfront.
"It locks you in for the next 12 months, whereas you may have the potential for an increase (in your premium) on a six-month renewal," Walker says.
Start by contacting these insurance companies to ask if you're eligible for a one-year auto policy:
Elephant
Erie Insurance
Infinity
Kemper
Liberty Mutual
Safeco
The General
USAA
Check out our experts' recommendations for the best car insurance companies
Frequently asked questions: One-year insurance policies
Is a six-month policy cheaper than a 12-month policy?
Car insurance rates differ from insurer to insurer, with each company using its formula for setting costs. Comparison shopping for six-month and 12-month auto insurance policies is the best way to determine whether a 12-month policy will save you money.
As noted above, paying your policy in full usually will save you money on your car insurance, regardless of whether it's a six-month or 12-month policy.
How can I get car insurance quotes for a 12-month policy?
You can start by contacting your car insurance company to see if they offer longer policy terms. Or, if you'd prefer to get a new insurer, contact the companies listed above. Getting several 12-month auto insurance quotes will help you get the best deal.
Does Progressive offer 12-month policies?
Progressive does not offer 12-month policies if you buy direct from Progressive; if you purchase through a Progressive agent, you may qualify for a 12-month option.
Final thoughts on one-year car insurance
Purchasing a 12-month car insurance policy can give you the peace of mind of knowing that you will have coverage for an entire year and that your premium costs will remain fixed during that time. And if you pay for an entire year's worth of premiums upfront, you might save money.
"Talk to your insurance professional about whether there is cost savings for an annual policy renewal," Walker says.
Resources & Methodology
Sources:
U.S. Bureau of Labor Statistics. "Databases, Tables & Calculators by Subject." Accessed September 2022.
Methodology:
CarInsurance.com commissioned Quadrant Information Services in 2022 to field rates for drivers with full coverage car insurance in 4,686 ZIP codes across the U.S. Percentages are rounded to the nearest whole number.