Key Highlights
Most states are seeing motorists drive more miles; nearly 70% of states recorded an increase in vehicle miles traveled.
Men drive more miles than women; the average male driver logs 16,550 miles a year which is 63% more than the average for women, 10,142.
Motorists over age 65 are driving more miles and keeping their licenses longer, and drivers over 85 comprise the fastest-growing age group.
The average low-mileage discount nationwide translates into savings on your policy of up to 3%, depending on your insurer, but it can be higher in some states.
What is the average number of miles driven per year?
The short answer is: 13,476, according to the U.S. Department of Transportation Federal Highway Administration (FHWA). This is almost the equivalent of two roundtrip cross-country drives from New York to Los Angeles. The average driver racks up over 1,000 miles monthly.
But to understand driving habits nationwide, you must look at who is driving, how much and where. FHWA and other federal research data underscore the following trends (note that all national data is the most recent available on these metrics):
Most states are seeing motorists drive more miles: Nearly 70% of states recorded an increase in vehicle miles traveled. Oregon is tops for the highest increase (16%) over the three-year period from 2011 to 2014.
Men drive more miles than women: The average male driver logs 16,550 miles a year – 63% more than the average for women, 10,142.
Fewer teens are getting licenses: From the 1980s to around 2015, the number of teens with driver's licenses dipped significantly – from 46% to 24% – for drivers aged 16. However, a recent AAA Foundation for Traffic Safety report suggests a reversal in this trend is underway, citing an increase in teen licensure from 2012 to 2019.
Senior drivers are staying on the road longer: Motorists over age 65 are driving more miles and keeping their licenses longer. Drivers over 85 comprise the fastest-growing age group — and the trend is projected to continue.
Miles per capita by state show motorists driving more
The majority of states, nearly 70%, saw an increase in vehicle miles traveled (VMT) per capita from 2011 to 2014, according to FHWA data. VMT per capita is calculated by taking the total annual miles of vehicle traveled divided by the total population of the state. The national average for VMT per capita averaged 9,455 in 2011 and was up to 9,772 in 2014.
The uptick in driving is not spread evenly among the states. Some states are seeing a much bigger increase than others and almost a third are in decline. The mileage you drive affects your insurance rates, because companies figure the more you drive, the higher your risk of being in an accident. Therefore, state car insurance rates may be generally affected by these trends.
Oregon was the big winner when it comes to VMT per capita with a 19% increase. Alaska and Georgia are tied for second with a 16% increase, Texas was No. 3 at 14% and West Virginia came in fourth with a 12% bump.
A number of states are still in decline when it comes to VMT per capita. North Dakota managed to shave 16% off their VMT numbers to claim the top spot. Louisiana was No. 2 with a 10% decline with Montana and Alabama tied for third place with a 6% drop.
You'll see in the chart below we calculated the percent change in VMT for each state, based on FHWA data:
Vehicle Miles Driven per licensed driver by state
You'll see in the chart below how states rank for miles by driver for each state, according to the FHWA. Wyoming leads in this category with 21,821, while Alaska has fewest miles per licensed driver at 9,915.
Average annual miles driven by age group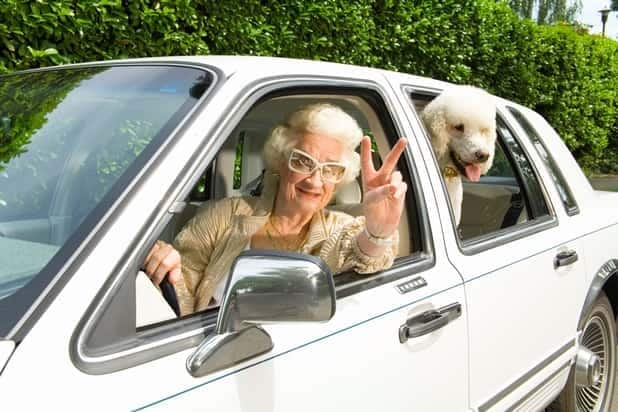 Here is how many miles people drive, broken down by age group, per year, according to federal data:
Age 16 to 19 – 7,624
Age 20 to 34 – 15,098
Age 35 to 45 – 15,291
Age 55 to 64 – 11,972
Over age 65 – 7,646
While middle-aged drivers log the most miles, it's interesting to note that senior motorists as a group have been driving a lot more since 1990. The trend is expected to continue to 2040, according to the U.S. Energy Information Agency (EIA).
Drivers over 85 comprise the fastest-growing sector of motorists, reports the FHWA.
Data from the FHWA show:
Drivers over 50 reached nearly 93.5 million in 2013 – an increase of 22% since 2003 – resulting in 44 percent of total licensed drivers.
Drivers over 85 remain the fastest-growing demographic group, nearly doubling from 1.76 million in 1998 to 3.48 million in 2013 – the second-highest amount ever recorded.
Drivers age 60 and older represented almost 26 percent of all licensed drivers in 2014, up from 20% in 2004.
On the other hand, teens were driving less and fewer were getting licenses up to about 2015, federal data show. Of the 8.5 million teen drivers with a license in 2014, just about 1 million were age 16.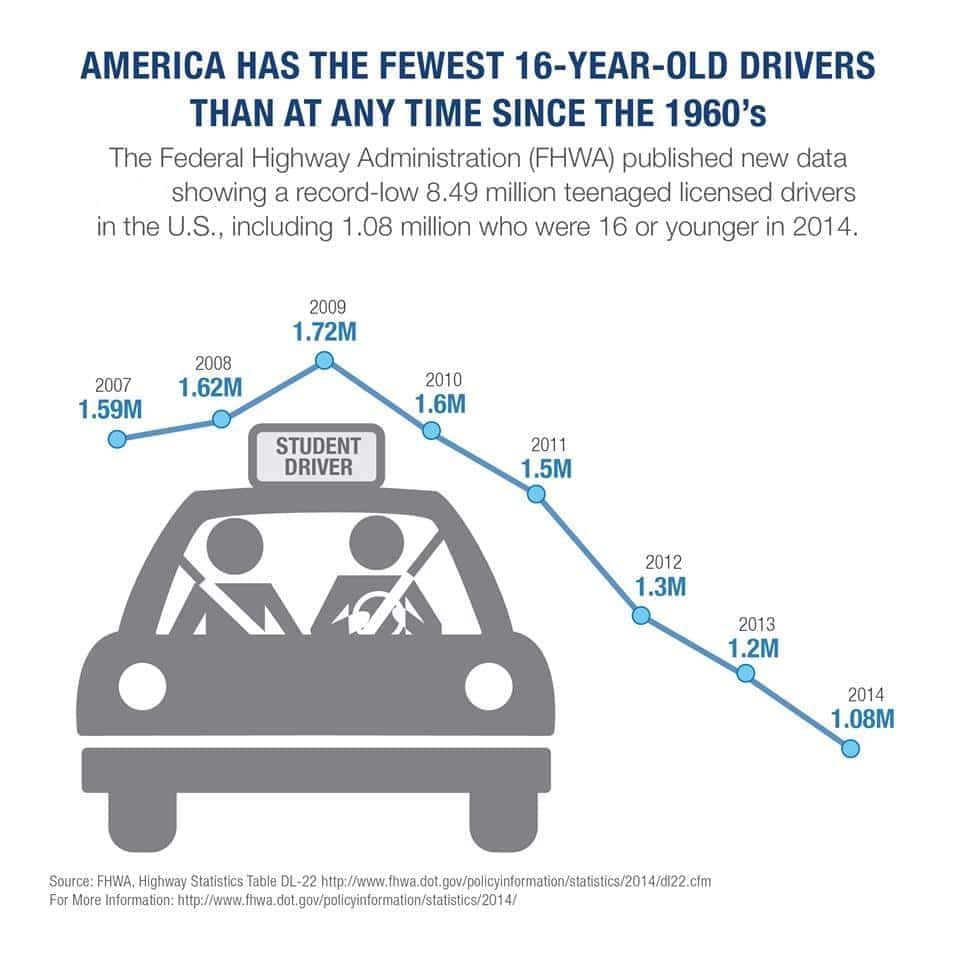 According to the Policy and Governmental Affairs Office of Highway Policy Information data, the share of 17-year-olds with driver's licenses dipped to 45% in 2014, from 54% in 2001. As you'll see in the chart below, the trend held during that period for other teen drivers.
AAA Foundation: More teens getting a license before age 18
An AAA Foundation report issued in October 2019 signals the end of the trend of fewer teens getting driver's licenses. More than 60% of teens got their driver's license before the age of 18 — an 11% increase since 2012 — according to research from the AAA Foundation for Traffic Safety.
"The trend for teens to acquire their driver's license has changed over the past 10 years," said Dr. David Yang, executive director of the AAA Foundation for Traffic Safety. "Many are getting licensed before the age of 18."
The report reveals a changing trend in teen licensure from when the AAA Foundation first evaluated the issue in 2012. At the time, the country was emerging from a recession and many young people cited their family's inability to afford the high cost of driving as a reason why they did not obtain their license sooner, the AAA said in its statement on the report.
The AAA Foundation study surveyed young adults ages 18-24 to determine when they obtained their license and found that nationally, 40.8% got their license at or before age 16 and 60.3% got their license before age 18.
How do you compare?
If you're not sure how many miles you drive per year, use the chart below to find out. Track your travels to see if you qualify for a low-mileage discount and for your tax records if you will be claiming mileage as a deduction for business, medical, moving or charitable purposes.
How to Get a Low-Mileage Discount?
Any discount you get for low mileage depends largely on your insurance company, says CarInsurance.com Senior Consumer Analyst Penny Gusner.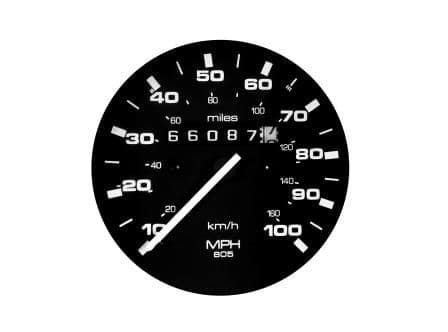 "The discount is typically 3% to 15%, and at some companies the discounts start at 10,000 miles, and others at 7,500 miles," she says, noting that the discounts usually apply to collision and liability coverages so it's not a full 3% to 15% off your total bill. "You may not see a line item on your policy that says 'low mileage discount' because many companies adjust your base rates, so you may have to ask your agent or company to make sure your premium reflects any change."
The average low-mileage discount nationwide translates into a savings on your policy of up to 3%, depending on your insurer, but in some states it can be higher. In California, for example, the average low mileage discount is 9% because mileage is chief among the factors insurers use to set rates.
Some companies may require verification of your mileage. That could come from several sources: a form that you fill out; a photo you take and mail in; or service and emissions records.
If you drive an exceptionally small number of miles — safely — pay-as-you-drive insurance might save you even more. Insurers, such as Progressive, send you a device that plugs into your car and reports odometer readings and driving habits, then calculate a discount that can reach 40% in some rare cases.
The rise and fall of driving
For roughly 60 years, the number of miles Americans drove rose year after year, until 2004 when they topped out around 10,120 per capita.
Since then, the number of driving miles per capita was in decline in almost every state. In some states, it was a double-digit drop. Industry insiders, those that research driving trends for federal and private agencies such as auto clubs, referred to it as the end of the Driving Boom.
As driving miles dipped, so did accidents. According to data from the U.S. Department of Transportation, the number of fatalities out on the road held pretty steady around 42,000 to 45,000 from 1986 all the way up to 2008, and then things started to change.
In 2008, the number of fatalities dropped to 37,423 and then plunged to 33,883 in 2009. It has hovered around the 32,000 mark ever since, until 2015, when Americans decided to put 3.15 trillion miles on their vehicles. Apparently, the "Driving Boom" is back.
Most experts expect the upward trend in miles driven to continue:
The seasonally adjusted vehicle miles traveled for September 2019 is 272.9 billion miles, a 1.5% (4 billion vehicle miles) increase over September 2018. It also represents 0.3% increase (0.7 billion vehicle miles) compared with August 2019.
What's fueling the driving trend?
There is no definitive data on why motorists drive more, but most experts feel that low gas prices combined with an improving economy is largely responsible.
The start of 2019 ushered in the cheapest national gas price average in three years, according to AAA, and the trend continued throughout the year, for the most part.
For the 49 million Americans hitting the road for the 2019 Thanksgiving holiday, they will find gas prices mostly similar, if not cheaper, than last year's holiday, the AAA said in a release on Thanksgiving travel.
Affordable gas is a big motivator when it comes to summer road trip planning. "Low gas prices increases travel, especially discretionary and long distance travel," says David Levinson, CTS Chair in Transportation at the University of Minnesota.
CarInsurance.com's 2021 Family Road Trip Report survey of 1,000 motorists found that 79% of respondents said they've been on a family road trip over the past five years.
Fatalities and Miles Driven
With more miles driven, it's no surprise that fatalities are keeping pace.
In October, the National Highway Traffic Safety Administration issued its annual traffic fatality report, estimating that 36,750 people were killed in the U.S. in traffic crashes in 2018. That represents a 2% decrease from 2017, and the numbers were relatively flat from 2016 to 2017. Prior to 2016 there were two back-to-back yearly increases of 8.4 percent and 6.5 percent, respectively.
Young, inexperienced drivers may be the source of past increases in fatality rates. Though some states rank better than others in terms of teen driver safety, young drivers as a group nationwide get into more accidents than other age groups.
According to Levinson, "The drivers who were priced off the system due to high gas prices and high unemployment were the marginal drivers, particularly younger drivers who had the least experience both in the workforce and behind the wheel. As young drivers enter the economy in greater numbers, crash rates go up."
More accidents mean higher car insurance rates
More traffic almost always equals more accidents. Unfortunately, an increasing number of accidents will eventually affect insurance rates.
"Insurers utilize a number of factors when calculating a premium; one of those would be loss data for a given geographical area, usually a ZIP code. A high rate of traffic collisions will result in a higher premium for that area. While a single-year spike in accident activity will not have an immediate impact on insurance rates, if the trend continues, your insurance premium will be headed up," warns Kris Kristofer Kirchen, with Advanced Insurance Managers in Tampa.
That means that even with a clean driving record and discounts, the cost of your car insurance may go up. Rates for the same coverage vary significantly among insurers because they each use their own formula to calculate what you pay. You can save hundreds of dollars by switching to a company offering a lower rate. In addition to seeing if you qualify for a low-mileage discount, compare pricing by using our average car insurance rates tool to see what you can expect to pay in your neighborhood.