State Farm has an insurance discount program that's aimed at getting you to drive safely and, if you do, save you money.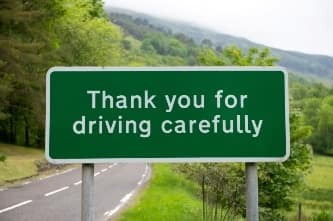 The company claims the Drive Safe & Save car insurance discount could be as much as 30% for the safest motorists – such as those who don't speed, those who limit night driving and those who don't drive much.
What follows are details about this program.
Key Highlights
State Farm's Drive Safe & Save program is for people who drive safely and offers substantial discounts on insurance.
Enrollment for the drive safe and save program is free. Customers can simply download the Drive Safe & Save Mobile app from the App Store or Google Play.
Your discount could vary from time to time, depending on how you drive, but State Farm says Drive Safe & Save will always be a discount on your policy.
What is State Farm's Drive Safe & Save?
State Farm's Drive Safe & Save is an insurance program that helps you save on your car insurance by monitoring your driving habits.
The company claims that you can get up to 30% off of your insurance rates if you are a safe driver.
It is a usage-based program that relies on telematics. A State Farm app connects with a beacon, or transmitter, that the company supplies. You attach the beacon to your car. The company then collects data on how you drive.
State Farm isn't alone. Many other insurance companies also use telematics to give good drivers discounts.
Drive Safe & Save: How it works
The program is optional. Customers who want to join download the Drive Safe & Save app to their smartphone. They then log in with their driver's license information or their State Farm user ID and password.
The company then mails the small Bluetooth beacon and instructions. The company suggests attaching the beacon to your windshield. State Farm has more information about the setup on its website and has posted a setup video on YouTube.
It also works with Ford (FordPass) and Lincoln (Lincoln Way) connect-car accounts.
Drive Safe & Save tracks acceleration, braking, how far you drive and a few other data points.
Is Drive Safe & Save worth it?
State Farm Drive Safe & Save is perfect for safe, low mileage drivers who want to save on their insurance rates.
However, it won't be as beneficial for careless drivers who speed or are heavy on the brake. Still, State Farm will not increase your insurance rates for using their Drive Save & Save program.
If you're comfortable with their privacy policies, you might want to give it a try.
Drive Safe & Save: Some important things to note
Enrollment is free. However, State Farm warns that the program is partly based on miles driven and rates for people already enrolled in low-mileage programs could see their premiums increase if they drive more than 7,500 miles.
"If you currently receive a premium reduction for low estimated annual mileage (under 7,500 miles annually for personal use) and your vehicle is actually driven more than that, your premium may increase at a future policy renewal period," the company's website states.
A look at the broader pay-as-you-drive insurance landscape
Beyond State Farm's Drive Safe & Save, several other insurers also offer pay-as-you-drive (PAYD) programs. They include:
American Family's DriveMyWay
Progressive's Snapshot
Allstate's Drivewise
The Hartford's TrueLane
Travelers' IntelliDrive
Esurance's DriveSense
Safeco's Rewind
No matter which kind of PAYD program you look at, make sure you read the fine print to find out all the details on how it works.
Related Articles & Guides