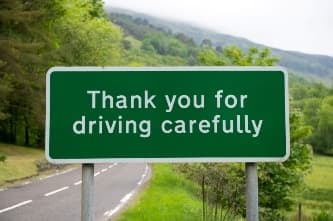 Progressive is usually credited with being the first to offer pay-as-you-drive insurance (PAYD) through its Snapshot plug-in. But State Farm jumped in the game soon after with its own plans that watchdog your mileage and motoring habits.
As with Snapshot, Drive Safe & Save's main selling point is that your car insurance premiums could be trimmed -- State Farm claims the car insurance discount could be as much as 50 percent for the safest motorists who don't drive much.
Drive Safe & Save: In-Drive, OnStar and SYNC
State Farm customers can choose one of several ways to participate in the Drive Safe & Save program.
The first is through a device called In-Drive that, like Snapshot, plugs into your vehicle's diagnostic (OBDII) port (most car models from 1996 on have them) near the steering wheel. In addition to mileage, In-Drive tracks when you drive, how fast you accelerate and turn and how hard you brake.
The second is for customers whose cars come equipped with telematics-based subscription services such as OnStar and SYNC. State Farm receives odometer readings from those services every 30 days after you enroll and, after six months, adjusts your premium to reflect the mileage. Driving patterns are not monitored under these plans.
Drivers in California have the option of self-reporting their mileage, and in Ohio, drivers can use their smartphones and the car's Bluetooth system to send in the information
State Farm says you get an immediate 5 percent discount on your rates for participating in Drive Safe & Save. Also, according to the company, another 20 percent could be trimmed if you don't go above the national average of 12,000 miles a year. More small discounts may be tallied if you prove to be a safe motorist, do not drive over 80 mph and avoid driving between midnight and 4 a.m. With the OnStar and Sync plans, your discount of up to 50 percent is calculated just on your mileage.
Watch that mileage, be sure enrollment fee doesn't eat your discount
Enrollment for In-Drive is not free, although the program comes with a one-year free trial. After that it costs $6.99 a month, which obviously cuts into any discounts you accrue. The insurer, however, claims the discount benefits offset the enrollment fee for most participants.
Also, beware: State Farm warns that some drivers already getting a low-mileage discount may see a rate hike. "If you currently receive a premium reduction for low estimated annual mileage (under 7,500 miles annually for personal use) and your vehicle is actually driven more than that, your premium may increase at a future policy renewal period. Drive Safe & Save is always a discount if compared to a similarly rated policy without Drive Safe & Save," states the company website.
The insurer adds that customers can track their performance, and the progress of discounts, at State Farm's website. Other companies with PAYD, including Progressive, offer similar access at their websites.
If you don't have an OnStar subscription but want to take that route with Drive Safe & Save, you can buy plans from OnStar ranging from $20 a month to $35 a month. The basic plan includes one-touch emergency response, roadside assistance, vehicle diagnostics alerts and maintenance reminders, while the more costly subscription adds other features like navigational guidance and 30 minutes of hands-free calls a month.
A look at the broader pay-as-you-drive insurance landscape
Beyond State Farm's In-Drive/Safe & Save and Progressive's Snapshot, several insurers also offer PAYD. Keep in mind that each company's product isn't available in every state. Also, now some companies offer PAYD through smartphone apps in addition to plug-in devices. Here's a list, starting with the most recent to enter the arena, Metromile and American Family Insurance:
Metromile: The fledgling company's Metronome plug-in tracks mileage and bills you monthly for a base rate plus a per-mile charge; drive less than 5,000 miles, and Metromile claims you could save 40 to 50 percent over traditional insurers.
American Family Insurance's mySafetyValet: The company says customers can receive a 5 percent "introductory" discount by installing the mySafetyValet plug-in. If you renew after six months, the discount could eventually reach 30 percent.
Allstate's Drive Wise: The plug-in stats are used to decide if you get a 10 percent discount for the first policy term. Allstate says good drivers who rack up few miles during following terms may qualify for up to a 30 percent cut.
The Hartford's TrueLane: A plug-in transmits details to the insurer through its partner, Octo USA Inc., over that firm's cellular network. This is another one that gives a 5 percent discount by enrolling. The insurer says that after driving for 75 days, your premium could drop by as much as 25 percent.
Travelers' IntelliDrive: It offers an immediate discount of up to 5 percent by installing the plug-in. IntelliDrive can cut premiums by as much as 20 percent, according to Travelers.
Esurance's DriveSense: The plug-in transmits details through Sprint's wireless network to Esurance, which determines if drivers qualify for discounts up to 30 percent.
Safeco's Rewind: The company, which is owned by Liberty Mutual, offers a PAYD for motorists who are paying higher insurance rates because of traffic tickets or accidents. A device monitors their driving and, after four months, the record is evaluated by Safeco, which may reduce or eliminate the premium increases that came because of the prior accidents or violations.
GMAC Insurance's Low Mileage Discount: GMAC, now known as National General Insurance, offers two paths to a discount. Its plug-in monitors much the same data as other insurers. The company also offers the option of reporting mileage though OnStar. GMAC says rate cuts range from 13 percent for those who drive 15,000 miles a year to 50 percent for those who drive less than 2,500.