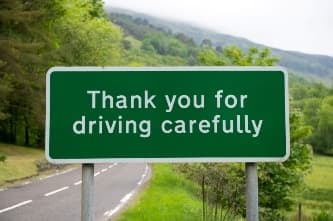 State Farm's Drive Safe & Save's main selling point is that your car insurance premiums could be trimmed.
State Farm claims the car insurance discount could be as much as 50% for the safest motorists who don't drive much.
Drive Safe & Save: How it Works?
State Farm customers can choose one of several ways to participate in the Drive Safe & Save program.
The first is through a device called In-Drive that plugs into your vehicle's diagnostic (OBDII) port near the steering wheel. In addition to mileage, In-Drive tracks when you drive, how fast you accelerate and turn and how hard you brake.
The second is for customers whose cars come equipped with telematics-based subscription services, such as OnStar and SYNC. State Farm receives odometer readings from those services every 30 days after you enroll and, after six months, adjusts your premium to reflect the mileage. Driving patterns are not monitored under these plans.
Drivers in California have the option of self-reporting their mileage, and in Ohio, drivers can use their smartphones and the car's Bluetooth system to send in the information
State Farm says you get an immediate 5% discount on your rates for participating in Drive Safe & Save. Also, according to the company, another 25% could be trimmed if you don't go above the national average of 12,000 miles a year. More small discounts may be tallied if you prove to be a safe motorist, don't drive over 80 mph and avoid driving between midnight and 4 a.m. With the OnStar and Sync plans, your discount of up to 50% is calculated just on your mileage.
Drive Safe & Save: Free, but your Rate May Increase
Enrollment for In-Drive is free. However, State Farm warns that some drivers already getting a low-mileage discount may see a rate hike.
"If you currently receive a premium reduction for low estimated annual mileage (under 7,500 miles annually for personal use) and your vehicle is actually driven more than that, your premium may increase at a future policy renewal period. Drive Safe & Save is always a discount if compared to a similarly rated policy without Drive Safe & Save," states the company website.
The insurer adds that customers can track their performance, and the progress of discounts, at State Farm's website. Other companies with PAYD, including Progressive, offer similar access at their websites.
If you don't have an OnStar subscription but want to take that route with Drive Safe & Save, you can buy plans from OnStar for $34.99/month or $349.90/year. The basic plan includes one-touch emergency response, roadside assistance, vehicle diagnostics alerts and maintenance reminders, while the more costly subscription adds other features like navigational guidance and 30 minutes of hands-free calls a month.
California Car Insurance Rates by ZIP Code
Enter ZIP for average rate. Then enter Age, Gender and Coverage Level for customized rate.
State Minimum: Required liability coverage to drive legally in your state; some states mandate additional coverage, such as personal injury protection, uninsured motorist, underinsured motorist.Liability Only 50/100/50: $50,000 per person/$100,000 maximum per accident for bodily injury; $50,000 for property damage. Liability pays for injuries/damage you cause others.Full Coverage 100/300/100: $100,000 per person/$300,000 maximum per accident for bodily injury; $100,000 for property damage; comprehensive and collision coverage with $500 deductible. Liability pays for injuries/damage you cause others. Comprehensive and collision pay for damage to your car.
94404 Foster City
For 30 Year Old Male (Type: Liability - Minimum )
Average Monthly Premium
$46
Highest Rate $56/mo.
Lowest Rate $26/mo.
Compare personalized quotes from up to 20 companies in California now
MOST & LEAST EXPENSIVE ZIP CODES
in California
MOST EXPENSIVE PER MONTH
91205 - Glendale: $91
90212 - Beverly Hills: $91
90038 - Los Angeles: $91
91203 - Glendale: $90
LEAST EXPENSIVE PER MONTH
96107 - Coleville: $33
96093 - Weaverville: $34
93513 - Big Pine: $34
96027 - Etna: $34
How we researched it?
CarInsurance.com commissioned Quadrant Information Services to provide a report of average auto insurance rates for a 2017 Honda Accord for nearly every ZIP code in the United States. We calculated rates using data for up to six large carriers. Averages for the default result are based monthly insurance for a male driver, age 30, for state minimum required liability coverage. Averages for customized rates are based on drivers' ages and gender for the following coverage levels: state minimum liability, liability of 50/100/50 and 100/300/100 with $500 deductible on comprehensive and collision. These hypothetical drivers have clean records and good credit. Average rates are for comparative purposes. Your own rate will depend on your personal factors and vehicle.
A Look at the Broader Pay-As-You-Drive Insurance Landscape
Beyond State Farm's In-Drive/Safe & Save and Progressive's Snapshot, several insurers also offer PAYD. Keep in mind that each company's product isn't available in every state. Also, now some companies offer PAYD through smartphone apps in addition to plug-in devices. Here's a list, starting with the most recent to enter the arena, Metromile and American Family Insurance:
Allstate's Drive Wise: You save 10% cash back for signing up. It tracks your car's speed, braking and time of driving. You get up to a 25% discount every six months.
The Hartford's TrueLane: You get a 10% discount for enrolling and then up to 25% if you're a safe driver after 75 days.
Travelers' IntelliDrive: The 90-day program can lead to savings up to 20% based on your driving. Warning: riskier drivers can wind up paying more for insurance after the program.
Esurance's DriveSense: The app transmits details to Esurance, which determines if drivers qualify for discounts up to 30%.
Safeco's Rewind: The company, which is owned by Liberty Mutual, offers a PAYD for motorists who are paying higher insurance rates because of traffic tickets or accidents. Safeco, evaluates your driving and decides on the size of the discount.
No matter which kind of safe driver program, make sure you read the fine print. Most of these programs are free, but some may actually increase your rates if the tool finds you're an unsafe driver.