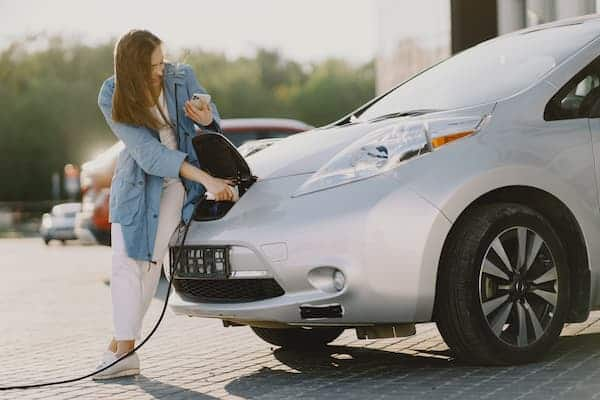 Younger generations of consumers – Millennials and Gen Z – are more willing to prioritize alternative energy development and phase out fossil fuels than Gen Xers and Baby Boomers, according to the Pew Research Center.
In fact, 56% of Gen Z and 56% of Millennials favor phasing out gas-powered vehicles, compared with 45% of Gen X and 38% of Boomers, according to Pew. Furthermore, 57% of Millennials and 56% favor phasing out gas-powered cars by 2035. With fewer gasoline vehicles on the road, there likely will be a shift to electric vehicles (EVs) and hybrids.
Keep reading to learn about electric car insurance.
How much does electric car insurance cost?
Average annual auto insurance premiums for electric cars and hybrid vehicles range from around $1,500 per year for a Mini Cooper SE to more than $4,000 for an Audi RS E-Tron GT. CarInsurance.com commissioned Quadrant Information Services to find the average annual rates for EVs and hybrids.
David Griffin Jr., senior vice president for The Dowd Agencies in Holyoke, Massachusetts, says you will typically pay more to insure an electric or hybrid vehicle than a conventional car.
"This is primarily because these cars are more expensive and also have higher repair costs," Griffin says. "Because certain components are so expensive to replace – like the battery packs – even a simple accident can cost a lot of money."
Who provides electric car insurance?
Which companies offer electric car insurance discounts?
Some insurers charge less and provide discounts for insuring a hybrid or electric vehicle. For best results, it pays to shop around and get price quotes from several carriers when you need to insure an EV.
"Geico, for example, offers discounts of up to 25% for drivers who choose a hybrid or EV as their vehicle. This company and other carriers also offer various other discounts, such as for good drivers, safe vehicles and students, regardless of whether you drive an electric, hybrid or gasoline-fueled car," says Andre Disselkamp, co-founder of Finsurancy, an insurance broker.
Michael Kim, the co-founder of Evcharger Reviews, says USAA and State Farm charge the least for insuring hybrid and electric vehicles.
Which insurers offer the best rates on electric cars?
Major auto insurance carriers like Geico, Progressive and State Farm all offer insurance for electric vehicles. The insurance companies with the best average annual rates are:
Is auto insurance for Teslas different than other electric cars?
ESTIMATING YOUR CAR INSURANCE
Make smarter investments for you and your car insurance
Get your estimates here
The cost to insure Tesla vehicles is higher than for other EVs or hybrids. This is primarily because Teslas are built with more expensive and sophisticated equipment and charge higher purchase prices, which result in higher insurance premiums.
In fact, both the cost of the parts and the labor to fix an EV or hybrid is higher, says Fred Balkin, a personal injury attorney with Stein Sperling in Rockville, Maryland.
"Tesla, for example, can only be repaired in designated body shops certified by Tesla. And many electric vehicle owners are surprised when they are told by their collision repair shop that their auto collision insurer will only cover the repairs up to a certain point and that any further charges must be paid out of pocket by the owner," Balkin says. "In many cases, the owner may have to contribute up to 40% of the total repair bill for an electric vehicle."
Why do electric vehicles cost more to insure?
According to Consumer Reports, EVs cost more to insure than gas-powered cars because insurance companies don't have the historical data to review for EVs as they do for gasoline vehicles.
And hybrid and electric car insurance costs can be higher because of the increased risk of theft and vandalism. But, there's good news.
"As more repair shops and a larger volume of parts become available and more affordable, insurance is gradually becoming less expensive for hybrids and EVs," says Janet Ruiz, director of strategic communications for the Insurance Information Institute.
How do you save on electric car insurance?
Some insurers offer specific discounts for owning an electric or hybrid vehicle. But you may also shave dollars off your premium by qualifying for other discounts and pursuing particular strategies, including:
Raise your deductible, which can decrease your premium costs significantly.
If you purchase two or more types of insurance from the same carrier, like home and auto, bundling your insurance policies can yield substantial savings.
Capitalize on low-mileage discounts: Some carriers provide discounts to drivers and carpoolers who travel less than expected miles annually.
Equip your vehicle with anti-theft devices.
Maintain a good credit history.
Earn a loyalty discount by being a longtime customer.
Keep a clean driving record (no accidents or moving violations in the past three years).
Read more: What do you need to know about insuring an electric car?
Can electric vehicles help you save in other ways?
Yes. EVs have lower maintenance costs as they don't need the services that gas-powered vehicles do, such as tune-ups and oil changes. Teslas, for example, could need a new battery, tires and tire rotation, air filters and A/C service, and brakes, but that's the extent.
In the spring of 2023, CarInsurance.com conducted a nationwide drivers survey, asking them about their thoughts on electric vehicles, car insurance companies, inflation, state DMVs and DOTs. The study found that 44% of drivers said electric vehicles are more expensive to maintain than gas-powered vehicles. Only 16% of drivers said EVs are cheaper to maintain, and 40% said the costs are comparable.
Tax credits of $7,500 are available for new EVs if the vehicle has four wheels, doesn't weigh more than 14,000 pounds and has a battery that provides at least 4 kilowatt-hours (kWh) of power charged from an external source.
Learn more about the hidden costs of owning an electric car
FAQs: Electric car insurance
Is insurance for hybrids or electric cars more expensive than gas-powered cars?
Yes. Research shows that it can be costlier today to insure an electric or hybrid vehicle than a gasoline-powered automobile, depending on the make, model and year. Additionally, hybrids and EVs can have more expensive parts, and not all auto shops have experience with these kinds of vehicles.
Which electric vehicles are the cheapest and most expensive to insure?
The most expensive EVs to insure are the Audi RS E-Tron GT at an average annual rate of $4,150, the Tesla Model S Plaid at a rate of $4,115, Porsche Taycan Turbo S at a rate of $4,028 per year, Tesla Model S Long Range at a rate of $3,503 and the Tesla Model X Plaid at a rate of $3,386 per year.
The cheapest EVs to insure are the Mini Cooper SE with an annual average rate of $1,479; the Hyundai Kona SEL at a rate of $1,498; Kia Niro EV EX at $1,577; Nissan Leaf S at $1,756; and Chevrolet Bolt EV LT at $1,777 per year.
Are electric cars cheaper to insure?
EVs typically are more expensive to insure because they cost more to purchase and pose a greater financial risk to the insurer. More risk means higher insurance rates.
Methodology & Resources
Methodology
CarInsurance.com commissioned Quadrant Information Services in 2022 to field rates for a 40-year-old male driver of 2022 new vehicles with good credit, full coverage (100/300/50) and a $500 deductible. CarInsurance.com commissioned survey company Slice to survey drivers nationwide in 2023 about their driving habits, favorite driving songs, the best roads and DMVs, inflation and attitudes about car insurance. The survey was conducted March 24 – April 4, 2023. There were 2,300 respondents.
Sources
Consumer Reports. "Electric Vehicles May Cost More to Insure Than Gasoline-Powered Cars." Accessed May 2022.
Insure.com. "Ranking the most expensive and cheapest cars to insure for 2022." Accessed May 2022.
Pew Research Center. "Younger generations more willing than older to give up fossil fuels, phase out gas-powered cars." Accessed May 2022.
Pew Research Center. "Gen Z, Millennials Stand Out for Climate Change Activism, Social Media Engagement With Issue." Accessed May 2022.
Progessive.com. "Is insurance more expensive for electric vehicles?" Accessed May 2022.