Get Personalized
Car Insurance Quotes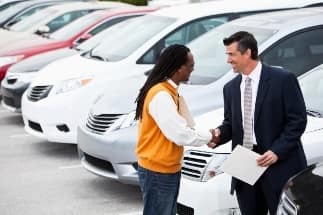 You must have insurance for a new car, whether you buy it from a dealership, a friend or other private owner. It's the law – all states except New Hampshire require you to carry liability car insurance.
Here are new car insurance details you need to know when acquiring a new set of wheels, according to Penny Gusner, the consumer analyst for CarInsurance.com, and Lynne McChristian, spokeswoman for the Insurance Information Institute (III).
Your first move for getting insurance on a new car depends on your current situation.
You already have insurance on another car and you're buying a new vehicle
You don't have insurance and you're buying a new car
Insurance for a New Car When you Already Have Insurance on your Old One
1. Use Your Current Policy to Temporarily Cover your New Car.
You must have proof of insurance to buy a new car. Gusner and McChristian say that your insurer will likely extend coverage from your existing policy to the new vehicle for a short period of time. The amount of extended time varies from company to company – typically seven to 30 days. This new car insurance grace period gives you time to shop for a new policy or to make coverage adjustments to your current one and list the new car on it.
2. Compare Car Insurance Quotes for Insurance on a New Car.
Use your new car insurance grace period to shop your policy. When you buy a new car, your rates will change. They could go higher or lower, depending on what type of vehicle you get. That's because car insurance companies take into account the risk factors of each make and model. For instance, they consider how safe it is to drive and how expensive it is to repair. This is why it's wise to know how to compare quotes for car insurance when you're buying a new car. You might find a new company offers a lower rate when you factor in the vehicle type.If you want to drop your current carrier, learn how to switch insurance companies to be sure your coverage doesn't lapse between the old and new policies. (If you are buying a used car, enter the year, state, make and model into the "Average rates for your used car" tool on the right of the page.)
Have details about the car on hand, including make, model and vehicle identification number (VIN). Then dial our call center at 1-844-252-4551 for an immediate quote on a policy for your new car.
How Much is Insurance for a New Car? Average Rates for Popular 2019 Models ?
| Make | Model | Average Annual Rate |
| --- | --- | --- |
| Jeep | Wrangler Sport | $1,304 |
| Honda | CR-V LX | $1,333 |
| Ford | Escape S | $1,344 |
| Jeep | Cherokee Latitude | $1,361 |
| Ford | F-150 | $1,374 |
| Chevrolet | Equinox LS | $1,400 |
| Toyota | Tacoma SR | $1,405 |
| GMC | Sierra 1500 | $1,416 |
| Toyota | RAV4 LE | $1,416 |
| Jeep | Grand Cherokee Laredo | $1,443 |
| Chevrolet | Silverado 1500 | $1,446 |
| Ford | Explorer | $1,451 |
| Toyota | Highlander LE | $1,456 |
| Nissan | Rogue Sport S | $1,462 |
| Dodge | Ram 1500 Tradesman | $1,487 |
| Honda | Accord LX | $1,496 |
| Honda | Civic LX | $1,605 |
| Toyota | Camry L | $1,620 |
| Nissan | Sentra S | $1,656 |
| Toyota | Corolla SE | $1,669 |
CarInsurance.com commissioned Quadrant Information Services to calculate average auto insurance rates for 2019 models. Averages were calculated using data from six large carriers, such as Allstate, Farmers, GEICO, Nationwide, Progressive and State Farm, in 10 ZIP codes per state. Not all models were available, especially exotic cars. More than 2,800 models are included in the 2019 study.
Averages are based on full coverage for a single 40-year-old male who commutes 12 miles to work each day, with policy limits of 100/300/50 ($100,000 for injury liability for one person, $300,000 for all injuries and $50,000 for property damage in an accident) and a $500 deductible on collision and comprehensive coverage. This hypothetical driver has a clean record and good credit. The rate includes uninsured motorist coverage.
Average rates are for comparative purposes only. Your own rate will depend on personal factors.
3. Review your Policy if you Stick with your Current Carrier
If you've shopped around and decide to keep your existing policy, be sure you have the right amount of coverage. For instance, liability insurance, which covers damage you cause to other vehicles and property, may be the best choice if you're buying an older model used car and don't drive much. However, you may want to have comprehensive and collision coverage if it's a new car. Read "How much car insurance should you buy?" for details on coverage types and levels of protection.
If you're financing your car, the decision will be made for you – lenders require you to carry collision and comprehensive coverage in addition to state minimum liability requirements, says Gusner. Consider purchasing gap insurance, which pays out the difference between what you still owe and the amount your insurer will pay if the car is totaled while relatively new.
4. Provide your Insurer with Details on your New Car if you Keep your Existing Policy as is.
Why? Because, due to a combination of financing and depreciation, many drivers end up owing more on their car than it's actually worth.
Auto loan/lease (or gap) insurance covers the disparity between what you owe on your new or leased car and the amount your insurer will pay in the event of a total loss. For example, let's say you bought a new car, financing it with a loan of $30,000. Two weeks later the car is valued at $25,000 when an accident totals it. Your insurer pays the value of the car, leaving you with a $5,000 bill. But if you've got auto loan/lease (or gap) insurance, that bill won't be coming out of your pocket.
When you're shopping for new car insurance, ask about auto loan/lease (or gap) coverage. Many insurers, including Esurance, offer auto loan/lease (or gap) coverage that you can pay for along with the rest of your policy — a great option since gap insurance through your dealership will most likely cost more.
McChristian and Gusner say you should transfer your existing insurance to your new vehicle as soon as possible. Call your insurer and provide the necessary information about your new vehicle (make, model, VIN), so a new policy can be issued.
"The worst thing to do is assume that your insurer will find out about your new purchase and update the policy as need be," says Gusner. "It doesn't work that way; it's your responsibility."
Insuring a New Car and you Don't Have Insurance
1. Research Car Insurance Coverage and Rates Before you Close the Deal.
You'll need a policy for the new vehicle before the dealership will let you drive it off the lot. Likewise, you'll need coverage in place to assume ownership of a used car you buy from a private seller. That's why it's wise to buy a policy before you sign the papers to buy your car.
Begin by deciding how much coverage to buy. You should buy more coverage than your state-mandated minimum liability levels if you are buying a new car and have a lot of assets. To help you find the best coverage for your situation, read "How much car insurance should you buy?" To get an idea of what you can expect to pay, use our average car insurance rates tool.
2. Compare Car Insurance Quotes to Get the Best Deal.
After you've settled on a car and locked in a price with the dealer or seller and decided what coverage you want, you can get quotes by providing the VIN, make and model of the car along with your other driver information.
Insurers use different formulas for setting rates, so the price of a policy can vary by hundreds of dollars. That means you could overpay for your coverage if you don't shop for the lowest rate. You should get quotes from at least three insurers when shopping for a policy.
Read "Tips for how to buy car insurance online" for more information on finding the most affordable car insurance or dial our call center at 1-844-252-4551 for an immediate quote on a policy for your new car.
3. Be Sure to Have the Policy go into Effect on Purchase Day.
Once you've decided on your coverage and are ready to buy a policy, be sure you have the policy go into effect on the same day you are going to buy the car. "Most insurance companies can email or fax proof of a policy on the spot at the dealership," says Gusner.
How to Transfer Titles for a New Car?
The dealership and your lender will typically do the paperwork for the title when you buy a new car. The financer keeps the title until you pay off your loan. Once you own the car outright, the lender will mail you the title.
When you buy a car from a private seller, he or she signs the title over to you – you both sign the appropriate sections on the back of the title.
Once the title is transferred, you need to register the transfer at the Department of Motor Vehicles. Each state has its own requirements, but typically the documents and information you need include:
A bill of sale showing the purchase price
Proof the title has been signed over to you
The Vehicle Identification Number, or VIN (which should be on the bill of sale and title)
The current odometer reading
You may have to fill out a form to document the title transfer and so the DMV can reissue the title in your name.
How to Register a New Car?
You can usually register your new car at the same time as the title transfer. When you register the car, in addition to the information you need to do a title transfer, you'll likely need the following:
Proof of liability car insurance
Proof that you've paid sales tax on the car purchase
Certificates showing the car has passed safety and emissions inspections
Related Articles & Guides