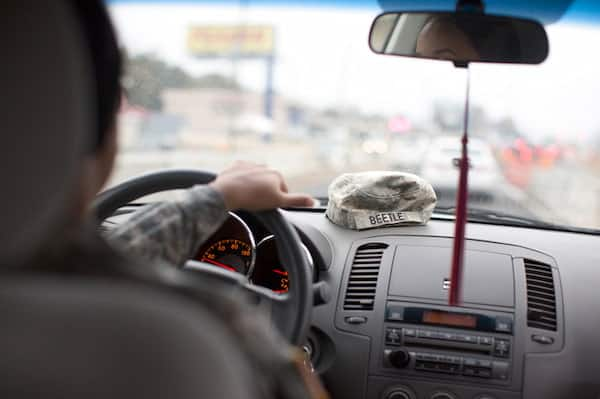 USAA is a full services financial company offering various insurance, banking and investment products to military members and their families.
They started solely as an auto insurance company. USAA stands for United Services Automobile Association. They were founded way back in 1922 when 25 American Army officers began the group because they couldn't get car insurance. At the time, the insurance companies believed that as military officers, they were a high-risk group.
So, these 25 officers created USAA so that they and other military members could get adequate coverage.
If you're thinking about getting insurance with USAA and have questions about USAA eligibility criteria we've got answers.
Key Highlights
USAA insurance is for military members of their families.
Besides spouses and children, grandchildren can also join.
There are a few situations where extended members are eligible for USAA insurance.
USAA offers a handful of discounts and perks for car insurance and some benefits that are specific to military lifestyles.
Who can get USAA insurance?
USAA offers insurance for members of the military and their immediate family members.
But to get a little more specific, along with enlisted personnel of the U.S. military, which includes those who are on active duty, or are part of the guard or reserve, you can be a retired or honorably discharged member of the military.
If you're a precommissoned officer, such as a contracted cadet, midshipman enrolled in a service academy in the U.S., or are an officer candidate, you can also hop on a USAA insurance plan.
If you're an adult child of a parent who is a USAA member you can also become a member.
If you are a widow or widower of a former USAA member, you can also get a USAA insurance policy.
Now, let's break down some more USAA eligibility criteria.
USAA eligibility: USAA employees
If you, your spouse, or a parent is currently employed with USAA, then you are eligible to become a member.
USAA eligibility: Family members
Stepchildren
Should a member remarry, their spouse's children can be eligible for USAA membership.
Parents
Though you are eligible for a USAA membership if your parents are members, the same is not true in reverse. If you are a USAA member, eligibility is not extended to your parents.
USAA Tweet on Parents Eligibility
Hi J H! Based on our current eligibility guidelines you would not be able to sponsor your parents for membership; however, we might have a possible solution for some of our products with USAA or USAA Insurance Agency. -NM

— USAA (@USAA) February 10, 2021
Nieces or nephews
Can you get a USAA membership through your uncle? If you are a niece or nephew of a USAA member, you can only become a member if your aunt or uncle is your legal guardian.
Cousins
Similar to nieces or nephews, let's say you have an older cousin who becomes your legal guardian. In that particular instance, if your cousin is a USAA member, you are also eligible for USAA insurance.
Grandchildren
Wondering do grandchildren qualify for USAA? If you are a grandchild of a USAA member, you can become a USAA member in one of two ways.
The first is if your grandparent adopts you and they are your legal guardian.
The second is if your parents are USAA members because one of their parents (aka your grandparents) were USAA members. As long as no generations are skipped in terms of USAA membership, one can qualify.
USAA Tweet on Grandchildren Eligibility
Hello Thom. Thank you for your inquiry. If the grandparent and parent both joined USAA, the grandchild would be eligible for USAA membership. You can learn more about eligibility on the USAA website by selecting "Join USAA". -DC

— USAA (@USAA) September 13, 2021
Can my girlfriend join USAA?
If you're asking the question: Can my girlfriend join USAA? The answer is no. Also, parents of USAA members, siblings and in-laws are not eligible to join.
How does USAA verify eligibility?
We would love to tell you that all you have to do is call or write USAA, "I'm in the military," or, "I was in the military," and USAA would say, "We're good."
But, understandably, the company requires proof. They'll ask you to provide a copy of military documents proving that you're in the military and a copy of your government-issued I.D. Or you can offer proof that a family member was in the military – or that you used to be in the military.
For instance, you could provide the long version of the D.D. Form 214, which shows that you were released or discharged from active duty.
What car insurance discounts and other perks does USAA offer its members?
When it comes to lowering your car insurance premium, USAA offers quite a few ways. Let's take a look, shall we?
Discounts
USAA offers many discounts. Though generally, the discounts are similar to what you would find with other car insurance policies.
There's a good driving record discount: If you maintain a good driving record for more than five years, you'll be eligible for USAA's "safe driver" discount. Alas, it isn't available in every state, but if you can get it, you may save up to 30% on your insurance.
You can get a defensive driving discount: If you take an approved course, you can get a "defensive driving" discount. Unfortunately, USAA can't say how much you can save unless you talk to your customer service rep. It depends on what state you live in.
You can get a discount for taking a basic driving training course:Drivers younger than 21 who take an approved basic driving training course can get a discount - possibly up to 30%, if you live in a state that's eligible for USAA's safe driving program, SafePilot.
You can get a discount for being a good student: You can get a "good student" discount for high school and college students maintaining good grades. As usual, talk to your customer rep, but most companies will discount prices by 10%-15% for good grades. This is available in most states (except for HI and NC.)
Stack discounts: USAA encourages discounts, so you can keep making that premium lower and lower. Will you be able to get enough discounts to bring your premium to zero? Well, no, but there are a lot of opportunities to bump down that monthly premium.
Bundle discounts: If you already have homeowners or renters insurance with USAA, and you add auto insurance, you'll get up to 10% off your homeowners or renters insurance.
Multi-vehicle discounts: Insure more than one of your rides through USAA, and you could be eligible for a lower rate on your premium.
Newer vehicle discounts: If your car is not older than three years, you might be able to get a bit of a discount on your insurance.
Anti-theft devices discount: Do you have an alarm system, wheel lock, or GPS-based vehicle recovery system, that added layer of protection could equate to a discount. This isn't available in all states and might require a yearly certification. Learn about top 11 Anti-Theft devices that can help you get a discount.
Storing your car discount: If you're deployed or simply don't use your car very often, keeping it in storage means you aren't driving it very often. In turn, this lowers the risk and could also mean a chunk of your insurance premium shaved off—we're talking up to 60% off. If your vehicle is stowed away while you're on a military installation, that could bump your policy by 15%.
Driving less discount: If you're putting fewer miles on your car each year, it could mean a less-expensive premium. The discount you're eligible for depends on how many miles you're driving.
Loyal member discount: Have you been a USAA member for quite some time, or your family has been members for generations? If so, you might be able to receive a lower premium.
Accident forgiveness: It's an optional feature, and it's free after five years of paying for it. But your rates won't go up if you're in an accident. Of course, you have to keep in mind that you have to pay for the accident forgiveness for five years. Some people feel "accident forgiveness" is a valuable perk; others think it is not.
Other USAA perks
Let's say you added a teen driver to your policy. Once they reach 18 and are adults, they can hop on their own USAA car insurance policy - and if that happens, they could save up to 10% on their own policy.
USAA members also get many discounts from retail partners, such as saving 25% off of FTD Flowers orders, 36% off FedEx personal shipping and 40% off business shipping, and deep discounts at fitness centers.
USAA members can also enjoy up to 90% off prescription drugs through GoodRx, and up to $20 off TurboTax tax prep software. You also get access to USAA's MemberShop, a program that partners with over 950 brands (including Apple, Home Depot and CVS).
So if you shop through their website, you'll pay less than you would find in the brick and mortar locations.
How do I join USAA and buy insurance?
If you're eligible, the beauty of being a USAA isn't hard. You can pretty much do it in three simple steps.
Shop around
Look, you can go straight to the next step, but even if you love the idea of becoming a USAA member, you should comparison shop to be sure it's the right choice for your budget and insurance needs.
Request a quote
You can request a quote from the website, chat with a representative through its online chat feature, or call USAA and talk to an agent. They'll ask you a few questions on the website and then tell you whether you're eligible and how much you'll pay.
Get a USAA membership
Once USAA has established that you're a military member or eligible to be a USAA member, you'll be alerted and can set up your USAA membership, activate your online account and make your first payment.
Frequently asked questions about USAA eligibility
USAA eligibility: not what you might think
While you do have to meet USAA eligibility criteria to join, what many people might not be aware of is that if you have a direct relationship to someone who served in the military, whether it's a grandfather, mom, or great-grandparent, you might be eligible to join. You also can join if you are a widow, are enrolled in a U.S. military school, and retain membership as a USAA divorcee.
Plus, under special rules, you might be able to join if you are an extended family member. By knowing the rules for USAA eligibility, you can hop on a car insurance policy, and enjoy the perks and discounts that come with it.
If you meet the USAA eligibility requirements, you'll enjoy competitive rates, discounts and other perks. If you don't meet the requirements, don't worry, there are many other great options for car insurance companies.