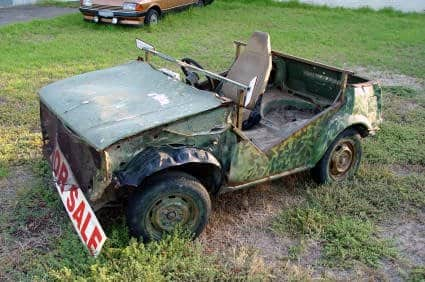 What does a salvage title mean in terms of a car's safety, condition and insurability?
A car may be issued a salvage title if it has damage that costs more to repair than its fair market value. Salvage titles are commonly issued when an insurance company declares a policyholder's vehicle to be a total loss.
When a car has been in an accident, stolen or weather-damaged and repairs will cost more than the vehicle is worth, the car insurance company will total it and take possession. Insurers then sell these cars at auction to salvage yards or rebuilders. The car will be issued a salvage title to warn future buyers that an insurance company has declared the car a total loss.
How much does insurance pay out for salvage title cars?
From 2010, 2014 and 2018 Insurance Research Council claims data, the most recent as of January 2023, the IRC has determined the following:
Comprehensive claims: For many total loss claims, insurers recoup some losses by selling the salvage vehicles. In 2018, 92% of total loss comprehensive claims recorded salvage value. This represents a significant increase from 77% in 2010. The average amount received for salvage vehicles averaged $2,438 in 2018, up from $1,859 in 2010, according to the IRC data.
Collision claims: In 2018, nearly all (96%) total loss collision claims recorded salvage value. This represents an increase from 69% in 2010. The average amount received for salvage vehicles averaged $3,065 in 2018, up from $2,855 in 2010.
Liability property damage claims: In 2018, 92% of total loss property damage liability claims recorded salvage value, up sharply from 64% in 2010. The average amount received for salvage vehicles averaged $1,595 in 2018, up from $1,395 in 2010.
How is a totaled car determined?
Some states have laws that set a threshold on the amount of damage needed to declare a car totaled, usually between 51% and 80% of the car's actual cash value, with 75% being typical. These are called total loss thresholds. Many other states use a total loss formula comparing the cost of repairs with the actual cash value.
Salvage titles issues to consider
Once totaled, the car may receive a salvage title. There are occasions, however, when a perfectly good car gets a salvage title. A severe hailstorm can do thousands of dollars of cosmetic damage, leaving the mechanicals as good as new. A fender-bender can cost more to repair than an old car is worth.
While a salvage title brand is not necessarily a reason for refusing to purchase a used car, it's paramount that you research the history of the car before making a decision on whether to buy it or not.
There is no standard definition for what qualifies a vehicle for a salvage title. That means in some cases, when a car moves from one state to another, that the car's history is erased. That's why it's important to get a vehicle history report from CarFax or a similar company to research whether the car has ever been issued a salvage title.
Now that you have the basics on what a title salvage means, let's explore details of other issues that come with salvaged vehicles, namely how to get salvage title insurance, how resale value and financing are affected and how salvage titles differ from other branded titles.
Salvage title insurance: Limited and scarce, but available
If you are hoping to fully insure a salvage title car, you may be in for a surprise. You may not be able to buy all types of car insurance. Few auto insurance companies are willing to write collision and comprehensive coverage on a salvage title car. On the other hand, buying liability only will make for cheap car insurance.
"Insuring a salvage title vehicle can be a real challenge. Most insurers are reluctant to write comprehensive and collision policies because it is so difficult to put a value on these vehicles," says Kyle Mediger, an independent agent and owner of The Insurance Advisors, based in the Denver, Colorado area.
And, not all insurance companies provide coverage for salvage title vehicles.
If you buy back a car from an insurer that has totaled it, you may have more luck getting them to issue you a policy. The insurer knows exactly why the car was declared a total loss and will typically have photographs and other details of the damage.
Forget financing on salvage title cars
Financing a salvage title car also is difficult. Without comprehensive and collision insurance to protect the car, it's unlikely you'll be able to find a lender, so be prepared to pay cash for salvaged vehicles.
A salvaged car can be rebuilt, but will always be hard to sell
Once a salvage title car is repaired, it would need an inspection and DMV approval to be legally driven again. Typically, after that, the salvage title will be "rebranded" as a rebuilt title. While the vehicle's title designation goes from salvaged to rebuilt, it's obvious that it was rescued from a salvage title. This is a red flag for anyone you may want to sell the car to.
There is also little resale value. While the estimates vary, a salvage title car is worth considerably less than a car that was never in an accident.
These cars are so difficult to value that Kelley Blue Book doesn't provide pricing on them. "There are too many variables and unknowns," says a KBB spokesperson. "From what we hear in the marketplace, wholesalers are paying 30% (to) 50% of the KBB book value."
An honest seller will never get the current market price for a vehicle that has a salvage title attached to it. People willing to take a risk on a salvage title will demand a huge discount.
Branded titles: What you need to know
There is often confusion around the term "branded title," as some people aren't sure if it's the same as a salvage or rebuilt title. Simply put, the different types of titles are all subcategories of "branded titles." A car's type of branded title indicates what type of damage it has. According to CarFax, here are common types of branded titles:
Salvage title — As we explained above, this designation is for vehicles that have damage that costs more than the fair market value of the car.
Odometer rollback –If it's determined that a car's odometer has been tampered with and rolled back, it will be given an odometer rollback title brand.
Water damaged — Cars that have damage due to flooding may be titled as water damaged.
Rebuilt — A salvaged title car that has been repaired to roadworthy conditions.
Lemon law title — Some states have "lemon laws," that dictate the parameters for returning a new car that is defective. These laws vary among states. But if a car is returned under the criteria of a state's lemon law, and then is resold, its title will be branded as a "lemon title."
Fraud is common, safety is an issue
You may be driving a salvage title car already and not know it. Title washing can make it difficult to determine if your car has been in an accident and rebuilt.
State titling requirements vary, which means that a car that has a salvage title in one state can be driven to a state where an inspection is not required and a clean title will be issued. A car with a clean title is worth thousands more, which makes driving a car to another state well worth the trip for shady rebuilders.
Safety is also a concern with any salvage title, or even rebuilt title, vehicle. In some cases damage, such as bent frames or electrical problems, are hard to detect, so be sure you have a trusted and experienced mechanic thoroughly check out any salvage vehicle you may buy or drive.
General tips if you decide to buy a salvage title car
We would recommend that you avoid salvage title cars, but if you decide one is right for you, here are tips to follow:
Have a trusted professional mechanic check out any vehicle you are considering. The better the deal you're getting, the more you should insist on an inspection.
Get a vehicle history report. Carfax and Autocheck are two providers. The money will be well spent if you discover a salvage title.
Check with your local DMV in regards to their salvage title laws. Each state has different guidelines for salvage titles. Understand the local policies before you buy.
Check the National Motor Vehicle Title Information System. This federal database was created to cut down on title fraud. Search the database for the VIN of any car you are interested in.
Check with your insurance company in regard to coverage and
before you buy.