Salvage title cars are those that have sustained enough damage that the cost to repair them exceeds their value, so they're "totaled." A salvage title car that is repaired and roadworthy, is a car with a rebuilt title.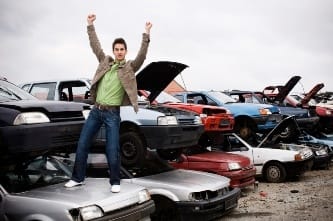 You may save substantial cash if you're buying a car that's been declared a total loss and considered salvage, but then could wind up paying extra for your salvage car insurance.
Some car insurance companies will charge you a higher premium if you buy a salvage title vehicle that has been repaired and carries a rebuilt title, and is now considered roadworthy, says David Suarez, business development manager at Mercury Insurance.
But if the purchase price of that salvage Mercedes or Honda seems irresistible, or you just can't let go of your favorite ride, here's what you should know about insuring salvage cars.
What is a salvage title?
Insurance companies typically will declare a vehicle to be salvage when the cost of the repairs exceeds the car's value. The car could have been totaled in a wreck, damaged by hail or floods, or be stolen and recovered months later.
Depending on the state where you live, a car is usually considered a total loss if the repairs would cost between 50% and 90% of the vehicle's value.
If an older-model vehicle has been in an accident, it's likely to be totaled out by the insurance company, rather than repaired, simply because of the cost of the labor involved to make the repairs. "Companies do it for economic reasons," Suarez says.
Can I drive a car with a salvage title?
A car with a salvage title cannot be driven on the road legally even if it still runs.
However, depending on the severity of the damage, some of these cars can be repaired and rebuilt.
Many states will require that you have the vehicle inspected to make sure that it is roadworthy. If the car has been salvaged, or rebuilt, it then receives a "branded" or rebuilt title.
What's the difference between a salvage title and rebuilt title?
Cars with salvage titles have been declared a total loss and can't be driven legally. But once a salvage car has been repaired and passes an inspection from a state-approved salvage inspection operator, it can qualify for a rebuilt title. A car with a rebuilt title can be registered, driven and sold.
However, it is common for people to mistakenly refer to rebuilt cars as salvaged title cars, even though they are two distinct and different vehicle titles. Because many people use these terms interchangeably, here we'll assume that when discussing insurance for a salvaged car that it has been fixed and rebuilt.
How can I tell if it's a salvage vehicle?
"State laws require that the seller inform a buyer in writing" that the vehicle they want to purchase is salvaged, Suarez says. But in several cases, Mercury found the information was not clearly disclosed to buyers.
To make sure you're not unknowingly purchasing a salvage vehicle, you check the car's vehicle identification number (VIN) or title.
The federal government's National Motor Vehicle Title Information System (NMVTIS) provides information on a vehicle's condition or history. You can purchase those reports from a number of companies.
The National Insurance Crime Bureau (NICB) provides VINCheck, which can help you tell if a vehicle has been reported as lost but not recovered, or if it has been reported as a salvage vehicle.
CarFax and other private companies also offer information on a vehicle's history.
What to look for when buying a vehicle with a rebuilt title?
If you're considering buying a vehicle with a rebuilt title, here are some key steps to take to ensure you don't buy a car that winds up not being a good deal:
First research the history of the vehicle. You can do this through VINCheck , which is free, or pay to get a vehicle history report from Carfax, AutoCheck or the National Motor Vehicle Title Information System . That way you can determine what significant damage was done and why it was totaled.
Next, be wary of frame damage if you see that in the repair records. Repairing frame damage is costly and requires significant work, and if not done right by a professional mechanic may result in other problems.
You also want to do your own inspection for flood damage, as most experts recommend that you do not buy a rebuilt title car that has had flood damage.
Try to find where the car repairs were done, and research the reputation of the mechanics that did the work. If possible, review the seller's repair records and receipts, so you know how much work was required.
Even if everything checks out, you should always have an inspection done by your own trusted mechanic before offering a price to buy the car.
How to get a salvage title cleared?
Requirements vary as states have different names, descriptions and qualifications for a salvaged car to be cleared and made roadworthy again, says Penny Gusner, senior consumer analyst for CarInsurance.com.
"In general, we refer to this as a rebuilt title but the language by your state and insurer may be different, such as 'reconstructed.' So while requirements vary, typically the insurance company will want a statement from a mechanic that the car is roadworthy," she says.
"That is especially true if you are looking for physical damage coverages of comp and collision."
Can I get insurance for a salvage title car?
Yes, you can. But be aware that not every car insurance company will insure salvaged vehicles. For instance, Travelers and Direct General are two companies that do not write policies for salvage cars.
Suarez estimates 20% to 30% of auto insurance companies won't write these policies.
At Mercury, which insures both new and used vehicles, about 2.5% of the company's policies are written for salvaged cars, Suarez says.
However, if you're trying to insure a salvage vehicle following a natural disaster, it might be harder to get any coverage, Suarez says. "Carriers tighten up on their desire to write salvage vehicle (policies)."
Car insurance companies are concerned after such events, he says, because unscrupulous car dealers may simply clean up the car so it looks presentable, but not actually repair the damage.
In some cases, insurance companies won't insure a salvage title car for its existing policyholders.
For example, State Farm, the country's largest auto line, may insure a vehicle previously declared a total loss and issued a salvage title with comprehensive and collision coverage if the vehicle has been repaired, subject to underwriting and file development.
"State Farm won't insure a car that State Farm itself has declared a total loss," says Benjamin Palmer, a State Farm spokesperson.
"So if you want to stay with your current company – for instance, if you want to keep a multiline discount – and you have State Farm insurance, you may be out of luck. State Farm will, however, insure a salvaged car that has been totaled out by another insurer."
How does a salvage or rebuilt title affect the value of a car?
A salvaged or rebuilt title car will be worth 20% to 40% less than a clean title car, according to Kelley Blue Book. The value of vehicles with rebuilt titles also depends on the amount of damage and the make and model, as well as the auto market in your area, so you should always have a private appraiser determine the market value.
Learn more about what are the values of vehicles with rebuilt titles vs. clean titles
What documentation do I need to get insurance for a salvage car?
To obtain auto insurance for these vehicles, you'll need to have a copy of your title, along with your registration and VIN, Gusner says.
Some insurance companies also may require that the vehicle be inspected, or ask for a mechanic's report. They also may request that you have the vehicle appraised, she says.
Can you get full coverage on a vehicle with a rebuilt title?
"Companies that write car insurance policies for vehicles with rebuilt titles tend to offer liability insurance only. While it is difficult to find an insurance carrier that will offer the owner the option of adding on comprehensive and collision, it's not impossible," says Gusner.
Typically, insurers will only offer you liability coverage, which protects you if you're at fault in an accident and injure someone else or damage their property, Gusner says.
They may not be willing to provide comprehensive coverage, which protects you in the event of damage to your car that isn't due to an accident. It would cover things such as theft, vandalism or damage from a natural disaster. You also may be unable to obtain collision coverage, which covers your vehicle if it's damaged in an accident.
However, as Gusner pointed out, there are carriers that will issue full coverage policies for rebuilt vehicles. While 60% of those who bought a salvage title car were only able to buy state minimum liability coverage, 37% reported they successfully purchased full coverage policies, so, liability along with comprehensive and collision; 3% were unable to find coverage.
Will I pay extra for salvage title insurance?
Yes, but that is partially because there is not as many companies offering this coverage. With less competition rates can be higher.
It also depends on the company you choose. "Some companies that are willing to insure rebuilt title cars are non-standard carriers – those that are willing to insure high-risk drivers, etc.
Companies that cater to high-risk drivers and are willing to insure rebuilt vehicles typically have much higher rates compared to companies that insure safe or standard risk drivers and vehicles – as in a car with a clean title and driver with clean driving record," says Gusner.
Since non-standard companies take on more risk, their rates are generally a bit higher than other companies.
"However, a liability-only policy may not come with that hefty of a premium, so if someone is interested in insuring a car with a rebuilt title, it is worth comparison shopping.
"First, see if you can get the coverage you want, and then second, compare the rates for the rebuilt car to what it would cost to insure a vehicle with a clean title," says Gusner.
Bear in mind that auto insurance policies are written based on the year, make and model of the vehicle, among other factors. The diminished value of the vehicle usually isn't taken into account, Suarez says.
So if you buy a salvage 2012 Toyota Camry, you'll pay the same amount for your car insurance as someone who has a 2012 Toyota Camry that hasn't been damaged.
Also, some carriers charge you extra for insurance, even though your vehicle is worth less than comparable cars.
Mercury is preparing to implement a 20% surcharge on such vehicles, Suarez says. "It came to our attention because we have seen a trend in our competitors of charging more for these vehicles."
How hard is it to find insurance companies that insure salvage title cars?
While it does take some legwork to go from salvage title to repaired and insured roadworthy vehicle, it may not be as challenging as you think.
Here is how respondents answered when asked how they'd describe the experience of insuring a salvage title car after repaired:
44% — It was fairly easy to do once I had it repaired and newly titled, I was able to find coverage rather quickly
32% — It went fairly smooth once I had it repaired and newly titled, but finding coverage was still challenging
24% — It was difficult, it was complicated getting the title changed after repairs and then I could find few insurers from which to buy coverage
What insurance companies cover rebuilt titles?
Below you'll see which insurance providers offer coverage for salvage vehicles that have been repaired and earned a rebuilt title. Some carriers don't offer coverage in all states, however.
| Car Insurance Company | Insurance Coverage for Salvage Cars? |
| --- | --- |
| 21st Century | Yes (company does business in California and Hawaii only) |
| Arrowhead | Yes |
| The Hartford | Yes |
| Infinity | Yes; In CA if qualify for state "good driver discount" |
| National General | Yes in AL, AZ, MO, NC, NY, PA, RI, WA; In CA if qualify for state "good driver discount" |
| Omni | Yes |
| Progressive | Yes |
| Safeco | Yes in all states except CA |
| Mercury | Yes |
| Allstate | Yes |
| Farmers | Yes |
| Geico | Yes |
| USAA | Yes |
| State Farm | Yes |
| AAA | Yes |
| CSAA | Yes |
| AAA of Southern California | Yes |
Is buying a salvage or rebuilt title car rare?
You may think that it's literally the end of the road for these vehicles, but you'd be wrong. Nearly half (46%) of those surveyed recently say they have bought a salvage title car.
Rescuing a salvaged car – paying to repair, retitle and insure it – takes some effort, not to mention you're then driving formerly damaged goods.
So, you may also think that most drivers who do this can't afford a used car that's roadworthy. Wrong again. It's mostly bargain hunters looking for a good deal and folks with emotional ties to their vehicles that buy salvage title cars. Of those who have bought a salvage title car.
Here are the reasons why they did so, according to a driver survey by CarInsurance.com:
43% — I can afford other vehicles but wanted to get a car for as cheap as possible
40% — I really loved the car and didn't want to drive anything else
17% — I can't afford any other type of vehicle