Finding cheap car insurance for a young driver is difficult because car insurance premiums can be costly for more inexperienced motorists.
But you can find cheap insurance by shopping around at renewal time, asking about discounts, reviewing coverages and using technology to get the cheapest rates.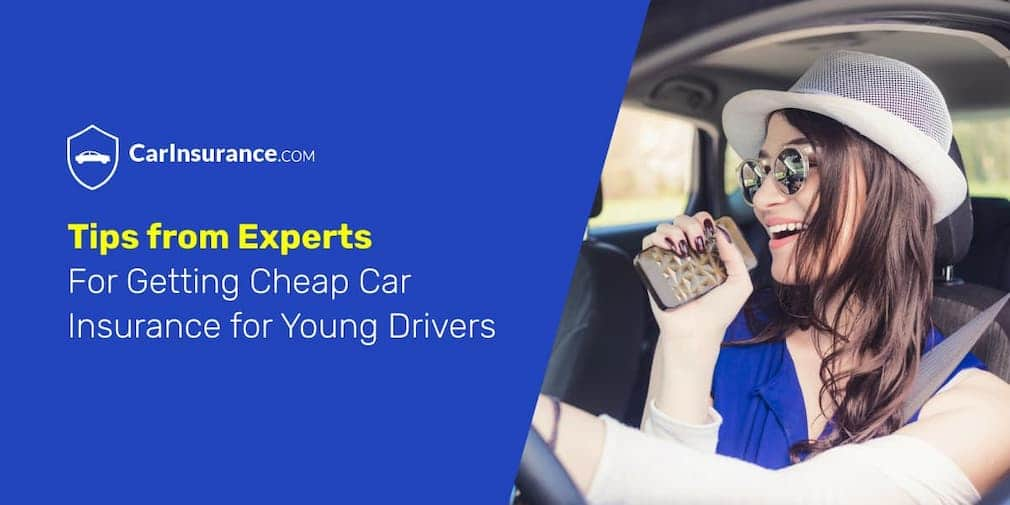 What is the cheapest way to insure a young driver?
Here are six ways to get cheap car insurance for young drivers.
1. Shop around to find the cheapest policy
Don't just assume that your existing insurance carrier will offer the cheapest car insurance for young drivers. It pays to request quotes from various insurers. The Insurance Information Institute recommends getting three quotes from a mix of national and regional insurers to compare costs and coverages.
"Shopping around for auto insurance to find the lowest premium rate with the best policy terms and coverage suited to your family's needs is smart," personal finance expert Jeffrey Zhou says.
Carefully compare different insurance companies but don't choose just based on price.
"Also determine if the carrier is reliable, has positive customer feedback, and has an easy claim settlement process," Zhou says.
2. Remain on a parent's car insurance policy
Another tactic for getting cheap car insurance for young drivers is keeping a child on a parent's automobile insurance policy instead of getting a separate one.
"Young drivers are better off staying on their parent's insurance policy — for the first year or so at least –to save money on car insurance," says Lauren Mckenzie, an insurance broker at A Plus Insurance.
"This is because auto policies are rated on several factors, such as the age and experience of the drivers, the amount of time they have been with that insurance company, and multi-vehicle/multi-driver discounts. If young drivers get on their parent's policy, their parents are already established with a company. That means they are eligible for several discounts that younger drivers may not be."
She says it's less expensive to have an older, more experienced driver listed as the primary insurance holder.
Learn more about how much it cost to add a teenager to car insurance
3. Assign the right car to a young adult driver
Cheap auto insurance for young drivers is further possible by designating a particular vehicle to the young driver in your family.
"Insurance premiums are based, in part, on the car that is being covered. Giving your teen driver an older, more affordable car – provided it still has key safety features – can save a lot of money and premiums," says attorney Ben Michael, director of Auto for Michael & Associates, a boutique law firm.
Ideally, the vehicle – even an older one – should have airbags, anti-lock brakes, power steering and a seatbelt alarm.
"These features reduce the risk of accidents and can lessen the monthly premiums for young adult drivers," Zhou says.
Inform your carrier about this vehicle assignment and be honest when you do so.
"Purposely misleading an agent about drivers or vehicles is not only a felony – it can also leave you high and dry if you get in an accident. The insurance company will not pay out if they find any improprieties," insurance industry expert Paul Moss says.
Check out our detailed guide on best cars for teenagers
4. Ask your insurer about discounts for young adults
Ask your insurer about discounts to get the cheapest car insurance for young drivers.
"Some insurance companies offer good deals for customers who meet specific qualifications. For example, younger drivers who are still in school may be able to get a discounted policy if they have good grades," says Nick Schrader, an insurance agent with Texas General Insurance.
Your carrier may provide discounts for the following:
Maintaining a "B" average or better in high school.
Maintaining a safe driver history with no at-fault accidents or traffic violations within a given period (first-time drivers may not qualify for this discount).
Driving the vehicle under a certain threshold of miles per year, such as fewer than 7,000 miles annually or less than 10 miles every weekday
Living as a student on campus more than 100 miles away from home.
Check out our detailed guide on car insurance discounts
5. Review your insurance coverage and deductibles
Review your current coverages and deductible levels.
"Consider raising the deductibles on any full-coverage vehicles you own to help reduce your premium. And if you have an older vehicle, typically 10 years or older, you might consider dropping full coverage and just putting liability coverage on that vehicle, which can also save money," Mckenzie says.
This is only wise if your car is paid off or isn't worth much. And remember, your deductible is the amount you're responsible for paying in case of a claim before your insurer starts kicking in funds.
Learn more about why raising deductibles saves you money
6. Use technology to get cheap car insurance for young adults
But the savings options don't stop there. By adopting specific technology, you can yield further discounts on your premium. One of these is a telematics app or device that can generate valuable data about their driving habits when linked to your young driver's vehicle.
"Insurers can use car tracking devices to monitor things like driving speed, mileage, and other factors that lessen vehicular risks," Zhou says. "Telematics-powered auto insurance can enable consumers to get cheaper car insurance rates if tracking data proves they are careful and good drivers."
Mckenzie says, in her experience, "Drivers can save an initial 10% off their entire insurance premium by signing up for a telematics program. And at policy renewal time, they may earn up to 20% to 30% off the renewal premium based on how well they did driving over the past term."
Which insurance companies have the cheapest car insurance for young drivers?
At the state minimum, USAA offers the cheapest car insurance for young drivers with an annual premium of $426 annually, followed by Geico. Keep in mind that USAA is only available to members of the military community and their families.
At 50/100/50 liability limits, USAA is the cheapest again at $523, with Geico in the second-lowest price point at $572 per year. USAA and Geico are in the top spots again for full coverage policies at annual costs of $1,763 and $1,799 per year.
See the table below for rates for young drivers from major insurance companies.
Check out our detailed guide on the cheapest car insurance companies
Final thoughts on how to get cheap insurance for young drivers
Taking the time to pursue any of the previously mentioned measures is worth it. The pros agree.
"Because young drivers are so expensive to insure, even a small percentage difference in premiums or deductibles can easily mean hundreds of dollars in savings over the course of a year," Michael advises.
Zhou echoes those thoughts.
"Most insurers have flexible car insurance policies wherein you can customize the coverage based on what you only need and can afford," he says.
Moss points out that COVID-19 and inflation have dramatically altered the auto insurance market over the last few years.
"Prices have shifted, and carriers are carefully selecting what risk profiles they want to write. So if you don't shop the market, the odds are very low you will find the best price and policy for you and your young driver," Moss says.
Finally, remember that there's no getting around an indisputable fact.
"The younger you are as a driver, the higher the chances are that your policy will cost more," Schrader says.
Learn more about the best car insurance for young adults
Resources & Methodology
Methodology
CarInsurance.com commissioned Quadrant Information Services to pull rates in 2022 for 21- to 24-year-old males with good driving records and full coverage insurance operating a 2021 Honda Accord LX.