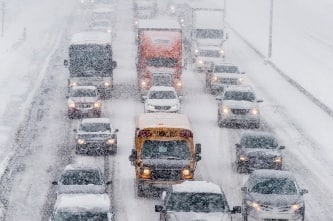 When rain, snow and other precipitation falls, Worcester, Massachusetts, Boston and Washington, D.C., become the least safe cities for drivers.
Motorists in both Massachusetts cities tend to have accidents more than twice as often as the national average when precipitation (primarily rain and snow) are factored in, according to the 10th annual "Allstate America's Best Drivers Report." The big insurer says drivers in the national capital face almost twice the collision risk.
Allstate based the report on its own accident claims statistics for the 200 largest cities for 2014. The company also used precipitation data provided by the National Oceanic and Atmospheric Administration (NOAA) to solidify the rankings. Mike Roche, Allstate's executive vice president of claims, says the study should remind drivers of the dangers they face in areas typically plagued by difficult weather, especially during the winter. Allstate notes that snowy and rainy conditions have been especially hazardous in many regions this winter and that the NOAA predicts the trend is likely to continue for the next few months.
"Precipitation may impact a city's collision frequency ranking," Roche says in a written statement. "The report is a safety awareness tool that shows how city drivers fare when you consider how often the average driver will get into a collision."
Here are the 10 least safe cities, according to Allstate's ranking, based on the expected driver performance given each city's average annual precipitation as measured by NOAA:
Worcester, Massachusetts – The city has an average of 48.1 inches of precipitation a year. Drivers have, on average, about 4.3 years between collisions. That's 134.8 percent above the national average, which is an accident about every 10 years.
Boston, Massachusetts – 43.8 inches; 4.4 years between accidents; 129.9 percent higher.
Washington, D.C. – 39.7 inches; 5.1 years between accidents; 97.3 percent higher
Springfield, Massachusetts – 46.7 inches; about 5.4 years between accidents; 85.8 percent higher.
Baltimore, Maryland – 41.9 inches; about 5.4 years between accidents; 84.9 percent higher.
Providence, Rhode Island – 47.2 inches; about 5.4 years between accidents; 85.1 percent higher.
Glendale, California – 23 inches; 5.8 years between accidents; 72.6 percent higher.
Alexandria, Virginia – 39.5 inches; 5.9 years between accidents; 68.2 percent higher.
Philadelphia, Pennsylvania – 41.5 inches; 6.2 years between accidents; 61.2 percent higher.
New Haven, Connecticut- 47.1 inches; 6.3 years between accidents; 59.1 percent higher.
On the plus side, here are the 10 safest cities (precipitation factored in):
Brownsville, Texas – The city has an average of 27.4inches of precipitation a year. Drivers have, on average, about 14.2 years between collisions, which is nearly 29.5 lower than the national average.
Fort Collins, Colorado – 15 inches; 14.2 years between accidents; 29.6 percent lower.
Kansas City, Kansas – 39.1 inches; 12.9 years between accidents; 22.4 percent lower.
Huntsville, Alabama – 55.8 inches; 12.6 years between accidents; 20.3 percent lower.
Boise, Idaho – 11.7 inches; 14.0 years between accidents; 28.4 percent lower.
Montgomery, Alabama -52.8 inches; 12.4 years between accidents; 19.4 percent lower.
Madison, Wis. – 37.3 inches; 12.2 years between accidents; 17.8 percent lower.
Olathe, Kansas – 41.9 inches; 12.1 years between accidents; 17.5 percent lower.
Kansas City, Missouri – 39.1 inches. 12 years between accidents; 16.8 percent lower.
Cedar Rapids, Iowa – 34.6 inches. 12.1 years between accidents; 17.1 percent lower.
Car insurance and weather-related accidents
Knowing the role car insurance plays when you have a weather-related accident can help ease a stressful situation. Liability insurance will help cover damage to the other vehicle if you're in an accident. But you'll need optional collision and comprehensive insurance coverage to fully protect your car from weather-related mishaps, according to Penny Gusner, the consumer analyst for Insure.com.
"If you're behind the wheel during a snowstorm and slide on ice and crash, then it would be a collision claim for your car's damages," she explains. "Collision covers your vehicle, minus your deductible, when it hits, or is hit by, another vehicle or object."
Comprehensive comes into play for other types of damage: "If a storm causes a frozen tree branch or monster icicle to fall on your car, smashing the windshield and denting the hood, comprehensive coverage would cover the damage, minus your deductible," says Gusner.
She adds that the National Highway Traffic Safety Administration (NHTSA) says there are more than 5.8 million car crashes each year, with almost a quarter related to "rain, sleet, snow, blowing snow, fog, crosswinds and wet, snowy, slushy or icy pavement."
Driving smart during rough weather
AAA and Allstate offer several driving tips during the rainy and snowy season:
Be aware of road conditions. Rain, snow, fog and ice require extra caution. Stopping safely in rain and snow takes greater lengths of roadway than in dry conditions.
Drive slowly, particularly through rain puddles. "Hitting several inches of water at high speeds can cause a driver to lose control of the car," warns AAA.
In snow, apply the gas slowly to accelerate. That's the best method for regaining traction and avoiding skids. "Don't try to get moving in a hurry," says AAA. "And take time to slow down for a stoplight."
Maintain your car to prepare for extreme weather. Headlights and brake lights are critical in low visibility situations – be sure they are consistently maintained along with other important car elements such as heating, defrosters, brakes, fluid levels and windshield wipers.
Keep a safety kit in your vehicle that includes gloves, boots, blankets, flares, water, jumper cables and a flashlight.