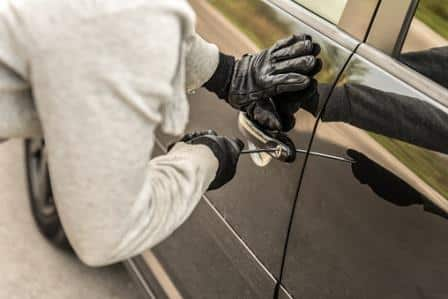 Modesto's Stanislaus County in California's Central Valley had the nation's highest per capita vehicle theft rate in 2015, according to the National Insurance Crime Bureau's (NICB) latest report.
The Modesta metro area isn't alone -- eight of the top 10 "hot spots" for vehicle theft in 2015 are in California. The NICB also reports that vehicle theft is up 1 percent nationwide, though stolen vehicle numbers have been dipping dramatically over the last several years.
NICB's report analyzes vehicle theft data from the National Crime Information Center (NCIC) for each of the nation's Metropolitan Statistical Areas (MSA). These areas often include many other cities and towns beyond the namesake city.
Another note on the findings: as a population-based survey, an area with fewer people and a moderate number of thefts can—and often does—have a higher theft rate than an area with a much higher theft rate and a larger population to absorb it.
Regardless of where vehicles are stolen the most, the reasons for theft typically remain the same. Older vehicles are usually stolen and chopped up so parts can be sold, while newer models are often shipped overseas or fraudulently modified and resold, according to the NICB.
Comprehensive car insurance covers theft
If your vehicle is stolen, you must have comprehensive car insurance to file a claim to replace it. When getting a quote for comprehensive coverage, you will need to choose a deductible amount. A deductible is the amount you're responsible for paying before your insurance benefits start to pay out.
The value of the car, your driving record, the deductible you choose and repair costs determine the cost of comprehensive coverage, but it is usually very affordable. The average annual cost nationwide for comprehensive coverage is just $134, according to the Insurance Information Institute.
But you can reduce your chances for theft, and trim your car insurance rates, by using anti-theft devices. Insurance companies will typically grant car insurance discounts of up to 15 percent, but sometimes even more depending on the device you have, if your car has theft protection.
Below are 380 metro areas with populations over 50,000, ranked by rate of thefts per 100,000 residents, as calculated by the National Insurance Crime Bureau.
| | | | |
| --- | --- | --- | --- |
| 2015 Rank | MSA Name | 2015 Thefts | 2015 Rate |
| 1 | Modesto, CA Metropolitan Statistical Area | 4,072 | 756.33 |
| 2 | Albuquerque, NM Metropolitan Statistical Area | 6,657 | 733.71 |
| 3 | Bakersfield, CA Metropolitan Statistical Area | 6,000 | 680.14 |
| 4 | Salinas, CA Metropolitan Statistical Area | 2,934 | 676.20 |
| 5 | San Francisco-Oakland-Hayward, CA Metropolitan Statistical Area | 30,554 | 656.21 |
| 6 | Stockton-Lodi, CA Metropolitan Statistical Area | 4,656 | 641.23 |
| 7 | Pueblo, CO Metropolitan Statistical Area | 983 | 600.89 |
| 8 | Merced, CA Metropolitan Statistical Area | 1,605 | 597.87 |
| 9 | Riverside-San Bernardino-Ontario, CA Metropolitan Statistical Area | 25,001 | 556.92 |
| 10 | Vallejo-Fairfield, CA Metropolitan Statistical Area | 2,352 | 539.34 |
| 11 | Salt Lake City, UT Metropolitan Statistical Area | 6,282 | 536.80 |
| 12 | Odessa, TX Metropolitan Statistical Area | 846 | 530.62 |
| 13 | Fresno, CA Metropolitan Statistical Area | 5,149 | 528.18 |
| 14 | San Jose-Sunnyvale-Santa Clara, CA Metropolitan Statistical Area | 10,140 | 512.94 |
| 15 | Redding, CA Metropolitan Statistical Area | 893 | 497.40 |
| 16 | Chico, CA Metropolitan Statistical Area | 1,106 | 490.66 |
| 17 | Milwaukee-Waukesha-West Allis, WI Metropolitan Statistical Area | 7,681 | 487.45 |
| 18 | Las Vegas-Henderson-Paradise, NV Metropolitan Statistical Area | 10,046 | 475.03 |
| 19 | Yakima, WA Metropolitan Statistical Area | 1,170 | 470.20 |
| 20 | Seattle-Tacoma-Bellevue, WA Metropolitan Statistical Area | 17,221 | 461.25 |
| 21 | Billings, MT Metropolitan Statistical Area | 775 | 460.53 |
| 22 | Visalia-Porterville, CA Metropolitan Statistical Area | 2,108 | 458.40 |
| 23 | Hot Springs, AR Metropolitan Statistical Area | 441 | 453.81 |
| 24 | Sacramento--Roseville--Arden-Arcade, CA Metropolitan Statistical Area | 10,257 | 451.02 |
| 25 | Spokane-Spokane Valley, WA Metropolitan Statistical Area | 2,430 | 443.57 |
| 26 | Los Angeles-Long Beach-Anaheim, CA Metropolitan Statistical Area | 57,247 | 429.14 |
| 27 | Grants Pass, OR Metropolitan Statistical Area | 362 | 427.16 |
| 28 | Yuba City, CA Metropolitan Statistical Area | 712 | 416.48 |
| 29 | Tulsa, OK Metropolitan Statistical Area | 4,018 | 409.58 |
| 30 | Wichita, KS Metropolitan Statistical Area | 2,637 | 409.08 |
| 31 | Santa Cruz-Watsonville, CA Metropolitan Statistical Area | 1,108 | 404.16 |
| 32 | Lubbock, TX Metropolitan Statistical Area | 1,229 | 394.98 |
| 33 | Denver-Aurora-Lakewood, CO Metropolitan Statistical Area | 11,029 | 391.89 |
| 34 | Columbia, SC Metropolitan Statistical Area | 3,165 | 390.71 |
| 35 | Springfield, MO Metropolitan Statistical Area | 1,778 | 389.52 |
| 36 | St. Joseph, MO-KS Metropolitan Statistical Area | 486 | 383.04 |
| 37 | Madera, CA Metropolitan Statistical Area | 593 | 382.59 |
| 38 | Houston-The Woodlands-Sugar Land, TX Metropolitan Statistical Area | 25,433 | 382.05 |
| 39 | Indianapolis-Carmel-Anderson, IN Metropolitan Statistical Area | 7,472 | 375.70 |
| 40 | Kansas City, MO-KS Metropolitan Statistical Area | 7,800 | 373.66 |
| 41 | Savannah, GA Metropolitan Statistical Area | 1,402 | 369.73 |
| 42 | Columbus, GA-AL Metropolitan Statistical Area | 1,144 | 364.62 |
| 43 | Greenville-Anderson-Mauldin, SC Metropolitan Statistical Area | 3,155 | 360.63 |
| 44 | Little Rock-North Little Rock-Conway, AR Metropolitan Statistical Area | 2,575 | 351.96 |
| 45 | San Diego-Carlsbad, CA Metropolitan Statistical Area | 11,410 | 345.81 |
| 46 | Oklahoma City, OK Metropolitan Statistical Area | 4,618 | 339.95 |
| 47 | Anchorage, AK Metropolitan Statistical Area | 1,359 | 339.93 |
| 48 | Topeka, KS Metropolitan Statistical Area | 794 | 339.62 |
| 49 | El Centro, CA Metropolitan Statistical Area | 606 | 336.31 |
| 50 | Hanford-Corcoran, CA Metropolitan Statistical Area | 505 | 334.51 |
| 51 | Joplin, MO Metropolitan Statistical Area | 591 | 333.50 |
| 52 | New Orleans-Metairie, LA Metropolitan Statistical Area | 4,180 | 330.99 |
| 53 | Amarillo, TX Metropolitan Statistical Area | 856 | 326.65 |
| 54 | Portland-Vancouver-Hillsboro, OR-WA Metropolitan Statistical Area | 7,797 | 326.34 |
| 55 | Charleston, WV Metropolitan Statistical Area | 717 | 325.00 |
| 56 | Atlanta-Sandy Springs-Roswell, GA Metropolitan Statistical Area | 18,260 | 319.75 |
| 57 | San Antonio-New Braunfels, TX Metropolitan Statistical Area | 7,568 | 317.44 |
| 58 | Detroit-Warren-Dearborn, MI Metropolitan Statistical Area | 13,506 | 313.94 |
| 59 | Miami-Fort Lauderdale-West Palm Beach, FL Metropolitan Statistical Area | 18,862 | 313.72 |
| 60 | Tallahassee, FL Metropolitan Statistical Area | 1,178 | 311.70 |
| 61 | Macon, GA Metropolitan Statistical Area | 717 | 311.61 |
| 62 | Chattanooga, TN-GA Metropolitan Statistical Area | 1,688 | 308.16 |
| 63 | Florence, SC Metropolitan Statistical Area | 629 | 304.68 |
| 64 | Jackson, MS Metropolitan Statistical Area | 1,763 | 304.61 |
| 65 | Omaha-Council Bluffs, NE-IA Metropolitan Statistical Area | 2,743 | 299.68 |
| 66 | Salem, OR Metropolitan Statistical Area | 1,213 | 295.79 |
| 67 | Longview, TX Metropolitan Statistical Area | 637 | 292.50 |
| 68 | Mobile, AL Metropolitan Statistical Area | 1,205 | 290.09 |
| 69 | Louisville/Jefferson County, KY-IN Metropolitan Statistical Area | 3,699 | 289.34 |
| 70 | Reno, NV Metropolitan Statistical Area | 1,302 | 288.76 |
| 71 | Charleston-North Charleston, SC Metropolitan Statistical Area | 2,104 | 282.60 |
| 72 | Abilene, TX Metropolitan Statistical Area | 477 | 281.29 |
| 73 | Birmingham-Hoover, AL Metropolitan Statistical Area | 3,217 | 280.80 |
| 74 | Texarkana, TX-AR Metropolitan Statistical Area | 417 | 278.43 |
| 75 | Baltimore-Columbia-Towson, MD Metropolitan Statistical Area | 7,660 | 273.83 |
| 76 | Fairbanks, AK Metropolitan Statistical Area | 269 | 270.00 |
| 77 | Colorado Springs, CO Metropolitan Statistical Area | 1,875 | 268.68 |
| 78 | Honolulu (Urban), HI Metropolitan Statistical Area | 2,679 | 268.24 |
| 79 | Dallas-Fort Worth-Arlington, TX Metropolitan Statistical Area | 19,051 | 268.22 |
| 80 | Phoenix-Mesa-Scottsdale, AZ Metropolitan Statistical Area | 12,096 | 264.42 |
| 81 | Longview, WA Metropolitan Statistical Area | 271 | 261.92 |
| 82 | Memphis, TN-MS-AR Metropolitan Statistical Area | 3,507 | 260.91 |
| 83 | Lake Charles, LA Metropolitan Statistical Area | 533 | 259.23 |
| 84 | Myrtle Beach-Conway-North Myrtle Beach, SC-NC Metropolitan Statistical Area | 1,117 | 258.59 |
| 85 | Midland, TX Metropolitan Statistical Area | 429 | 257.32 |
| 86 | Cleveland-Elyria, OH Metropolitan Statistical Area | 5,300 | 257.18 |
| 87 | Terre Haute, IN Metropolitan Statistical Area | 433 | 253.19 |
| 88 | Sumter, SC Metropolitan Statistical Area | 269 | 250.28 |
| 89 | St. Louis, MO-IL Metropolitan Statistical Area | 7,009 | 249.29 |
| 90 | Gulfport-Biloxi-Pascagoula, MS Metropolitan Statistical Area | 968 | 248.68 |
| 91 | New Haven-Milford, CT Metropolitan Statistical Area | 2,134 | 248.29 |
| 92 | Alexandria, LA Metropolitan Statistical Area | 381 | 246.63 |
| 93 | Montgomery, AL Metropolitan Statistical Area | 912 | 243.99 |
| 94 | Augusta-Richmond County, GA-SC Metropolitan Statistical Area | 1,433 | 242.82 |
| 95 | Oxnard-Thousand Oaks-Ventura, CA Metropolitan Statistical Area | 2,057 | 241.85 |
| 96 | Spartanburg, SC Metropolitan Statistical Area | 786 | 241.79 |
| 97 | Fayetteville, NC Metropolitan Statistical Area | 910 | 241.69 |
| 98 | Olympia-Tumwater, WA Metropolitan Statistical Area | 651 | 241.53 |
| 99 | Tucson, AZ Metropolitan Statistical Area | 2,429 | 240.49 |
| 100 | Santa Maria-Santa Barbara, CA Metropolitan Statistical Area | 1,066 | 239.67 |
| 101 | Medford, OR Metropolitan Statistical Area | 492 | 231.46 |
| 102 | Eugene, OR Metropolitan Statistical Area | 835 | 230.09 |
| 103 | Yuma, AZ Metropolitan Statistical Area | 467 | 228.61 |
| 104 | Cleveland, TN Metropolitan Statistical Area | 275 | 227.53 |
| 105 | Santa Rosa, CA Metropolitan Statistical Area | 1,139 | 226.83 |
| 106 | Albany, OR Metropolitan Statistical Area | 269 | 223.15 |
| 107 | Elkhart-Goshen, IN Metropolitan Statistical Area | 454 | 223.12 |
| 108 | Orlando-Kissimmee-Sanford, FL Metropolitan Statistical Area | 5,238 | 219.43 |
| 109 | Trenton, NJ Metropolitan Statistical Area | 813 | 218.90 |
| 110 | Dayton, OH Metropolitan Statistical Area | 1,748 | 218.25 |
| 111 | Lake Havasu City-Kingman, AZ Metropolitan Statistical Area | 444 | 216.86 |
| 112 | Monroe, LA Metropolitan Statistical Area | 388 | 216.47 |
| 113 | Corpus Christi, TX Metropolitan Statistical Area | 977 | 215.95 |
| 114 | Pensacola-Ferry Pass-Brent, FL Metropolitan Statistical Area | 1,030 | 215.46 |
| 115 | Wilmington, NC Metropolitan Statistical Area | 598 | 215.13 |
| 116 | Jacksonville, FL Metropolitan Statistical Area | 3,093 | 213.39 |
| 117 | Panama City, FL Metropolitan Statistical Area | 421 | 213.16 |
| 118 | Mount Vernon-Anacortes, WA Metropolitan Statistical Area | 259 | 212.56 |
| 119 | Beaumont-Port Arthur, TX Metropolitan Statistical Area | 860 | 210.57 |
| 120 | Columbus, IN Metropolitan Statistical Area | 170 | 209.46 |
| 121 | Columbus, OH Metropolitan Statistical Area | 4,230 | 209.24 |
| 122 | South Bend-Mishawaka, IN-MI Metropolitan Statistical Area | 666 | 208.06 |
| 123 | Sherman-Denison, TX Metropolitan Statistical Area | 261 | 208.02 |
| 124 | Napa, CA Metropolitan Statistical Area | 296 | 207.78 |
| 125 | Anniston-Oxford-Jacksonville, AL Metropolitan Statistical Area | 240 | 207.58 |
| 126 | Morristown, TN Metropolitan Statistical Area | 241 | 206.62 |
| 127 | Las Cruces, NM Metropolitan Statistical Area | 442 | 206.26 |
| 128 | San Angelo, TX Metropolitan Statistical Area | 246 | 205.58 |
| 129 | Chicago-Naperville-Elgin, IL-IN-WI Metropolitan Statistical Area | 19,512 | 204.29 |
| 130 | Hammond, LA Metropolitan Statistical Area | 263 | 204.26 |
| 131 | Deltona-Daytona Beach-Ormond Beach, FL Metropolitan Statistical Area | 1,272 | 204.08 |
| 132 | Farmington, NM Metropolitan Statistical Area | 242 | 203.81 |
| 133 | Gadsden, AL Metropolitan Statistical Area | 209 | 202.80 |
| 134 | Lexington-Fayette, KY Metropolitan Statistical Area | 1,012 | 202.18 |
| 135 | Toledo, OH Metropolitan Statistical Area | 1,224 | 201.99 |
| 136 | Tampa-St. Petersburg-Clearwater, FL Metropolitan Statistical Area | 5,948 | 199.92 |
| 137 | Laredo, TX Metropolitan Statistical Area | 537 | 199.09 |
| 138 | Rome, GA Metropolitan Statistical Area | 192 | 198.96 |
| 139 | Des Moines-West Des Moines, IA Metropolitan Statistical Area | 1,237 | 198.59 |
| 140 | Pine Bluff, AR Metropolitan Statistical Area | 184 | 196.38 |
| 141 | Rapid City, SD Metropolitan Statistical Area | 283 | 196.35 |
| 142 | Fort Smith, AR-OK Metropolitan Statistical Area | 542 | 193.40 |
| 143 | Shreveport-Bossier City, LA Metropolitan Statistical Area | 858 | 193.37 |
| 144 | Walla Walla, WA Metropolitan Statistical Area | 122 | 189.79 |
| 145 | Minneapolis-St. Paul-Bloomington, MN-WI Metropolitan Statistical Area | 6,608 | 187.48 |
| 146 | Austin-Round Rock, TX Metropolitan Statistical Area | 3,680 | 183.92 |
| 147 | Baton Rouge, LA Metropolitan Statistical Area | 1,527 | 183.87 |
| 148 | Lewiston, ID-WA Metropolitan Statistical Area | 114 | 183.42 |
| 149 | Wichita Falls, TX Metropolitan Statistical Area | 276 | 183.05 |
| 150 | Hartford-West Hartford-East Hartford, CT Metropolitan Statistical Area | 2,217 | 183.02 |
| 151 | Victoria, TX Metropolitan Statistical Area | 182 | 182.16 |
| 152 | San Luis Obispo-Paso Robles-Arroyo Grande, CA Metropolitan Statistical Area | 511 | 181.59 |
| 153 | El Paso, TX Metropolitan Statistical Area | 1,521 | 181.29 |
| 154 | Bismarck, ND Metropolitan Statistical Area | 234 | 180.67 |
| 155 | Lawrence, KS Metropolitan Statistical Area | 213 | 180.43 |
| 156 | Bremerton-Silverdale, WA Metropolitan Statistical Area | 467 | 179.52 |
| 157 | Bloomington, IN Metropolitan Statistical Area | 297 | 179.37 |
| 158 | Lakeland-Winter Haven, FL Metropolitan Statistical Area | 1,161 | 178.59 |
| 159 | Sioux City, IA-NE-SD Metropolitan Statistical Area | 300 | 177.44 |
| 160 | Springfield, OH Metropolitan Statistical Area | 241 | 177.26 |
| 161 | Knoxville, TN Metropolitan Statistical Area | 1,523 | 176.80 |
| 162 | Parkersburg-Vienna, WV Metropolitan Statistical Area | 162 | 175.45 |
| 163 | Durham-Chapel Hill, NC Metropolitan Statistical Area | 958 | 173.40 |
| 164 | Dalton, GA Metropolitan Statistical Area | 249 | 173.18 |
| 165 | Evansville, IN-KY Metropolitan Statistical Area | 546 | 172.95 |
| 166 | Columbia, MO Metropolitan Statistical Area | 301 | 172.03 |
| 167 | Huntsville, AL Metropolitan Statistical Area | 765 | 172.01 |
| 168 | Virginia Beach-Norfolk-Newport News, VA-NC Metropolitan Statistical Area | 2,950 | 171.03 |
| 169 | Athens-Clarke County, GA Metropolitan Statistical Area | 347 | 170.78 |
| 170 | Washington-Arlington-Alexandria, DC-VA-MD-WV Metropolitan Statistical Area | 10,390 | 170.39 |
| 171 | Tuscaloosa, AL Metropolitan Statistical Area | 408 | 170.07 |
| 172 | Hilton Head Island-Bluffton-Beaufort, SC Metropolitan Statistical Area | 352 | 169.71 |
| 173 | Fayetteville-Springdale-Rogers, AR-MO Metropolitan Statistical Area | 867 | 168.82 |
| 174 | Killeen-Temple, TX Metropolitan Statistical Area | 726 | 168.43 |
| 175 | Goldsboro, NC Metropolitan Statistical Area | 209 | 168.37 |
| 176 | Cape Girardeau, MO-IL Metropolitan Statistical Area | 164 | 168.15 |
| 177 | Jonesboro, AR Metropolitan Statistical Area | 214 | 166.67 |
| 178 | Rockford, IL Metropolitan Statistical Area | 566 | 166.15 |
| 179 | Warner Robins, GA Metropolitan Statistical Area | 312 | 165.83 |
| 180 | Missoula, MT Metropolitan Statistical Area | 189 | 165.53 |
| 181 | Charlotte-Concord-Gastonia, NC-SC Metropolitan Statistical Area | 4,015 | 165.47 |
| 182 | McAllen-Edinburg-Mission, TX Metropolitan Statistical Area | 1,390 | 165.02 |
| 183 | Greensboro-High Point, NC Metropolitan Statistical Area | 1,241 | 164.99 |
| 184 | Sioux Falls, SD Metropolitan Statistical Area | 415 | 164.78 |
| 185 | Tyler, TX Metropolitan Statistical Area | 366 | 164.17 |
| 186 | Fargo, ND-MN Metropolitan Statistical Area | 379 | 162.08 |
| 187 | Lafayette, LA Metropolitan Statistical Area | 793 | 161.68 |
| 188 | Brunswick, GA Metropolitan Statistical Area | 187 | 161.20 |
| 189 | Santa Fe, NM Metropolitan Statistical Area | 238 | 160.07 |
| 190 | Lawton, OK Metropolitan Statistical Area | 209 | 159.98 |
| 191 | Palm Bay-Melbourne-Titusville, FL Metropolitan Statistical Area | 908 | 159.83 |
| 192 | Richmond, VA Metropolitan Statistical Area | 2,031 | 159.75 |
| 193 | Hickory-Lenoir-Morganton, NC Metropolitan Statistical Area | 578 | 159.44 |
| 194 | Asheville, NC Metropolitan Statistical Area | 708 | 158.45 |
| 195 | Waco, TX Metropolitan Statistical Area | 415 | 157.91 |
| 196 | Cedar Rapids, IA Metropolitan Statistical Area | 420 | 157.87 |
| 197 | Philadelphia-Camden-Wilmington, PA-NJ-DE-MD Metropolitan Statistical Area | 9,561 | 157.52 |
| 198 | Springfield, MA Metropolitan Statistical Area | 977 | 154.59 |
| 199 | Great Falls, MT Metropolitan Statistical Area | 127 | 154.35 |
| 200 | Jackson, TN Metropolitan Statistical Area | 200 | 154.22 |
| 201 | Gainesville, GA Metropolitan Statistical Area | 297 | 153.46 |
| 202 | Greeley, CO Metropolitan Statistical Area | 437 | 153.24 |
| 203 | Muncie, IN Metropolitan Statistical Area | 179 | 153.19 |
| 204 | Florence-Muscle Shoals, AL Metropolitan Statistical Area | 220 | 149.71 |
| 205 | Springfield, IL Metropolitan Statistical Area | 316 | 149.65 |
| 206 | Pocatello, ID Metropolitan Statistical Area | 124 | 148.07 |
| 207 | Lafayette-West Lafayette, IN Metropolitan Statistical Area | 317 | 147.88 |
| 208 | Grand Junction, CO Metropolitan Statistical Area | 219 | 147.46 |
| 209 | Gainesville, FL Metropolitan Statistical Area | 408 | 147.21 |
| 210 | Nashville-Davidson--Murfreesboro--Franklin, TN Metropolitan Statistical Area | 2,667 | 145.71 |
| 211 | Duluth, MN-WI Metropolitan Statistical Area | 406 | 145.21 |
| 212 | Davenport-Moline-Rock Island, IA-IL Metropolitan Statistical Area | 557 | 145.20 |
| 213 | Carson City, NV Metropolitan Statistical Area | 79 | 144.90 |
| 214 | Houma-Thibodaux, LA Metropolitan Statistical Area | 307 | 144.61 |
| 215 | Cincinnati, OH-KY-IN Metropolitan Statistical Area | 3,102 | 143.76 |
| 216 | Michigan City-La Porte, IN Metropolitan Statistical Area | 157 | 141.59 |
| 217 | Brownsville-Harlingen, TX Metropolitan Statistical Area | 596 | 141.18 |
| 218 | Bridgeport-Stamford-Norwalk, CT Metropolitan Statistical Area | 1,335 | 140.81 |
| 219 | Wenatchee, WA Metropolitan Statistical Area | 162 | 139.44 |
| 220 | Albany, GA Metropolitan Statistical Area | 213 | 138.74 |
| 221 | Youngstown-Warren-Boardman, OH-PA Metropolitan Statistical Area | 757 | 137.67 |
| 222 | Buffalo-Cheektowaga-Niagara Falls, NY Metropolitan Statistical Area | 1,554 | 136.89 |
| 223 | Kingsport-Bristol-Bristol, TN-VA Metropolitan Statistical Area | 416 | 135.45 |
| 224 | College Station-Bryan, TX Metropolitan Statistical Area | 337 | 135.26 |
| 225 | Cape Coral-Fort Myers, FL Metropolitan Statistical Area | 947 | 134.90 |
| 226 | Cheyenne, WY Metropolitan Statistical Area | 131 | 134.88 |
| 227 | Bellingham, WA Metropolitan Statistical Area | 285 | 134.25 |
| 228 | St. Cloud, MN Metropolitan Statistical Area | 261 | 134.25 |
| 229 | Rocky Mount, NC Metropolitan Statistical Area | 198 | 133.72 |
| 230 | Akron, OH Metropolitan Statistical Area | 938 | 133.19 |
| 231 | Sebring, FL Metropolitan Statistical Area | 132 | 132.68 |
| 232 | Hattiesburg, MS Metropolitan Statistical Area | 197 | 132.36 |
| 233 | Flint, MI Metropolitan Statistical Area | 536 | 130.46 |
| 234 | Manhattan, KS Metropolitan Statistical Area | 128 | 129.89 |
| 235 | Grand Forks, ND-MN Metropolitan Statistical Area | 132 | 128.84 |
| 236 | Canton-Massillon, OH Metropolitan Statistical Area | 516 | 128.05 |
| 237 | Ocala, FL Metropolitan Statistical Area | 439 | 127.89 |
| 238 | Burlington, NC Metropolitan Statistical Area | 202 | 127.63 |
| 239 | Kennewick-Richland, WA Metropolitan Statistical Area | 356 | 127.55 |
| 240 | Fort Collins, CO Metropolitan Statistical Area | 422 | 126.51 |
| 241 | Auburn-Opelika, AL Metropolitan Statistical Area | 198 | 126.12 |
| 242 | Winston-Salem, NC Metropolitan Statistical Area | 830 | 125.89 |
| 243 | Providence-Warwick, RI-MA Metropolitan Statistical Area | 2,016 | 124.98 |
| 244 | Coeur d'Alene, ID Metropolitan Statistical Area | 185 | 123.05 |
| 245 | Kokomo, IN Metropolitan Statistical Area | 100 | 121.13 |
| 246 | Boulder, CO Metropolitan Statistical Area | 386 | 120.86 |
| 247 | Jacksonville, NC Metropolitan Statistical Area | 224 | 120.23 |
| 248 | Raleigh, NC Metropolitan Statistical Area | 1,524 | 119.66 |
| 249 | Vineland-Bridgeton, NJ Metropolitan Statistical Area | 186 | 119.34 |
| 250 | Valdosta, GA Metropolitan Statistical Area | 170 | 118.99 |
| 251 | Fort Wayne, IN Metropolitan Statistical Area | 511 | 118.89 |
| 252 | Mansfield, OH Metropolitan Statistical Area | 143 | 117.50 |
| 253 | Decatur, AL Metropolitan Statistical Area | 179 | 117.24 |
| 254 | Jefferson City, MO Metropolitan Statistical Area | 177 | 117.11 |
| 255 | Clarksville, TN-KY Metropolitan Statistical Area | 329 | 117.07 |
| 256 | Roanoke, VA Metropolitan Statistical Area | 368 | 116.99 |
| 257 | Johnson City, TN Metropolitan Statistical Area | 232 | 115.63 |
| 258 | Boise City, ID Metropolitan Statistical Area | 782 | 115.53 |
| 259 | Lansing-East Lansing, MI Metropolitan Statistical Area | 542 | 114.76 |
| 260 | Sebastian-Vero Beach, FL Metropolitan Statistical Area | 168 | 113.58 |
| 261 | Lincoln, NE Metropolitan Statistical Area | 364 | 112.49 |
| 262 | Boston-Cambridge-Newton, MA-NH Metropolitan Statistical Area | 5,360 | 112.27 |
| 263 | Danville, IL Metropolitan Statistical Area | 88 | 111.00 |
| 264 | New York-Newark-Jersey City, NY-NJ-PA Metropolitan Statistical Area | 22,391 | 110.94 |
| 265 | Sierra Vista-Douglas, AZ Metropolitan Statistical Area | 140 | 110.74 |
| 266 | Crestview-Fort Walton Beach-Destin, FL Metropolitan Statistical Area | 290 | 110.61 |
| 267 | Atlantic City-Hammonton, NJ Metropolitan Statistical Area | 303 | 110.50 |
| 268 | North Port-Sarasota-Bradenton, FL Metropolitan Statistical Area | 844 | 109.76 |
| 269 | Greenville, NC Metropolitan Statistical Area | 193 | 109.76 |
| 270 | Dothan, AL Metropolitan Statistical Area | 159 | 107.31 |
| 271 | Flagstaff, AZ Metropolitan Statistical Area | 148 | 106.40 |
| 272 | Hagerstown-Martinsburg, MD-WV Metropolitan Statistical Area | 278 | 106.32 |
| 273 | Decatur, IL Metropolitan Statistical Area | 114 | 106.24 |
| 274 | Idaho Falls, ID Metropolitan Statistical Area | 148 | 105.91 |
| 275 | Bowling Green, KY Metropolitan Statistical Area | 178 | 105.68 |
| 276 | Monroe, MI Metropolitan Statistical Area | 157 | 104.97 |
| 277 | Grand Island, NE Metropolitan Statistical Area | 89 | 104.62 |
| 278 | Muskegon, MI Metropolitan Statistical Area | 176 | 101.86 |
| 279 | Homosassa Springs, FL Metropolitan Statistical Area | 143 | 101.38 |
| 280 | Lebanon, PA Metropolitan Statistical Area | 138 | 100.68 |
| 281 | Ogden-Clearfield, UT Metropolitan Statistical Area | 645 | 100.33 |
| 282 | Dover, DE Metropolitan Statistical Area | 174 | 100.27 |
| 283 | Niles-Benton Harbor, MI Metropolitan Statistical Area | 154 | 99.59 |
| 284 | The Villages, FL Metropolitan Statistical Area | 118 | 99.25 |
| 285 | St. George, UT Metropolitan Statistical Area | 154 | 98.97 |
| 286 | Hinesville, GA Metropolitan Statistical Area | 79 | 98.51 |
| 287 | Daphne-Fairhope-Foley, AL Metropolitan Statistical Area | 199 | 97.69 |
| 288 | Port St. Lucie, FL Metropolitan Statistical Area | 440 | 96.74 |
| 289 | Huntington-Ashland, WV-KY-OH Metropolitan Statistical Area | 347 | 95.97 |
| 290 | Mankato-North Mankato, MN Metropolitan Statistical Area | 95 | 95.83 |
| 291 | Owensboro, KY Metropolitan Statistical Area | 111 | 94.50 |
| 292 | Lima, OH Metropolitan Statistical Area | 98 | 93.85 |
| 293 | Rochester, NY Metropolitan Statistical Area | 1,003 | 92.70 |
| 294 | Reading, PA Metropolitan Statistical Area | 382 | 91.99 |
| 295 | Waterloo-Cedar Falls, IA Metropolitan Statistical Area | 156 | 91.44 |
| 296 | Kankakee, IL Metropolitan Statistical Area | 100 | 90.19 |
| 297 | Champaign-Urbana, IL Metropolitan Statistical Area | 213 | 89.13 |
| 298 | Eau Claire, WI Metropolitan Statistical Area | 147 | 88.75 |
| 299 | Beckley, WV Metropolitan Statistical Area | 108 | 88.16 |
| 300 | Prescott, AZ Metropolitan Statistical Area | 194 | 87.29 |
| 301 | Naples-Immokalee-Marco Island, FL Metropolitan Statistical Area | 307 | 85.92 |
| 302 | Saginaw, MI Metropolitan Statistical Area | 165 | 85.36 |
| 303 | Kalamazoo-Portage, MI Metropolitan Statistical Area | 286 | 85.29 |
| 304 | California-Lexington Park, MD Metropolitan Statistical Area | 93 | 83.47 |
| 305 | La Crosse-Onalaska, WI-MN Metropolitan Statistical Area | 114 | 83.22 |
| 306 | Syracuse, NY Metropolitan Statistical Area | 547 | 82.82 |
| 307 | Provo-Orem, UT Metropolitan Statistical Area | 484 | 82.62 |
| 308 | Punta Gorda, FL Metropolitan Statistical Area | 143 | 82.60 |
| 309 | Wheeling, WV-OH Metropolitan Statistical Area | 119 | 82.53 |
| 310 | Morgantown, WV Metropolitan Statistical Area | 114 | 82.50 |
| 311 | Battle Creek, MI Metropolitan Statistical Area | 110 | 81.90 |
| 312 | New Bern, NC Metropolitan Statistical Area | 102 | 80.80 |
| 313 | Iowa City, IA Metropolitan Statistical Area | 133 | 79.88 |
| 314 | Casper, WY Metropolitan Statistical Area | 65 | 79.10 |
| 315 | Allentown-Bethlehem-Easton, PA-NJ Metropolitan Statistical Area | 637 | 76.53 |
| 316 | Bend-Redmond, OR Metropolitan Statistical Area | 134 | 76.45 |
| 317 | Worcester, MA-CT Metropolitan Statistical Area | 714 | 76.32 |
| 318 | Scranton--Wilkes-Barre--Hazleton, PA Metropolitan Statistical Area | 425 | 76.14 |
| 319 | Jackson, MI Metropolitan Statistical Area | 120 | 75.24 |
| 320 | Ann Arbor, MI Metropolitan Statistical Area | 270 | 75.23 |
| 321 | Janesville-Beloit, WI Metropolitan Statistical Area | 120 | 74.33 |
| 322 | Pittsburgh, PA Metropolitan Statistical Area | 1,737 | 73.82 |
| 323 | Corvallis, OR Metropolitan Statistical Area | 64 | 73.08 |
| 324 | Manchester-Nashua, NH Metropolitan Statistical Area | 297 | 73.03 |
| 325 | Albany-Schenectady-Troy, NY Metropolitan Statistical Area | 641 | 72.69 |
| 326 | Madison, WI Metropolitan Statistical Area | 454 | 70.78 |
| 327 | Burlington-South Burlington, VT Metropolitan Statistical Area | 152 | 70.03 |
| 328 | Racine, WI Metropolitan Statistical Area | 134 | 68.69 |
| 329 | Rochester, MN Metropolitan Statistical Area | 146 | 68.26 |
| 330 | York-Hanover, PA Metropolitan Statistical Area | 302 | 68.19 |
| 331 | Elizabethtown-Fort Knox, KY Metropolitan Statistical Area | 100 | 67.29 |
| 332 | Grand Rapids-Wyoming, MI Metropolitan Statistical Area | 688 | 66.24 |
| 333 | Erie, PA Metropolitan Statistical Area | 184 | 66.18 |
| 334 | Bloomington, IL Metropolitan Statistical Area | 122 | 64.41 |
| 335 | Ocean City, NJ Metropolitan Statistical Area | 60 | 63.34 |
| 336 | Norwich-New London, CT Metropolitan Statistical Area | 171 | 62.90 |
| 337 | Peoria, IL Metropolitan Statistical Area | 234 | 61.90 |
| 338 | Ames, IA Metropolitan Statistical Area | 59 | 61.44 |
| 339 | Lewiston-Auburn, ME Metropolitan Statistical Area | 65 | 60.62 |
| 340 | Chambersburg-Waynesboro, PA Metropolitan Statistical Area | 87 | 56.63 |
| 341 | Portland-South Portland, ME Metropolitan Statistical Area | 298 | 56.62 |
| 342 | Green Bay, WI Metropolitan Statistical Area | 176 | 55.60 |
| 343 | Dubuque, IA Metropolitan Statistical Area | 54 | 55.60 |
| 344 | Harrisburg-Carlisle, PA Metropolitan Statistical Area | 314 | 55.57 |
| 345 | Winchester, VA-WV Metropolitan Statistical Area | 74 | 55.29 |
| 346 | East Stroudsburg, PA Metropolitan Statistical Area | 92 | 55.29 |
| 347 | Bay City, MI Metropolitan Statistical Area | 58 | 54.89 |
| 348 | Cumberland, MD-WV Metropolitan Statistical Area | 54 | 54.01 |
| 349 | Barnstable Town, MA Metropolitan Statistical Area | 114 | 53.19 |
| 350 | Oshkosh-Neenah, WI Metropolitan Statistical Area | 88 | 51.90 |
| 351 | Lancaster, PA Metropolitan Statistical Area | 275 | 51.25 |
| 352 | Lynchburg, VA Metropolitan Statistical Area | 133 | 51.16 |
| 353 | Weirton-Steubenville, WV-OH Metropolitan Statistical Area | 61 | 50.62 |
| 354 | Appleton, WI Metropolitan Statistical Area | 115 | 49.35 |
| 355 | Bangor, ME Metropolitan Statistical Area | 73 | 47.81 |
| 356 | Staunton-Waynesboro, VA Metropolitan Statistical Area | 56 | 46.58 |
| 357 | Carbondale-Marion, IL Metropolitan Statistical Area | 59 | 46.52 |
| 358 | Bloomsburg-Berwick, PA Metropolitan Statistical Area | 39 | 45.76 |
| 359 | Pittsfield, MA Metropolitan Statistical Area | 57 | 44.59 |
| 360 | Utica-Rome, NY Metropolitan Statistical Area | 124 | 41.95 |
| 361 | Fond du Lac, WI Metropolitan Statistical Area | 42 | 41.19 |
| 362 | Wausau, WI Metropolitan Statistical Area | 55 | 40.48 |
| 363 | Elmira, NY Metropolitan Statistical Area | 35 | 40.20 |
| 364 | Charlottesville, VA Metropolitan Statistical Area | 92 | 40.08 |
| 365 | Binghamton, NY Metropolitan Statistical Area | 94 | 38.21 |
| 366 | Blacksburg-Christiansburg-Radford, VA Metropolitan Statistical Area | 65 | 35.76 |
| 367 | Williamsport, PA Metropolitan Statistical Area | 41 | 35.33 |
| 368 | Gettysburg, PA Metropolitan Statistical Area | 36 | 35.19 |
| 369 | Johnstown, PA Metropolitan Statistical Area | 47 | 34.45 |
| 370 | Logan, UT-ID Metropolitan Statistical Area | 44 | 32.87 |
| 371 | Harrisonburg, VA Metropolitan Statistical Area | 43 | 32.79 |
| 372 | Kingston, NY Metropolitan Statistical Area | 59 | 32.75 |
| 373 | Watertown-Fort Drum, NY Metropolitan Statistical Area | 38 | 32.30 |
| 374 | Glens Falls, NY Metropolitan Statistical Area | 39 | 30.73 |
| 375 | Altoona, PA Metropolitan Statistical Area | 38 | 30.26 |
| 376 | Midland, MI Metropolitan Statistical Area | 21 | 25.11 |
| 377 | Ithaca, NY Metropolitan Statistical Area | 26 | 24.78 |
| 378 | Sheboygan, WI Metropolitan Statistical Area | 27 | 23.36 |
| 379 | Salisbury, MD-DE Metropolitan Statistical Area | 92 | 23.27 |
| 380 | State College, PA Metropolitan Statistical Area | 36 | 22.42 |