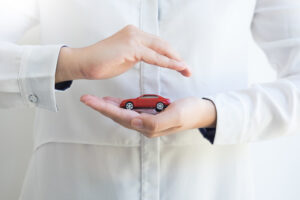 Auto insurance consumers are searching for the best car insurance companies in the U.S., and the trend of increasing car insurance rates from 2022 is continuing in 2023.
If you're looking for a list of the best car insurance companies, CarInsurance.com's top 10 list will help you determine which auto insurance company best suits your needs. For some, the price may be the biggest consideration for car insurance, while for others, it may be customer satisfaction or claims satisfaction.
What are the 10 best auto insurance companies in 2023?
In the fall of 2022, Insure.com surveyed over 1,500 people about insurance and gathered and analyzed the companies' rate data, AM Best grades and National Association of Insurance Commissioners (NAIC) complaint scores to select the nation's best auto insurance companies.
Insure.com, which is CarInsurance.com's sister site, provided the survey results, and CarInsurance.com editors weighed in on the results below.
USAA is excluded because it only provides services to military community members. Liberty Mutual and Safeco were omitted because they don't offer policy pricing information, which was part of the overall score. Some other familiar names also didn't make the cut because those companies didn't generate enough survey responses.
Here are the top 10 best car insurance companies for 2023:
State Farm: 4.6 stars (out of 5)
Geico: 4.1 stars (out of 5)
Auto-Owners: 3.8 stars (out of 5)
Travelers: 3.7 stars (out of 5)
Nationwide: 3.5 stars (out of 5)
Erie: 3.2 stars (out of 5)
Progressive: 3.1 stars (out of 5)
American Family: 2.7 stars (out of 5)
Allstate: 2.7 stars (out of 5)
Farmers: 2.0 stars (out of 5)
Why you can trust CarInsurance.com
The CarInsurance.com editorial team bases its reporting on data it commissioned Quadrant Information Services to gather on average auto insurance rates for more than 34K ZIP codes across the United States.
Typically, averages are based on rates for a single, 40-year-old male, with no violations who commutes 12 miles to work each day and has a full-coverage policy with limits of 100/300/100 and a $500 deductible for collision and comprehensive coverage.
Best car insurance companies by category
Here are the best auto insurance companies for specific situations and needs. This list includes the companies we evaluated beyond the top 10 – like USAA and The Hartford – excluded from the overall rankings.
Best for cheapest rates: Nationwide
Best for customer satisfaction: Erie and Travelers
Best for ease of service: Liberty Mutual
Best for policy offerings: Erie
Best for claims handling: Nationwide
Best website/online experience: Nationwide
Best discounts: The Hartford
Best military discounts: USAA
Best for young drivers and teens: American Family
Best for college students: Travelers
Best for senior drivers: The Hartford
Best for drivers with tickets: Progressive
Best for high-risk drivers: Allstate
Best for auto and home bundling: Safeco
Most likely to be recommended to others: Travelers and Erie
Most trustworthy: State Farm
Best for renewals: Erie
The 10 best auto insurance companies for 2023
To determine the best auto insurance companies, editors compiled survey results and then ranked the companies based on the survey, third-party data and rate information. In some instances, we did not have an insurer's rate information and could not rank it, so Liberty Mutual, Safeco and USAA are omitted below.
State Farm
State Farm is the largest national auto insurance company in the U.S. and is the top company in this year's best auto insurance survey. State Farm scores well in various categories, including average premium, discounts, customer satisfaction and trustworthiness. Beyond auto insurance, you can insure your home, apartment, boat, motorcycle and small business with State Farm.
Geico
Geico car insurance is available nationwide and ranked highly for its affordable rates, customer satisfaction, ease of service and renewals, making it No. 2 on our top 10 car insurance companies list. Geico's mobile app allows users to access insurance ID cards, pay their premiums, contact roadside assistance and submit photos of a car after an accident.
Auto-Owners
Auto-Owners car insurance customers praised the company for its affordable monthly premiums, and survey respondents were very likely to renew their policies with the company. Auto-Owners is only available in 26 states, but it offers many coverages, including auto, home/condo, renters, motorcycle, motorhome and RV, boat and trailer insurance.
Travelers
Travelers, at No. 4 in the best auto insurance survey, has been in the business for 150 years and is one of the biggest insurance companies in the country, with coverage in all 50 states. Travelers' customers are highly satisfied and will likely recommend the company to others.
Nationwide
Nationwide is available across the U.S. except for Alaska, Hawaii, Louisiana and Massachusetts. Nationwide allows drivers to customize their policies, and its telematics program lets drivers earn discounts based on their safe driving habits and standard discounts. The company covers RVs, ATVs, golf carts, snowmobiles, boats, motorcycles and scooters.
Erie
Erie isn't available everywhere, despite making our top 10 car insurance companies list — it sells insurance in Washington, D.C., and 12 states. Erie gets excellent reviews for customer satisfaction and policy offerings. It offers various car insurance coverages, including ATVs, boats, classic cars and golf carts.
Progressive
Progressive is ranked highly for customer satisfaction and discounts, although its average annual premiums cost more than many competitors on our best car insurance companies list. Progressive's coverage is available in all states, and the company offers business auto insurance and policies for collector cars, motorcycles, RVs and boats.
American Family
American Family offers a variety of insurance products and sells coverage in 19 states via a network of agents. American Family was ranked highly for customer satisfaction and auto and home bundling. American Family sells a full range of insurance products to insure motorcycles, RVs, boats, ATVs and snowmobiles.
Allstate
Allstate was rated highly for its ease of service and expansive policy offerings. Its customers have high renewal rates, but it was more expensive than most competitors. Allstate offers insurance across the U.S. and protects around 16 million households with auto, life, renters, condo and property insurance.
Farmers
Farmers rounded out the top 10 car insurance companies for its great discounts and home/auto policy bundles. It offers insurance coverage through most of the U.S. and acquired MetLife's home and auto business in 2021. Farmers offers home, renters, condo, auto insurance, pet insurance, umbrella insurance and financial products.
How to find the best auto insurance company
Each consumer's needs differ, so it pays to shop around to find the best auto insurance company. Factors that car insurance companies consider when setting rates that are specific to you include:
Make and model of your cars
Number of drivers in your household
Ages and driving experience of the drivers in your household
Driving records of the drivers in your household
Types of coverages, limits and deductibles you choose
Claims history
The location where vehicles are parked each night
Understanding your priorities for car insurance, such as customer service, and putting that together with average prices, gives you a place to start your comparison-shopping journey.
Understanding what coverage you need is also an essential part of the puzzle. Ensure your needs are handled by getting the type of insurance coverage you need from a provider within your budget.
When reviewing the best car insurance companies, you're in the driver's seat. Researching how others were treated can help you feel more confident when you pick the best auto insurance company.
And remember, what fits your needs best today may change in a year or even six months, so continue to shop around at renewal time or when you have a significant life event, such as getting married. If your circumstances change, the insurance that works for you today may not work for you tomorrow.
How to get the best car insurance for you
Buying as much car insurance as you can afford is the safest way to ensure sufficient coverage that won't leave you financially at risk.
Minimum coverage insurance policies are rarely recommended. That's because even a minor accident can cause damage that exceeds that of minimum coverage insurance policies, leaving you to pay the difference.
If you aim to get the best cheap car insurance rather than just the state-required minimum required coverage when shopping for an auto insurance policy, consider the following tips.
Buy enough property damage liability and bodily injury liability coverage
You are held responsible for the costs of injuries and damage you do to others after an accident. Liability insurance covers that to a point. A homeowner needs at least $100,000 in bodily injury liability coverage if he or she injures another driver to protect their assets — including their home.
And you should buy enough property damage liability insurance to replace the car you hit – at least $50,000. Liability coverage is required to drive legally in most states. Bodily injury liability and property damage liability limits vary by state.
Consider additional car insurance coverage
Uninsured and underinsured motorist bodily injury coverage can protect you in the case of a collision with an uninsured driver.
Gap insurance is a good option if you owe more on a loan than the car is worth.
Towing and labor might be a waste on a newer car with a warranty and road service plan, but roadside assistance may be a lifesaver if you have an older car.
Rental car reimbursement might be handy if your family has only one car but unnecessary if you have a spare car to use if yours is out of commission.
Final thoughts on the best car insurance companies
Ultimately, the best car insurance company for you is the one that meets your needs for price, customer service, user experience and discounts.
Resources & Methodology
Methodology
Insure.com, which is CarInsurance.com's sister site, in the fall of 2022, surveyed more than 1,500 insurance consumers (1,080 people with auto insurance). Online market research company Slice MR conducted the survey.
Respondents were asked to name their auto insurer and grade it in the following categories – customer satisfaction, ease of service and policy offerings. The percentage of respondents who said they were satisfied or very satisfied with their insurer is presented in the results.
Respondents ranked their insurer's top three attributes out of more than a dozen presented – including claims satisfaction, digital experience, discounts, military discounts, best for young drivers and teens, best for college students, best for senior drivers, best for drivers with a ticket, best for high-risk drivers and best for auto/home bundling.
Five points were given for a number one choice; for a second choice, three points; and for a third choice, a single point. The total points for each choice – first, second and third – were then divided by the number of each company's customers who responded to that survey question to create a percentage. Those percentages are presented in the results as survey scores.
Respondents were then asked if they would recommend their auto insurer to someone else and whether they would renew with their company. The percentage who said yes is presented in the results.
Finally, respondents were given the statement "I trust my insurance company" and asked if they strongly agreed, agreed, disagreed or strongly disagreed with it. The percentage of those who said they agreed or strongly agreed is presented in the results.
The editors compiled the survey results and then selected – based on the number of survey responses – the top companies for further evaluation.
They then collected National Association of Insurance Commissioners' complaint data, which ranks a company by the number of customer complaints it receives, and AM Best data, which measures financial strength.
They also collected insurance rate data from Quadrant Information Services.
With the help of Prof. David Marlett, Ph.D., Managing Director of the Brantley Risk and Insurance Center at Appalachian State University, the editors created a rating system to determine which insurance companies were best in each sector.
For auto insurers, we took the following and gave each a weight.
Survey: 40% of the total score (10% customer satisfaction, 10% recommended, 10% renewal rate and 10% claims handling)
Annual premium: 20% of total score
AM Best: 25% of total score
NAIC: 15% of total score
Each insurer was awarded from 1 to 5 stars. No insurer in our star ranking received less than 1 star and 5 stars was the most any insurer could receive.