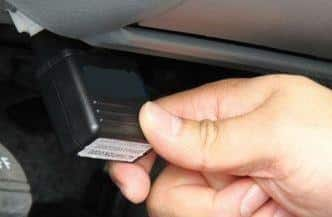 Pay as you go, pay as you drive or usage-based car insurance. Call it what you will; this type of insurance is a type of coverage that's based on when, how much and how well you drive. Insurers measure these by using tracking devices to gather driver-behavior metrics.
Similarly, distance-based, or low-mileage, insurance is based on — you guessed it — how far you drive. That's it. You pay by as much as you drive. Whether or not that inspires you to pull your bicycle out of the shed is up to you.
Within the past five years or so, TV commercials for these types of insurance have become more prominent. Take the "Mayhem Guy" for Allstate or the "Challenger" featuring Chris Owen for State Farm; it's a common angle for many car insurance companies. Drivers are also finding it's a viable option for them.
Many insurers offer usage-based plans. Major players include Progressive Snapshot, State Farm Drive and Save, Nationwide SmartRide, Travelers IntelliDrive and Esurance DriveSense.
How Does Usage-Based or Pay-As-You-Drive Insurance Work?
You'll often hear the term "telematics data" when referring to pay-as-you-drive insurance. Usage-based insurance (UBI) collects this information on your driving performance, which insurers use to calculate a discount if you're considered a safe driver.
Telematics use cellular, GPS and other technology to collect information on how you drive. It also tracks when you drive and your speed. It'll also log how many miles and any sudden changes in speed, or how often you brake hard or accelerate significantly. Some even track how much you idle, while others may also include "cornering" and phone use behind the wheel.
An insurer usually collects data on your driving in one of three ways — through:
A plug-in device that connects to the car's on-board diagnostic (OBD II) port
A smartphone app
Systems built into your car, like ConnectDrive, OnStar or Safety Connect
Usage-based insurance generally falls into two categories: most monitor your driving (such as mileage, time of day, changes in speed) while others only track how many miles you drive.
Typically, a program tracks a driver to generate a profile. This period is usually two weeks to 30 days. However, it can be 90 days and some carriers continually track your driving.
If you qualify for a discount, it's generally credited when you complete the program and then renew your auto policy with the UBI company. In some cases, you need to get tracked every six months. The specifics depends on the insurer.
Most insurance companies provide a small instant discount (up to 10%) for enrolling in the service. Some insurance companies promise that your rate won't ever increase based on your usage. Others, such as Progressive, say that though rare, in some cases, your UBI data could raise rates.
The other type is based on mileage. For example, a plug-in device tracks how many miles you cover per day. You're billed a monthly base rate plus your per-mile charge. This is how MetroMile works, for instance.
How Much Can You Save with Usage-Based Insurance?
In general, to qualify for a discount, you have to drive a relatively small amount, never at night and also refrain from hard-braking and dramatic acceleration.
How much you save depends on the plan and how you drive. Typically, you can reduce your rate by 10% to 30%.
Some insurance companies, for example, Nationwide, which offers the UBI plan called SmartRide, says the savings can be up to 40%. Progressive doesn't cite a percentage but instead says that drivers using SnapShot saved an average of $145 on their policy. Metromile says the average savings is $741 a year.
How Does Usage-Based Insurance Differ from Traditional Auto Insurance?
Traditional car insurance rates are based on many factors:
Your driving record
Type of car you drive
Demographic factors that include age, location and marital status
While usage-based policies consider these factors, they base part of the rate on your driving behavior gathered by their plug-in devices or mobile apps.
If you choose usage-based insurance that tracks your driving behavior, be sure to know:
Precisely what the company is monitoring
How long it will track you
Whether it shares data with others
If your rate may increase based on the results
These policies vary. For instance, some only track speed, the time you drive, how much you drive and hard-brake. But, for example, SmartRide by Nationwide also takes into account your idle time because it considers driving in stop-and-go traffic as a risk.
Some plans will calculate a discount, if you qualify, after a set time — two weeks, a month or a set amount of mileage — say, once you reach 500 miles. But others continually track your driving behavior. So, consumers should ask about that, too.
"Our UBI program (Drivewise) provides savings on traditional auto insurance," said Justin Herndon, Allstate's company spokesperson. "Our pay-per-mile program (Milewise) provides a more personalized pricing plan that adapts to how much a driver uses their car versus a traditional plan that is not dependent on mileage."
Car Insurance Company

Discount

What's Measured

Availability

Allstate Drivewise
Up to 40% on insurance premium
Time of day, speed, hard-braking
Available in all 50 states
Allstate Milewise
Up to 39%
Mileage
AZ, DE, DC, ID, IL, IN, MD, NJ, OH, OR, TX, VA, WA and WV
Metromile
Average yearly savings of $741 per year
Mileage
AZ, CA, IL, NJ, OR, PA, VA and WA. More states expected to be added in 2020
Progressive Snapshot
Average of $145 on completion of program; $26 average discount at sign-up
Variety of factors related to your driving, including things such as the time of day you drive, sudden changes in speed (hard brakes and rapid accelerations), the amount you drive, and, for customers using the mobile app in some states, how you are using your mobile phone while driving.
Plug-in version not available in CA, NC
Safeco RightTrack
Average of 39% per week; between 5% and 30% off your premium
Mileage, the time of day or night you drive, rapid acceleration and hard braking.
AR, AL, AZ, CO, CT, FL, GA, IA, ID, IL, IN, KS, KY, LA, MA, MD, MI, MN, MO, MS, MT, ND, NE, NH, NM, NV, NY, OH, OK, OR, PA, SC, SD, TN, TX, UT, VA, VT, WA, WI, WV, WY
State Farm Drive Safe & Save Mobile
Up to 50%
Acceleration, braking, cornering, speed, phone use, time of day, time traveled
Not available
in NY, CA, MA and RI
State Farm Drive Safe & Save with OnStar
Up to 50%
Mileage
Not available
in CA, MA and RI
The Hartford Truelane
10% for signing up, up to 25% per vehicle when you renew your policy
Time of day, speed and location, trip distance, trip duration, acceleration and braking
AL, AR, AZ, CO, CT, DC, DE, GA, IA, ID, IL, KY, MD, ME, MI, MN, MO, MS, ND, NE, NH, NJ, NM, OH, OK, OR, SC, SD, TN, TX, UT, VA, VT, WI, WV, WY.
Travelers IntelliDrive
Up to 20%, varying widely by state
Time of day, speed, acceleration, braking
AR, AZ, AL, CO, CT, DC, FL, GA, IA, ID, IL, IN, KS, KY, MA, MD, ME, MN, MO, MS, MT, NE, NH, NJ, NM, NV, OH, OK, OR, PA, SC, TN, TX, UT, VA, VT, WA, WI
Esurance DriveSense
Up to 30%
Speed, braking, mileage, time of day, acceleration, time/date and location, reason for stopping trip, idle time, cornering
Not available in CA, FL, IN, NC and NY
National General Insurance Low-Mileage Discount
Up to 54%
Mileage (for drivers who drive less than 15,000 per year)

AL, AZ, CO, CT, DE,FL,GA,HI,ID, IL, IN, KY, LA, MD, MI, MN,MO, MS, MT, NC, NE, NH, NM, NV, NY, OH, OK, OR, PA, RI, SC, SD, TN, TX, UT, VA, WA, WI and WV

National General's SmartDrive
Up to 5% for signing up with the program
Driving time of day, distracted driving due to phone handling, hard and extreme braking, speeds at or above 80 mph
AL, AR, DE, IL, LA, MD, MI, MS, NC, OH, OR, SC, TN, VA, WA, WI
Nationwide SmartRide
10% for signing up; up to 40% overall
Miles driven, hard braking, fast acceleration and nighttime driving
AL, AK, CA, DC, DE, IL, KY, MD, MS, MO, OH, PA, RI, TN and WV
How Are the Rates Determined?
As we mentioned, consumers should ask insurers how it uses the data in setting your rate and if it's ever sold or shared with third-parties.
You should also know if UBI can increase your rates. Most carriers state on its website that you'll receive a discount if you qualify or nothing happens if you don't.
Progressive is an exception. Your rate may increase with what it calls "high-risk driving" under Snapshot plans. The carrier is careful to say that this is a rare occurrence. Only about two out of 10 drivers see their rates increase. Travelers' IntelliDrive also may result in an increase to your rate in some states.
UBI plans' terms and conditions can also vary significantly between states. For example, UBI plans are not even available in some states. When you can opt in and out and when discounts are applied may also vary by state.
If you have a mileage-based plan, find out what that base is that you can't exceed to earn the discount, lest you throw that discount out the window as you drive in excess. Also, ask when, and how the insurer applies the discount.
Who Should Get Usage-Based Insurance?
You might want to check out a UBI plan if you don't drive much, work from home or have a very short commute to your job. It's also a good fit for retirees who don't drive much.
These plans are a good fit for those who:
Drive less than 7,000 to 10,000 miles a year
Don't drive at night
Don't have long commutes
Don't frequently drive in traffic
Those who don't hard-brake when driving
"Drivewise is a great tool for any consumer as it can help identify safe driving habits for any user," said Herndon. "Milewise is best-suited for low-mileage drivers, such as seniors or commuters, who use a train to go to and from work."
Pay As You Drive: A Look At The UBI Players
Here are companies that offer pay-as-you-drive insurance:
Metromile: Offers car insurance powered by artificial intelligence and telematics technology. Recently, Metromile invented "fractional insurance," explained Rick Chen, spokesperson.
"We partner with a car-sharing marketplace," he said, "so people who share their cars online don't have to pay for the miles that other people drove when rented."
New customers have saved an average of $741 per year. When you sign up, the insurer gives you a free Metromile Pulse device. This helps count the miles you drive. It connects to the car's diagnostic port. It's only available in Arizona, California, Illinois, New Jersey, Oregon, Pennsylvania, Virginia and Washington state, but the company expects to expand soon to other states.
"Most Americans could save as much as hundreds of dollars by switching to pay-per-mile car insurance," explained Chen. "Savings of $1,000 or more a year when switching to Metromile are not uncommon, especially among the environmentally conscious, those who live in cities and suburbs, retirees and the occasional road-trippers or neighborhood errand-runners. For added context, the average American drives about 13,000 miles a year, which is considered low-mileage in the industry."
Progressive's Snapshot: A usage-based insurance rating program that allows customers to potentially save based on driving habits, such as how you drive, how much you drive, and when you drive. Snapshot collects data through the driver's smartphone. Progressive uses this data to calculate a driver score.
To participate in the Snapshot mobile program, you've got to agree to download the app, complete the registration process and keep that app enabled while driving until Progressive tells you that data collection is complete. Snapshot users in some states plug in a tracking device into the OBD-II port, which is typically under your steering wheel. The device then beeps if you brake too hard or step on the gas too much.
"People who drive less and in safer ways are most likely to get a discount. If someone displays high-risk driving behaviors, their rate could increase in some states… Additionally, customers can opt out of Snapshot risk-free within the first 45 days after signing up, if they determine the program isn't a good fit for them," Ron Davis, Progressive's spokesperson, told carinsurance.com.
Allstate's Drivewise: With Drivewise, a plug-in device records the usual motoring statistics. The insurer uses the data to determine if customers qualify for discounts.
Allstate has started to move toward urging customers to use the mobile app when signing up for Drivewise. In fact, the insurer may require the Allstate mobile to participate, depending on the state. Allstate also has a rewards program that allows you to earn points for completing "safe driving challenges."
Each state has different regulations. Generally speaking, customers can save up to 40% on their auto premium for safe driving with Allstate's Drivewise. There's usually an enrollment savings for the first six months of use followed by savings determined every six months by how safe someone is driving.
Drivewise is countrywide (California is on a trial version for the insurance savings but does have the Rewards program).
"It began as a plug-in program and we still have a few states that are transitioning over to the app version," Davis said.
Allstate's Milewise:"With Milewise insurance, you pay a daily base rate plus a per-mile rate when you drive, so if you don't drive much, you don't pay much. It's as simple as that," Allstate said.
An example would be a six cents per mile rate. Drive 12 miles that day, and you'd pay $2.22.
"Drivewise continues to be a popular program now celebrating its 10th year at Allstate," said Herndon. "Milewise has also been popular with customers who do not use their car very often and can realize savings from the non-traditional policy."
Milewise is in 14 states and it uses a plug-in device. You can view the results on the web, but there's not an app that collects the driving data, Herndon added.
How much can you save using Milewise? "There really isn't a number for Milewise, because each driver is different — the less you drive, the less you pay," explained Herndon. "So, it's more about how low you can keep your rate versus a savings."
Travelers IntelliDrive: This is a 90-day program from Travelers that uses a smartphone app to capture and score your driving behavior as well as drivers covered on your policy. At renewal, safe driving habits can lead to savings of up to 20%, while riskier driving habits may result in a higher premium. The discounts vary by state.
In Massachusetts, for instance, safe driving habits can only save you up to 3%. In Florida, good driving will get you about 15%. In Washington, DC, Maryland, Montana, Pennsylvania and Virginia, riskier driving habits won't result in a higher premium.
State Farm's Drive Safe & Save and In-Drive: Customers can participate in Drive Safe & Save by either using their vehicle's OnStar equipment or downloading the free Drive Safe & Save mobile app, said State Farm Spokesperson Missy Dundov.
The Drive Safe & Save Mobile product option is for customers who have a compatible iPhone or smartphone-running Android. You download the free app and complete setup, which includes pairing the app to a Bluetooth beacon provided to the customer. The app gathers miles driven and driving characteristics. The customer reports an odometer reading at setup and before each renewal. The discount is then based on mileage and driving characteristics.
The Drive Safe & Save with OnStar option is available on most 2004 or newer GM vehicles and uses OnStar technology to transmit odometer readings to State Farm. The discount is based on annual mileage.
Drive Safe & Save will garner you the largest auto discount opportunity available, according to the company.
Dundov said that you'll get an initial 5% discount off major coverages. The average discount is between 10% and 15%, but that it can get up to 30% or higher for some. The insurer first offered Drive Safe & Save Mobile in Ohio in 2015 and expanded to 46 other jurisdictions in 2016. It's not available in New York, Rhode Island, Massachusetts and Massachusetts.
"The amount of available discount is the same between the two aspects: a minimum of 1% and a maximum of 50%," said Dundov. "But since the mobile aspect uses more robust driving data, the customer has the ability to have even more control over their discount by displaying safe driving behaviors, along with how many miles they drive. So, for example, someone who drives 10,000 miles a year and displays safe driving habits (such as smooth acceleration and braking, no excessive speeding, etc.) would likely receive a larger discount with the mobile app than via OnStar, which would discount based only on the miles driven."
Esurance's DriveSense: Esurance's DriveSense monitors driving habits by "trip." The company collects everything from how often you "cornered," how long you idled, braking, acceleration, speed, duration of the trip and when you drove.
As with many of these programs, the company has a plug-in device that goes into your OBD-II port. However, the company said it's in the process of transitioning the program completely to the mobile app. There are only five states in which drivers don't have the option to sign up for DriveSense.
"DriveSense uses smart telematics technology that could help users improve their driving while also rewarding them for being safe and responsible behind the wheel," said Kate Peifer, Esurance spokesperson. "It logs their driving, drawing maps of driving patterns and behaviors, and provides trip tips and weekly recaps."
Esurance used to also offer Pay Per Mile, which was only available in Oregon, but it discontinued the option.
Safeco's RightRack: Safeco, which is owned by Liberty Mutual, offers a PAYD that works with either a plug-in device or an app. Once you sign up, you'll drive with the program for 90 days. At any time, you can check your progress and performance in the app, said the company. Your final discount is then applied to your premium after your data is reviewed. You could see savings up to $513 per year on your premium, according to the company.
The Hartford's TrueLane: In this safe driving program, a smartphone app available for iPhone and Android phones that measures driving performance and other factors, such as hard braking, speeding, time of day, miles driven and driving location. The TrueLane app also captures phone distraction such as handheld calls, hands-free calls and phone handling, such as texting. That's reported for customer awareness and doesn't affect the renewal discount. Customers receive a 10% discount for enrolling in the program. After 180 days in the program, customers may be eligible for a renewal discount up to 25%, which replaces the 10% enrollment discount and is applied for as long as the customer keeps their auto policy with The Hartford.
TrueLane is now offered in 36 states.
Nationwide's SmartRide: This is a usage-based insurance program in which the company sends you a small device to plug into your car that measures driving trends. Specifically, SmartRide measures four factors: miles driven, hard braking, fast acceleration and nighttime driving.
You'll save 10% for enrolling. You could get up to 40% overall for safe driving. SmartRide is available in 25 states and the details vary by state. In California, for instance, discounts are based on mileage, and the maximum is 15%.
National General's SmartDrive: Previously known as GMAC, National General specializes in catering to the country's "high-risk drivers." As part of this, it offers this unique program that uses the Route Report smartphone app to measure your driving behavior and provide a more tailored insurance rate. Depending on how well you drive, you could save a bunch after National General reviews your performance rating based on the data calculated by the app.
National General's Low Mileage Discount: National General Insurance offers two paths to a discount. Its plug-in monitors much the same data as others do — speed, braking, mileage and when a vehicle is driven. The company also offers the option of reporting mileage through OnStar. The rate cuts range from 13% for those who drive less than 15,000 miles a year to 54% for those who drive less than 2,500. The Low-Mileage Discount program is offered in 35 states.