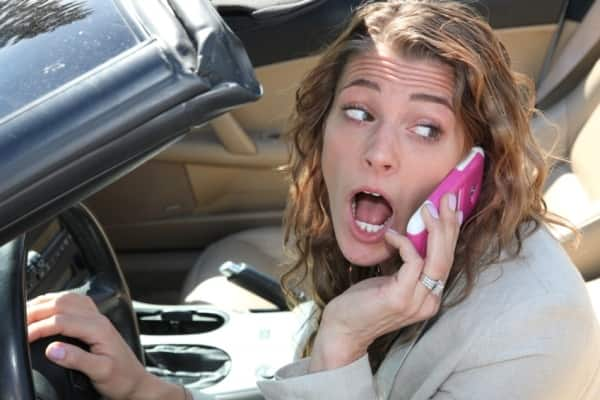 All states except Connecticut and New Mexico now allow drivers to show electronic proof of insurance coverage during a traffic stop, according to the Property Casualty Insurance Association of America (PCI).
The District of Columbia also does not allow electronic proof of insurance.
What does electronic proof of insurance mean, exactly?
Rather than root around in your glovebox for an insurance card (that you may or may not have remembered to replace with the new one), you simply hand the officer your phone.
No one's nailed down exactly what constitutes acceptable electronic proof of insurance. California's law, for example, reads simply that "evidence of financial responsibility may be provided using a mobile electronic device."
A California Highway Patrol officer we spoke with said the preference was for an official-looking proof of insurance, such as a PDF from your insurer stored on your electronic device or an insurance card downloaded from your insurer's mobile application. However, since the law doesn't specifically exclude a picture of your insurance ID card that is stored on your phone, he said, it should be accepted by officers as valid proof of auto insurance.
The Arizona Department of Public Safety representative gave a similar answer.
You may be tempted to just gin something up. Don't. Faking an insurance card is a crime. In Nebraska, for example, fabricating an insurance card is a felony punishable by up to five years in prison and/or a $10,000 fine.
And a fake card won't do you much good in many states, because you can't outrun the Internet. Real-time verification systems allow law enforcement officers to check for insurance coverage against the car's license plate in a few seconds.
Driving without proof of insurance is not the same as driving without insurance
Driving without proof of insurance is very different from driving without insurance.
CarInsurance.com consumer analyst Penny Gusner notes that failure to provide proof of insurance typically results in a fix-it ticket that doesn't affect car insurance rates much, if at all. "Show the court adequate proof and the violation is usually dismissed," she says. "It's a minor offense at worst."
Even so, Gusner recommends that you continue to carry a paper version in your car as backup in case you are pulled over by an officer unaware of the new law — or be unlucky enough to have a dead smartphone.
A no-insurance conviction is very different and can result in a big fine and a suspension of your driver's license and vehicle registration, though the penalty for driving without insurance varies by state. When you finally do buy a policy, Gusner says, you'll pay higher rates.
The cost of a lapsed car insurance policy
National average clean-record premium — $1,215
7-day lapse: $1,287
15-day lapse: $1,287
30-day lapse: $1,291
60-day lapse: $1,368
Above rates methodology: CarInsurance.com commissioned Quadrant Information Services to provide a report of average auto insurance rates for a 2014 Honda Accord for nearly every ZIP code in the United States. We calculated rates using data for six large carriers (Allstate, Farmers, GEICO, Nationwide, Progressive and State Farm.)